Emerald Coast Art Programs Get Creative … Online
Save the Date for Live Art Demos, Virtual Art Festivals and Exhibits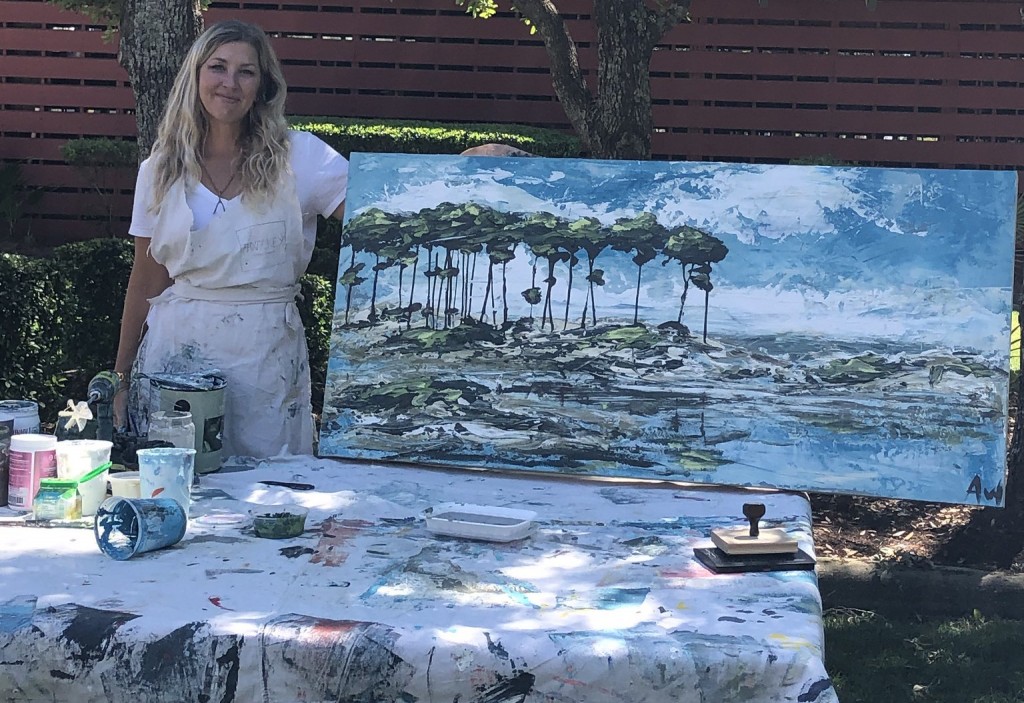 Clearly, the business of art is hands-on, but in the COVID-19 world, experiencing art means being as creative as possible while remaining "hands off." All along the Emerald Coast are inspiring examples of how artists and art organizations are keeping us connected through virtual creativity.
CAA Art on Demand Series
The Cultural Arts Alliance (CAA) recently launched its Art on Demand series of online classes, demonstrations and activities. The first installment (April 15) featured a class taught by Santa Rosa Beach-based artist and CAA board president Allison Wickey in partnership with Watersound Origins.
In this episode (filmed pre stay-at-home order), Wickey demonstrated how to create a one-of-a-kind, textured impressionistic landscape from start to finish. Viewers learned some basic painting techniques as well as how to build their own wood canvas and work with Venetian plaster.
If you missed the inaugural live event, you can view Wickey's video entitled "CAA's Art on Demand with Allison Wickey" on CAA's YouTube channel.
"Origin," the 28-by-60-inch piece Wickey created for the Art on Demand class, was made available for purchase for $2,750, with 25 percent of the proceeds benefiting the CAA's Emergency Relief Fund for Artists.
Visit the CAA website and follow the CAA Facebook page for upcoming online art offerings.
Calling All Creatives
If you have an interest in self-recording a class, demonstration or creative activity, connect with Lee Greene at (850) 622-5970 or lee@culturalartsalliance.com for more details on this emerging CAA program.
Cultural Arts Alliance Announces Emergency Relief Fund for Artists
The Cultural Arts Alliance of Walton County recently established an Emergency Relief Fund for Artists (ERFA) to address the immediate economic needs of local professional artists who have experienced loss of income due to the COVID-19 pandemic.
Artist applications will be accepted weekly through CAA's website, and grant awards will be available within one week of approval.
A fundraising campaign has also been launched to ensure that funds remain available as long as necessary. Walton County residents and CAA members Shawn and Richard Tomasello pledged a matching donation of $100,000 for the fund and challenge other individuals, businesses and foundations to quickly donate to the fund to meet the needs of artists who have experienced significant loss of income.
"We feel so blessed to be part of such an active art community," said CAA board member Shawn Tomasello. "With that blessing comes a sense of commitment to those who make our world more interesting and beautiful."
Donations to the emergency relief fund can be made online at CulturalArtsAlliance.com/Donate and through the phone by texting 'CaaArtistRelief' to 76278.
All donations, less any processing fees, will go directly to artists.
"The emergency relief fund process was created to be simple and easy so we can quickly meet the needs of our valued artists," said CAA executive director Jennifer Steele. "How many times have we asked artists to donate their work and time for our and others' worthy causes? It is critical for the CAA to lead this effort to give artists a boost of support during this time."
ERFA grants are available to individual professional working artists of all disciplines who live or work in Walton County and have lost income because of the cancellation of a specific, scheduled gig or opportunity or a temporarily or permanently closed business due to COVID-19 precautionary measures. Artists can request up to $1,000 during the first grant period to compensate for income that was lost between Feb. 28 and May 29, 2020.
The program is designed for artists who are struggling to meet their basic needs (food, shelter, medical, supplies) due to loss of artistic income from COVID-19. Artists who do not make most their income from their work as an artist or have other significant sources of income are asked not to apply so that those who are most vulnerable can be served. Priority will be given to applicants who are full-time Walton County residents and to requests made due to cancellation of opportunities that were to occur in Walton County. Applicants must be at least 18 years of age.
Visit CulturalArtsAlliance.com/Artist-Resources to review the full grant guidelines and complete the online application.
Center for the Arts to Host Virtual Best of Bay County Schools Exhibition
The Panama City Center for the Arts will host the virtual version of the Best of Bay County Schools between April 24 and June 30. To "attend," access the link to the show on the Panama City Center for the Arts website.
Every year, the art teachers of Bay County schools choose some of the best art projects throughout the year and display them at the Center for the Arts. The Best of Bay County Schools exhibition has been held all over the county for years. For the past few years, Bay Arts Alliance has hosted the exhibition in the Marina Civic Center and the Panama City Center for the Arts.
This year it will be held online.
When COVID-19 led to the closure of Bay County Schools before the annual Best of Bay County Schools exhibition, the Art Teachers Association acted quickly. They adjusted their plans, and instead of hanging the art on the walls of the Center for the Arts, they decided to use the Florida Art Education Association's online exhibition system.
Teachers have spent the past several weeks taking pictures of this year's chosen artworks — in a variety of mediums from drawings, painting, ceramics to photography — and uploading them into the platform to ensure the students still get their moment to shine.
No matter what the platform, the artworks are still a bright example of the talent of Bay County's students.
"Although this year's Best of Bay exhibition will be presented virtually, this format does not undermine its impact," said Jayson Kretzer, executive director of Bay Arts
Alliance. "This exhibit is part of our continuing commitment to support art educators as they inspire our community's next creative generation."
MKAF Virtual Art Festival
Last fall, Mattie Kelly Arts Foundation's annual Festival of the Arts was called off due to weather. Long before local artists were making headlines for knitting COVID-19 creations, MKAF launched a Virtual Art Festival.
From the comfort of your home, you can browse and purchase the original artwork of dozens of artists.
Proceeds go directly to the artists.
You also can page through the 2019 Festival of the Arts guide to learn more about the artists who were going to show.
Though you can't hear the live music or savor the crunch of the kettle corn, MKAF earns an A for virtual artistic effort, and fans can look forward to the fall when the coast is hopefully clear for the 2020 Festival as part of MKAF's 25th anniversary celebration.