EC Lounge, a Pre-Event to Digital Graffiti 2016 Recap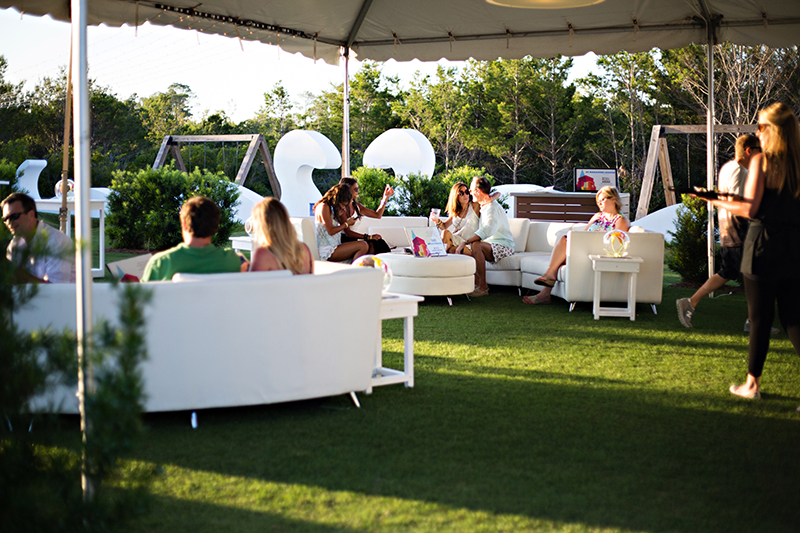 Dynamic, vivid beams of light played across the stark white walls of Alys Beach, which was transformed into a virtual canvas for the ninth annual Digital Graffiti festival. Digital artists, designers, filmmakers, photographers, musicians and art aficionados gathered for illuminated inspiration.
On the evening of May 14, Emerald Coast Magazine hosted the EC Magazine Lounge at Fonville Park where festival attendees mixed and mingled the night away as the Emerald Coast community showed the global attendees how to throw a party. The night was made all the more special with the celebration reveal of Emerald Coast Magazine's newly redesigned April/May issue.
The EC Magazine Lounge exuded a South Beach meets Boho vibe with intricate tent design by Fisher's Flowers and Events. Bote Board provided brightly hued paddleboard displays that guests could pose in front of creating social media memories using hashtags #LoveEC and #DGAlysBeach. Jacqueline Ward Images was on-site to capture every candid moment as the sunset slipped away and the dance tracks by DJ Lady Muse pulsed on.
As the orange and pink sky faded to stars, guests continued to enjoy libations provided by Cathead Vodka and Idyll Hounds Brewing Co. The light and refreshing EC Lemonade featured Cathead honeysuckle vodka, lemonade and a delightful splash of lavender. The brews on tap were the company's newest: Raspberry Sour, and the ever-popular pale ale, Man-o-Wheat. As thirst was quenched, so was hunger with exclusive hors d'oeuvres by Panama City's most recent cuisine gem, Chef's.
The walls weren't the only canvas for art. Emerald Coast Magazine staff, dressed in styles by Alys Shoppe, provided body art with white paint creating modern designs with a Bohemian chic flare from head to toe.
At the close of the night, Digital Graffiti curator Brett Pharres announced the well-deserving winners. Click to view them here.
Guests were invited to the EC Magazine Lounge via subscription to Emerald Coast Magazine's Top of the EC text program by texting "EC" to 20673, which provides unique, local offers and insider invites.
Energy and vivacity rippled through the air as beams of light reflected the artists' stimulating thoughts and evoked wide appreciation for a stunning art form on a beautiful night.