Disposing of Debris, Responsibly
Lee Perry sets example as a businessman with a conscience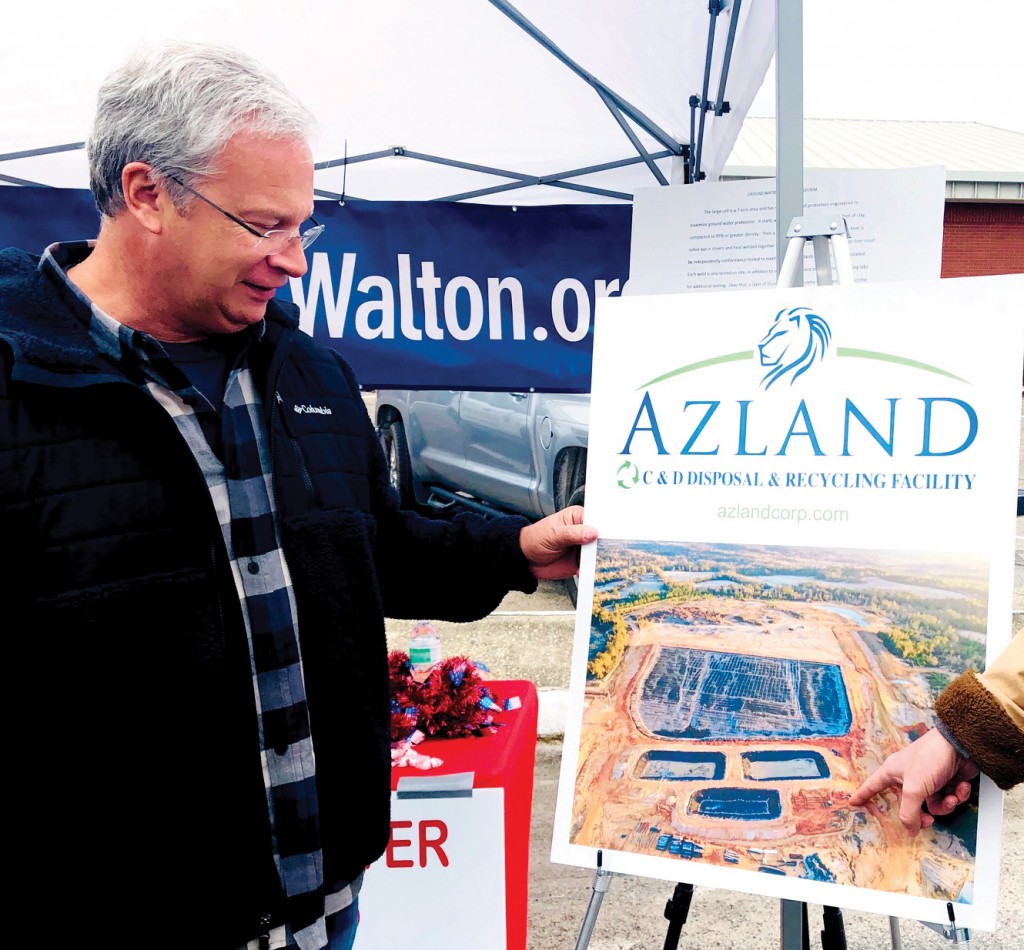 When a friend told Lee Perry that a nonprofit had been established to contest a giant household waste hauler's plans to site a leachate disposal well in Jackson County, he immediately contacted the organization.
Perry knew something about groundwater contamination and regulatory agencies and thought he could be helpful. Soon, he was a member of the intentionally soft-spoken but effective board of directors that founder Kelly Layman assembled to lead Safe Water for Walton.
Perry grew up in Andalusia, Alabama, graduated from Auburn University and went to work buying, selling and from time to time, developing real estate along the Emerald Coast. He had his finger on the pace of development in Walton County and could see that the county was likely to run out of landfill space and sources of fill dirt the way things were going.
He stepped in to help fill the void.
At one time, Walton County was home to some 200 small dirt pits, sometimes called borrow pits. The pits, generally, were poorly maintained, resulting in erosion problems. Too, pit owners often backfilled the holes they created with trash when they closed them down.
"Anybody with a backhoe and a dump trailer was in the dirt business," Perry said.
County commissioners addressed the problem by enacting an ordinance that knocked out the small pits, imposed tough requirements for obtaining permits to establish new ones and shrank the dirt supply. Perry was the first landowner to seek a borrow pit permit under terms of the ordinance.
"I was the guinea pig," he said. "It took me 2½ years to obtain my permits. The county put me in a position where I had to know a lot about what it was going to take to get them."
Today, Perry additionally operates the only lined Class III landfill in Northwest Florida, a business that is owned by his wife, Margie. A Class III facility does not receive household waste, but it can receive materials such as treated lumber and brown goods (TVs, computers, printers) that are not allowed in construction and demolition (C&D) landfills.
Conscientiousness was a factor in Perry's decision to go with a Class III landfill versus taking the C&D route. A factor, too, was the certainty that future hurricanes will visit Walton County.
When a major storm flattens communities, as Hurricane Michael did in 2018, haulers don't have time to sort through debris. Indeed, the state Department of Environmental Protection may at its discretion allow C&D landfills to operate on an emergency basis as if they were Class III landfills.
"The problem," Perry said, "is that they will not have been built to handle Class III material."
Perry's place, by contrast, is built to prevent any groundwater contamination.
"We control all of our leachate," Perry said, referring to the liquid that accumulates in the bottoms of landfills. "We contain it, treat it and test it before we can return it to the groundwater."
At the Azland Landfill, Perry has eight lined ponds that he planted with cattails and other vegetation resulting in what he called "vegetative wetlands." Those ponds are triple lined. A geosynthetic clay liner containing bentonite makes the ground impervious. Above it are two 60-mil pond liners separated by a foot of fill dirt.
Azland runs leachate through the ponds to a holding pond where it is tested. Before the treated liquid can be routed to a percolation pond and allowed to seep into the ground, it must meet drinking-water standards.
Siting a landfill in Walton County isn't easy. They must be placed away from wetlands, and as Perry said, "The last thing anybody wants in his backyard is a landfill."
Azland is located two miles east of U.S. 331 off Rock Hill Road in a rural area. To the west of the landfill is 1,000 acres owned by Orlando Technologies, Inc., which does explosives testing on the property. The landfill is otherwise surrounded by timberlands. At 30 acres in size, it sits in the middle of a 132-acre parcel that provides for substantial setbacks.
The landfill is made up of four cells, and at this writing, Perry is preparing to close out one cell and move on to No. 2. Upon closure, a Class III landfill must be monitored with wells for 30 years — versus five years for C&D landfills.
Walton County is building a Class III facility, but for now, Perry receives debris from throughout the county except for an area along U.S. 98 and east of County 395.
"With the housing boom in Walton County, we're seeing a lot of material, and that's a good thing," Perry said.
He is trying to get into recycling, but entry costs are high and there's not much money in it. Markets for recycled material can be hard to find.
"China is no longer buying recycled material as it once had," Perry said. "There are several things we'd like to do with recyclables, but you need offsetting income. I'm working on that."
The nonprofit was phased out as of Dec. 31, 2021, after achieving its chief objective, stopping the Waste Management leachate-disposal, deep-injection well; for four years, it had been engaged in activities including policy research and preparing for a possible court fight.
Waste Management withdrew its permit application on Jan. 10, 2020.
Layman said she didn't want to perpetuate an organization that would have to devote much of its energies to fundraising just to sustain itself. Safe Walton, she said, was a good example of an "ad hoc, hyper-focused nonprofit that prevailed on the basis of science and facts."
Perry agrees.
Safe
Water
"Kelly Layman saw something that had the potential to create a problem," Lee Perry said of the founder of Safe Water for Walton. "Even though the injection well would have gone all the way through the aquifer, a seismic shift could cause that pipe to crack. There is no such thing as a surefire, never-gonna-fail system. Even if nothing ever happens, the optics are not good. It doesn't give you a feeling of comfort knowing that you have that much toxic contamination going down through the source of your drinking water." Perry recognizes that continuing vigilance will be required to ensure that Walton County is developed responsibly. "I assume that if something comes up that needs to be addressed, Safe Water for Walton could be reactivated," he said.