Discovering the Secret Coast
Southern Mississippi communities add up to a charm bracelet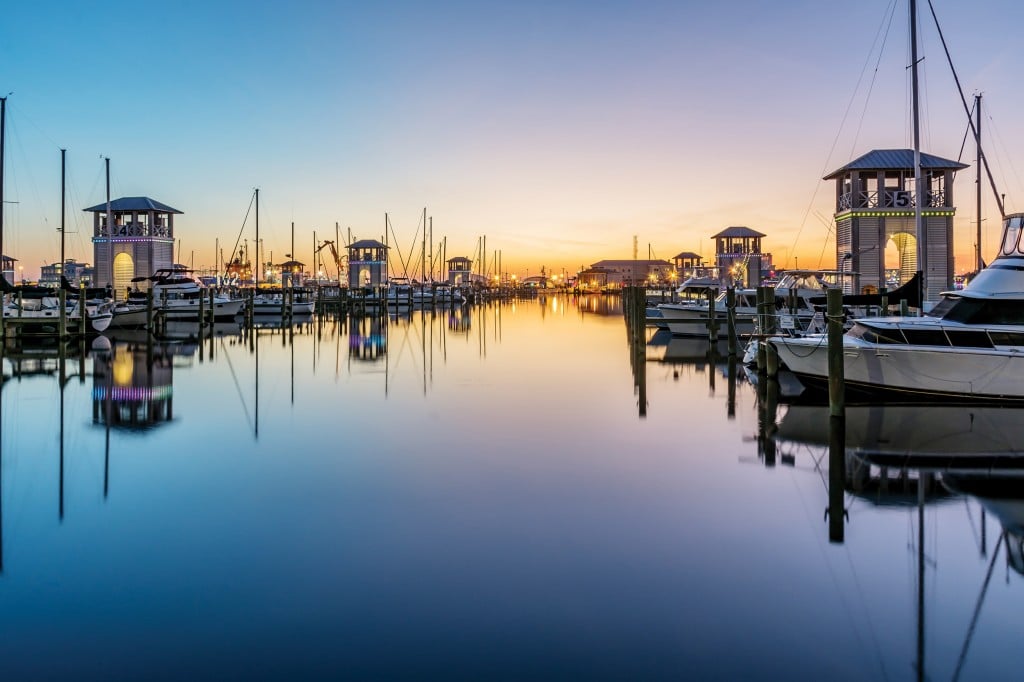 Upstairs at the Maritime & Seafood Industry Museum lies what remains of the Golden Fisherman, a 16-foot statue unveiled in Biloxi, Mississippi, in 1977 as a symbol of the city's heritage as a seafood producer.
When it stood, the statue depicted a fisherman throwing a cast net, represented by a strip of chain-link fencing. Twice, metal scavengers stole the statue, the second time after Hurricane Katrina heavily damaged it. Those thieves were fools if they believed the statue to be made of precious metal. The fisherman was not a golden idol but an ironman — a fact easily detected as one peers inside his torso with its rebar entrails.
The Golden Fisherman, lying faceless, akimbo and in repose at the museum, has been replaced outside with a 7-foot bronze sculpture, which stands atop a base that lists more than 800 families that made their livings in seafood.
Coastal Mississippi, touted as the "Secret Coast," has a long history of building back better from natural disasters, which increasingly have been influenced by human activity. But the deadliest of them all occurred in 1893 when hurricane winds of 140 miles per hour and a 20-foot storm surge battered the coastline from Louisiana to Alabama. More than 2,000 people died, many of them caught without warning at sea long before Jim Cantore was born.
One year earlier, the canning of oysters and shrimp had become Biloxi's chief industry, write David A. Sheffield and Darnell L. Nicovich in their book, When Biloxi Was the Seafood Capital of the World. Now, the industry would have to reset.
Of late, the calamities have come in bunches — hurricanes, algae blooms and a pandemic — all affecting the availability of, and demand for, seafood. Their combined effect, said Corey Christy, the outreach program coordinator for the Maritime & Seafood Industry Museum, has been to shrink the size of coastal Mississippi's shrimping and oystering fleets.
But the nature of that work is changing. On this day, a front-page story in the Gazebo Gazette, serving western Harrison County, details grant awards aimed at promoting off-bottom oyster aquaculture. The bell soon may toll for tonging, but oyster consumption will carry on.
For generations, Mississippi has known that it's not whether you get knocked down; it's whether you get back up.
In the course of a three-night trip to Mississippi's Gulf Coast, my brother Mark, down from Minneapolis, and I would find no shortage of seafood.
We arrived at the Hotel Pass Christian on Halloween afternoon, found a key in an envelope with my name on it on a counter just inside the door and proceeded to our room.
At daybreak, we were to meet Capt. Sonny Schindler of Shore Thing Charters for a half-day trip aboard his 26-foot Avenger, the Miss Margot, named for the captain's daughter and powered by a 300-hp Yamaha outboard.
At the dock, Schindler welcomes us with a gift wrapped in newspaper. Within is a bone from a gafftopsail catfish mounted on a stained and varnished piece of tongue-and-groove board. The bone closely resembles a crucifix.
"My daughter makes them," he said and then invited us to join him in prayer. An answered prayer would mean a safe trip and a nice mess of fish.
We made a Gulf run of 20 minutes or so to jetties constructed in recent years to discourage the washing away of marshlands. En route, Schindler told a fascinating story about how he once helped out Dr. Jim Franks, a big-name marine biologist at the University of Southern Mississippi, by working with a spotter plane and a diver in tagging an incredible 24 whale sharks.
Schindler positioned the boat within casting distance of the rocks, baited our 1/0 Kahle-style hooks with frisky shrimp, and immediately we were into speckled trout running just short of keeper size.
After a time, with just one speck and a white trout on ice, the captain moved the boat with its trolling motor into a tidal cut and Mark hooked a nice redfish near a stick protruding from the water. It was the first photo-worthy fish of the day. Later, back at the jetties, I landed a keeper red of my own.
We struck out during a stop at the Bay St. Louis Bridge and finished up at the Pass Christian City Marina, fishing pilings stripped of their woodwork by Hurricane Zeta, a fast-moving, Category 3 storm that blew through in late October 2020.
There, I hooked into a beast that peeled off the line like an untethered kite. The fish bulldogged toward where my brother was fishing and our lines crossed. Before we could switch places, Mark got a solid bite, his line chafed against mine and my fish was free. Mark landed a fine sheepshead.
"You had a nice one on," Schindler told me. "Probably a big black drum. Get back out there and even the score." That was not to be.
Our fishing time expired, we docked at Shaggy's Pass Harbor restaurant. Schindler made quick work of our catch with an electric knife, and the fillets were handed off to the kitchen.
Minutes later, we dug into a hook-and-cook lunch of blackened sheepshead with a vegetable medley; fried trout topped with Creole sauce and baby shrimp; and a Bahama redfish grill served with coconut rice and coconut shavings, pineapple pico de gallo salsa and a soy glaze.
Seafood doesn't come any better than that.
Our onshore activities included a walk about Bay St. Louis where we were moved by the Angel Tree, a large live oak that served three people and a Scottish terrier as a life raft after the inn where they were staying was destroyed by Hurricane Katrina. Angels were later carved into its branches, and the tree was placed on prominent display.
We toured Ruth's Roots Community Garden where despite the lateness of the year, there was enough good stuff available to attract migrating butterflies. We were amused by four large doe rabbits that share a spacious enclosure and had combined to dig a burrow large enough for El Chapo.
At Cuz's Oyster Bar in Bay St. Louis, I supped on a dozen raw, and my brother opted for fried green tomatoes. The music was sublime, perfect for a pair of 60-somethings: You Don't Know How it Feels by Tom Petty, Black Water by the Doobie Brothers, Lean on Me by Bill Withers.
In Pass Christian on Halloween night, we were approached by members of the wait staff at Shaggy's seeking our support in a costume contest that was beset by allegations of cheating and voter fraud, just like a real election.
We paused for coffees and scones at Coast Roast in the shadow of the Hancock Whitney Bank building in Gulfport. I had a chance to go to work in that tower at one time and was shown the cubicle office that could have been mine. I turned it down. Curiously, there was but a single thing to read in the café, a copy of Guilty by Ann Coulter.
Also in Gulfport, we visited the Mississippi Aquarium where an employee excitedly informed us that the stories-tall main exhibit, which mimics a marine water column, is home to two wobbegong sharks — bottom-hugging masters of camouflage, ambush feeders that don't much move. I made a point of looking for them and spotted one, but I was much more wowed by the huge crocodile housed in a habitat sponsored by, yes, Hancock Whitney. Never had I realized just how ornate a croc can be.
At the aforementioned Maritime & Seafood Industry Museum, which was built around a meticulously preserved 30-foot schooner, the Nydia, I was taken by the centerpiece vessel, certainly, but found fascinating, too, an elaborate shrimp-cleaning machine invented by a teenager, and I studied for a time a pair of oyster tongs — they must have been 16 feet long — and wondered at the strength that would be required to operate them.
For three days, I had looked forward to our stop in picaresque Ocean Springs, home to the Walter Anderson Museum of Art. There, our guide was Anthony DiFatta, the director of education. His knowledge of Anderson's art, sensibilities and troubles was remarkably thorough, his appreciation for Anderson's art, complete.
I marveled at the one-speed, balloon-tire bicycle that Anderson once rode from Mississippi to Pennsylvania. His depictions of the essences of coastal flora and fauna are a reflection of the depths to which he immersed himself in the natural world, once riding out a hurricane while tied to a tree on Horn Island so that he could fully experience the storm's fury.
I studied Anderson's birds and thought back to the clapper rails that protested the Miss Margot's incursion to their habitat.
Anderson forsook family and fame for his art.
His art at one time attracted attention such that a show of his work was scheduled for the Brooklyn Museum in New York. Rather than attend the show and meet people who could advance his career, Anderson departed for China with a $1,000 he had inherited from an aunt. He had planned to walk through China to Tibet, which he considered to be the most spiritually advanced country on Earth.
When his passport and money were stolen, he had no choice but to reverse course and wire home for funds enough to get him back.
I took note of a framed paper at the museum on which Anderson copied in longhand Psalms: 104, a sure sign of his appreciation for the ways in which the Lord provides for life.
He sendeth the springs into the valleys, which run among the hills.
They give drink to every beast of the field: the wild asses quench their thirst.
By them shall the fowls of the heaven have their habitation, which sing among the branches.
He watereth the hills from his chambers: The earth is satisfied with the fruit of thy works.
He causeth the grass to grow for the cattle, and herb for the service of man: that he may bring forth food out of the earth,
And wine that maketh glad the heart of man, and oil to make his face to shine, and bread which strengtheneth man's heart.
I will consult that passage from time to time, and as often as I do, I will think of Anderson and of Mississippi and a certain big black drum.
Waves of Storms
Throughout recorded history, hurricanes have written chapters in Coastal Mississippi's history. Write David A. Sheffield and Darnell L. Nicovich in When Biloxi Was the Seafood Capital of the World, "Tragedy struck in the fall of 1893 when the Gulf Coast suffered from the worst storm in 33 years. The oyster canning factories were hit hard, and the fishing fleet was decimated. In those days before adequate communication provided a warning, countless fishermen were caught aboard boats in coastal marshes. Those who survived told chilling tales of miraculous escape. Winds of 140 mph and a tidal wave estimated at 20 feet leveled practically everything in its path. Over 2,000 people died, and over 350 watercraft were wrecked."