Dining Options That Please All Palates
Grand Boulevard offers an array of exceptional eateries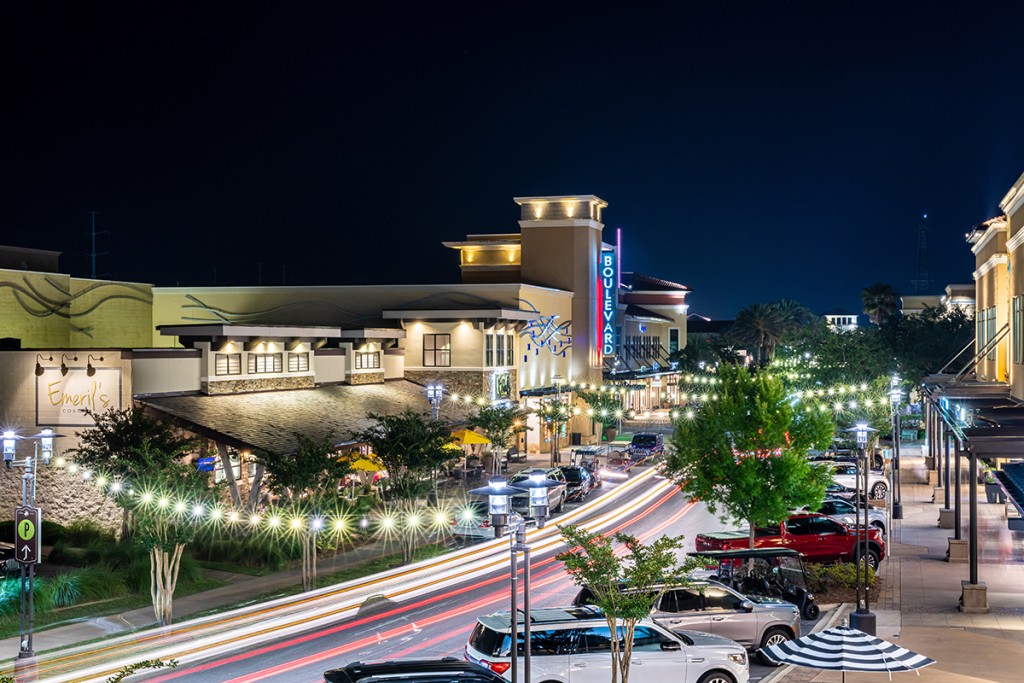 Grand Boulevard's array of restaurants has you covered. Whether you're running errands and need a quick bite, possibly a fresh salad or wrap from everkrisp; or you're celebrating a major milestone and decide to have a special meal at Emeril's Coastal or Fleming's Prime Steakhouse & Wine Bar; or you simply need an afternoon pick-me-up, so you stop into Black Bear Bread Co. or Kilwins.
No matter the occasion, from fast and casual to fine dining, you would be hard-pressed not to find a dining option you adore at Grand Boulevard.
"The great thing about Grand Boulevard's restaurant options is we've got the best of all worlds from locally owned to nationally known names," said Stacey Brady, director of marketing and communications with Grand Boulevard.
With 16 dining experiences, whatever your tastebuds tingle for, Grand Boulevard likely has it.
Say you're shopping and you want a sit-down experience with a filling meal, Grimaldi's Coal Brick-Oven Pizza is noted as having some of the best slices in the region, with fans flocking to the meatball pizza.
The Craft Bar is a locally owned gastropub that's a great place to gather with friends. Try out local, regional and national craft beers paired with standout menu items like the hot chicken or an array of burger options.
Everkrisp's tagline is "where farm meets fast food." Diners enjoy farm-to-table fresh salads, wraps and sandwiches to sit down or to-go. Everkrisp proves fast doesn't mean you have to sacrifice quality ingredients.
Black Bear Bread Co., a locally owned company that opened its second location at Grand Boulevard, specializes in artisan, fresh-from-scratch bread and pastries. Begin the day with a pastry and coffee, and in the afternoon, transition to a glass of wine and a baguette.
A favorite for breakfast, brunch and lunch, Another Broken Egg plates comfort food from benedicts to Belgian waffles to brunch cocktails. Speaking of libations, The Wine Bar and Vin'tij Food & Wine are known for their perfect pours and pairings.
The Wine Bar may present itself as casual, but the artisan, chef-inspired menu is anything but casual. The atmosphere makes for an ideal happy hour, date night or girls' night out.
Vin'tij is an award-winning restaurant serving fresh foods from local purveyors paired with an extensive and impressive wine list. If you enjoyed the wine you sipped with your meal, you can head over to the wine shop to purchase a take-home bottle.
If your heart flutters at the mention of chips and queso, or you never miss a Taco Tuesday, Cantina Laredo should be on your radar. The menu is flexible with casual fares like burritos and fajitas or upscale options such as fish and steak. No matter what, the tableside guacamole is a must-order.
Tommy Bahama Restaurant & Bar came to Grand Boulevard as a first-in-market dining option. The garden room and patio overlook the park providing pleasant scenery to enjoy island-inspired seafood, steaks and signature cocktails.
To impress family, friends or coworkers, Emeril's Coastal and Fleming's Prime Steakhouse & Wine Bar are prime locations. As a South Walton resident, chef personality Emeril Lagasse has a deep appreciation for the nearby coastal seafood, which is featured prominently on the menu. Diners have been known to see the chef himself in the kitchen from time to time. You won't go wrong with an excellently cooked steak from Fleming's delectable menu.
Nationally known chains Jimmy John's, Starbucks, P.F. Chang's and Kilwins promise speedy service and reliable food and beverage offerings.
"Ideally, we offer something unique to our market, something you're not going to see elsewhere around here," Brady said. "When dining and drinking at Grand Boulevard, you're going to experience quality food, great customer service and a pleasant atmosphere."
---
Grand Boulevard
585 Grand Boulevard, Miramar Beach | (850) 837-3099 | Grandboulevard.com
---