Digs for Dogs
Redesign your home with Fido in mind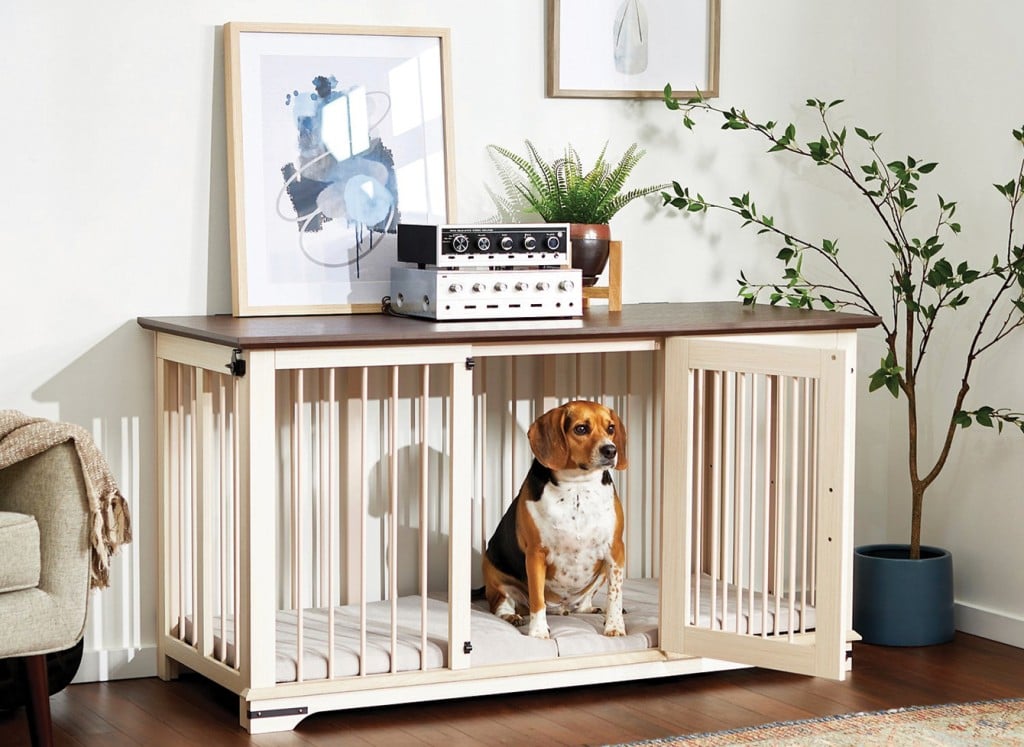 Of course, you love your dog to distraction.
But, when guests are expected, you probably scurry to remove messy feeding bowls, pick up chew toys and Febreze the sofa.
You'll be glad to learn that designers are hard at work coming up with concepts that pamper our pooch, as well as simplify the job of caring for them.
Kitchen and bath designers are often at the forefront of innovative pet designs, including feeding centers that can roll out of sight, cozy indoor snooze centers and doggy wash stations.
They claim that such design features can be beautiful, and of course, a happy and healthy pet also means a happy pet owner.
The National Association of Kitchens and Baths (NKBA) says that pet-friendly design is on the rise, and the American Institute of Architects reports a sharp spike in client interest in built-in pet rooms and kennels.
For dogs, mudrooms and laundry rooms are considered the best locations for built-in feeding, sleeping and bathing centers. When designing these spaces, you should consider your pet's size, age, health and temperament.
For example, while a pull-out, lower cabinet drawer outfitted with water and kibble bowls is fine for smaller dogs, a long-legged Great Dane needs a taller unit. For most large dogs, dining seat height is about right.
Too, keep your dog's size in mind for a sleep center. While decompressing, most dogs like to feel snug. The space can be minimal, just large enough for them to comfortably turn.
Sleeping quarters might be a cabinet with an opening, a rollaway bed or a bench with a cushy pad. The space beneath a staircase, often used as a closet, is many designers' pick for a canine bedroom.
"If you're outfitting a mudroom as a safe space for your dog to curl up or play in while you're out, add a compartment for his toys," said Sarah Barnard, one of NKBA's pet-friendly designers. "Outfit dog cushions with washable duvet covers, and avoid toxic materials. Puppies, especially, are prone to taste-testing items within reach, including rugs and pillows."
A dog tub/shower is an item at the top of many pet owners' lists, and pet pros approve. They say this feature saves owners time, money and stress, and most pets seem more comfortable at home than at the groomer.
Indoor kennels and crates have also gone luxe. These days, they're often designed to do double duty as a coffee or end table and sometimes stand in for cabinets and sideboards.
Then, there are dog doors.
These take the form of doors with cut-outs, through which the family dog can go in and out at will, as well as for special in-house doors that, when necessary, may keep him at bay.
The latter are a far cry from typical, rickety baby gates. Boasting fine wood, they may even be pocket doors.
Interest in outdoor pet living is also on the rise.
While no dog lover will ever advocate letting a dog live outside, a dog house can sometimes be a necessity. Kathy Mullen, a dog trainer and owner of Kalero Dog Obedience in Panama City Beach, recommends dog houses serve as an outdoor haven for Fido but not a home.
Dog house doors should always be open, said Mullen, so your pet may enter and exit as they please.
"Dog houses can provide shelter for a dog that is outside, but you don't want to leave them out there 24/7," Mullen said. "Dogs are pack animals and like to feel enclosed, and dog houses provide that for them outside. During extreme weather, though, they need to be inside the house with you."
Popular styles range from tiny, Snoopy-esque homes to classic log cabins with roof decks, but you should prioritize its size and comfortability over aesthetics.
The house needs to be big enough for the dog to lie out flat with his legs and head fully extended. It should be well-insulated, and the floor ought to be slightly slanted toward the rear to drain rainwater.
Your dog will also need a place to go potty. It could be a patch of artificial grass capable of being hosed off or a mulched area.
When landscaping around your dog's area, be careful with graveled paths, as small stones can get caught in tender paws. Most importantly, keep toxic plants out of his yard. Common plants such as azalea, grassy palm, aloe and English ivy are no-nos.
Checking out the ASPCA website's list of toxic plants for pets is a must.
---
Dogscaping
As an animal lover, you may be inclined to plant milkweed, a plant relied upon by monarch butterflies in their life cycles. But be mindful that milkweed is among plants that are toxic to dogs. Others, in addition to those pictured here are: sago palms, tomato plants, aloe vera, amaryllis, gladiolas, daffodils, baby's breath, chrysanthemums, begonias and oleanders.