Ephemeral Magic
Digital Graffiti blends art and architecture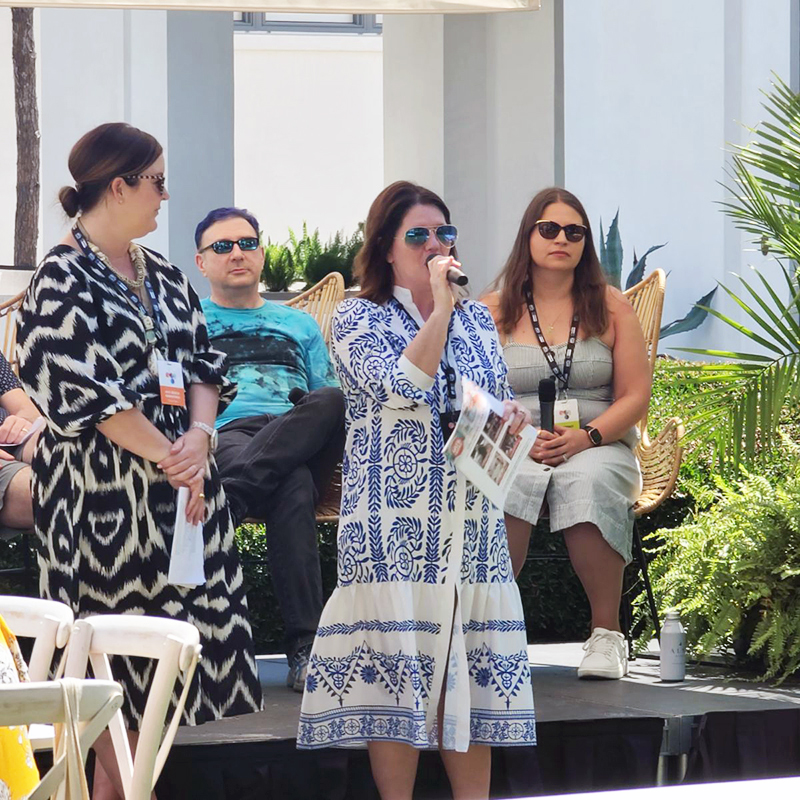 Alys Beach, an idyllic community of alabaster buildings that complement the nearby white-sand beaches, annually hosts Digital Graffiti, a celebration of innovative technology and digital art.
Artists from all over the world participate in the event, which takes advantage of Alys Beach's buildings as perfect canvases for projection artworks that light up the night in a unique exhibit.
Members of the media and artists were invited to a Saturday morning brunch where curators and selected artists held a panel discussion.
"We've been fortunate enough to have worked on Alys Beach since the beginning; we're on our 20th year," said Marieanne Khoury-Vogt, an architect. She works with her husband, Erik Vogt, to design elegant beach homes.
"What I love about the architecture and urbanism is that Alys Beach is more subtractive," she said during the panel discussion. "I love to see how the Digital Graffiti curator chooses to site certain projects as the art can uniquely mold to the architecture, creating an added layer."
Katina Bitsicas, an artist and a professor at the University of Missouri, spoke to the incredible opportunity provided by Digital Graffiti to elevate the pairing of art and architecture.
"I participated for the first time in 2016," Bitsicas said. "I had more time this year, and I had a specific site I wanted to use as my canvas. I used two projectors to get both sides of the building, using the windows as sort of vignettes to place meaning behind the art and the architecture as canvas. I am bringing my students to inspire them to become the future of projection art."
The brunch was a swanky affair, but did not discourage casual, comfortable beachwear — flowy dresses, wide-brimmed hats, sunglasses, tan pants with collared shirts.
"I have no idea what to even call any of these, but they look so delicious!" an artist commented as she filled her plate.
Indeed, the pesto quiches, honey pastries and grilled avocados topped with pico de gallo made for an elevated brunch experience.
"Festivals are temporary," said panelist John Colette, who is responsible for curating Digital Graffiti. "The dimensionality really needs to be experienced at that time. That temporary magic really attracts me."
If you missed this year's Digital Graffiti or would like to re-live the experience, below is a live-stream of the event.
---
---