The Alys Foundation Announces Finalists for Digital Graffiti 2023
The 16th annual international projection art festival in Alys Beach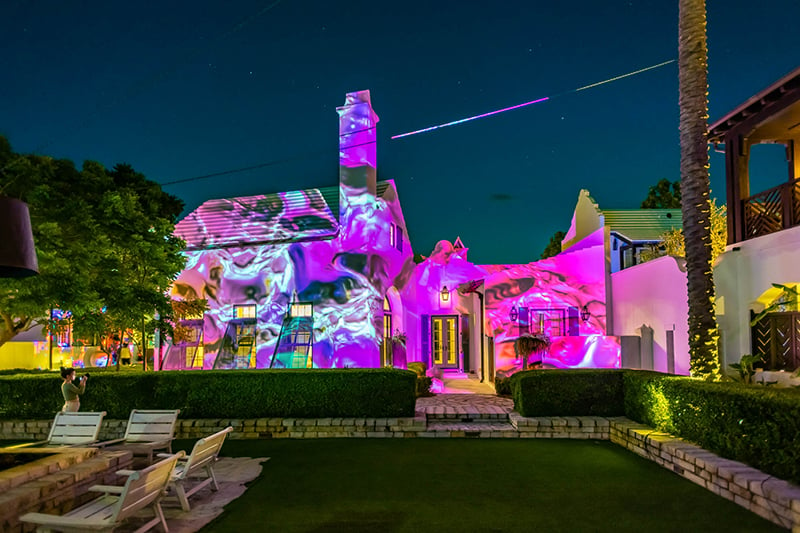 The Alys Foundation is pleased to announce the selection of the finalists, as well as the residency artists and judges, for the 16th Annual Digital Graffiti Festival at Alys Beach, scheduled for May 19–20, 2023. Artists from around the globe are invited to submit original works of digital art to be showcased in the juried festival, with finalists and residency artists displaying their submissions in an outdoor gallery of architectural and environmental spaces.
The Digital Graffiti festival features a full roster of evening festivities in celebration of the art, artists, and production. To learn more about the Digital Graffiti Festival, our esteemed judges, and the finalists presenting this year, please visit the website. Festival tickets are on sale now via Big Tickets.
WE CONGRATULATE OUR 2023 DIGITAL GRAFFITI FINALISTS:
Tyler James Bangkok, Nicola Pavone, George Berlin, Holly Danger, Michael Betancourt, Border Williams ft. Micah Buzan, Timothy Nohe, Brandon Ellis, Christopher Farstad, David Serra Navarro, Lynn Kim, Isabel Clavo, Jean-Michel Rolland, Gary Bitsicas, Xinye Lin, David Sullivan, Zachary Winter, Jennifer Petuch, Lori Ersolmaz, Eric Homan, Kaleb Sweeney, Jeremy Oury, Sandra Araújo, Priscilla Quek, Fumie Ito Matters, Angelica Verdan, Jinkyu Kang, Alex Campbell, Alexander Mendoza, David Bennett, Karen Brummund, Katie Rolph, Io Ermoli, Komal Goswami, Meghan Romance, Patrick Kuhnmuench, Peter Clark, Cody Samson, Ted Cobena, Jonah Allen, Candi Gordon, Elise Lyon, Brittnie Diamant, Luke Hildreth, Alyssa Mackersie, Daisy Rankin, Katherine Balsley, Nano Fantom, Tracy Miller-Robbins, Christopher DeLorenzo, Keaton Fox, Renee Silva, City University of Hong Kong Students, Savannah College of Art and Design Students, University of Missouri Students
2023 DIGITAL GRAFFITI RESIDENCY ARTISTS:
As Digital Graffiti Residency Artists for the 2023 festival, the works of Katina Bitsicas, XUAN, and Austin Shaw will be featured throughout the festival route.
Katina Bitsicas is a new media artist whose creative work explores personal loss, trauma, and memory through video, installation, photography, and performance. Bitsicas' work explores the human connection through shared experiences, and finding meaning in those experiences, incorporating metaphors such as red thread to symbolize loss and the desire for connection. Bitsicas' work has been exhibited around the world including The Armory Show (NYC), PULSE Art Fair (Miami), Satellite Art Fair (Miami), Superchief Gallery NFT (NYC), the Wheaton Biennial curated by Legacy Russell (MA), HereArt in New York, Art in Odd Places in Orlando, the St. Louis International Film Festival and Digital Graffiti in Alys Beach. She is an assistant professor and Coordinator of Digital Storytelling at the University of Missouri, where she conducts research with the MU School of Medicine on utilizing digital storytelling as a meaning-making intervention for those experiencing the bereavement process.
XUAN is a filmmaker, pianist, and new media artist whose work explores the meeting point of music, visual art, and technology. A trained classical pianist with a passion for "visual music," she actively develops innovative, cross-disciplinary projects that broaden the immersive scope of new music and performance. She was selected to create projections for Art on theMart, the "largest permanent digital art projection in the world" on the 2.5-acre façade of the Merchandise Mart in Chicago, in collaboration with GRAMMY-winning ensemble, Eighth Blackbird, and world-renowned composer Michael Gordon. Her interactive installations have exhibited at the erstererster Gallery in Berlin, the ibug Urban Art Festival in Reinchenbach (Germany), Design Biennale in Zürich, the RESCUE Residency in Santo Stefano di Magra (Italy), Sound Forms in Hong Kong, and others. Xuan is an advocate for cross-disciplinary collaboration and multi-media performance and has given lectures on these topics at Carnegie Mellon University, University of Colorado Boulder, University of South Carolina, Rochester Institute of Technology, and The New School. She has taught experimental filmmaking at the Eastman School of Music since 2016.
Austin Shaw has nearly 20 years of experience as a creative director, art director, designer, animator, and illustrator for some of the top design-driven production companies including motion design projects for Ferrari, Ralph Lauren, The National Geographic Channel, MTV, VH1, ESPN, Target, McGraw Hill and others. His projects have been recognized for Broadcast Design Awards and Emmy nominations. Shaw is an assistant professor of design at Western Washington University and has taught for the Savannah College of Art and Design and the School of Visual Arts in New York City.
2023 DIGITAL GRAFFITI JUDGES:
John Colette is the 2023 Digital Graffiti festival curator and professor in the Motion Media Design program at the Savannah College of Art and Design. As a professor, Colette teaches within the program and contributes to program development and research project work with a focus on contextual research, exploration of digital ecosystems, UI / displays and User Experience for industry partners including Fossil Watches, Samsung, BMW Technology Office USA, Microsoft Studios and Adobe Systems. Colette's personal work and research involves large public display systems, media control systems, interactivity and sonification projects.
Marieanne Khoury-Vogt is a founding partner of Khoury Vogt Architects, alongside husband Erik Vogt. Together serving as Town Architects and residents of Alys Beach since 2003, Khoury-Vogt and Vogt have been responsible for designing much of the town's public realm including streets, parks, pedestrian paths, greens, and civic architecture, shepherding the master-planning of DPZ CoDesign (Duany, Plater & Zyberk). Additionally, they have designed many homes and mixed-use buildings, all within the strict confines of a design code that governs the urban and architectural character of Alys Beach.
Geoffrey Platt is a well-known media server and emerging digital media specialist in the real time video and effects industry, based in Orlando, Florida. Platt has helped create award-winning real-time video products for high profile manufacturers and for high-profile shows and events across industries including concerts, theatre, film, and location-based entertainment and television. Founder of "Ahead of the Curve" in 2020, a web-based TV show designed to share emerging technologies in the live and location-based entertainment markets through social media and virtual environments, Platt brings a wealth of knowledge in lighting and video workflows as they apply to the real time video and events industries.
Jennifer Steele is executive director of the Cultural Arts Alliance of Walton County, the local arts organization that has fostered 30 years of cultural and artistic growth in Northwest Florida through advocacy, funding, programming, and education. Steele has been part of the South Walton community throughout her life and, with a BFA from Valdosta State University, has played an integral role in the progression of cultural programming in the area by helping to found, and by leading, many significant festivals and arts initiatives including the REP, which she co-founded as the Seaside Repertory Theatre, the 30A Songwriters Festival, ArtsQuest, the Flutterby Festival, the Under the Sea fundraiser supporting the Underwater Museum of Art (UMA), and much more, as well as in her support of events, festivals, programming, and nonprofit efforts community wide.
For more information about the festival, please visit digitalgraffiti.com. Be sure to follow Digital Graffiti on Facebook and/or Instagram for up-to-date information. Can't make it to Digital Graffiti in person this year? Stay tuned for details on our Livestream hosted by creative technologist Geoffrey Platt and Seaside Institute's interim director, Christy Milliken.
---