Destin High School Celebrates A Dream Come True
The community reflects on the schools significance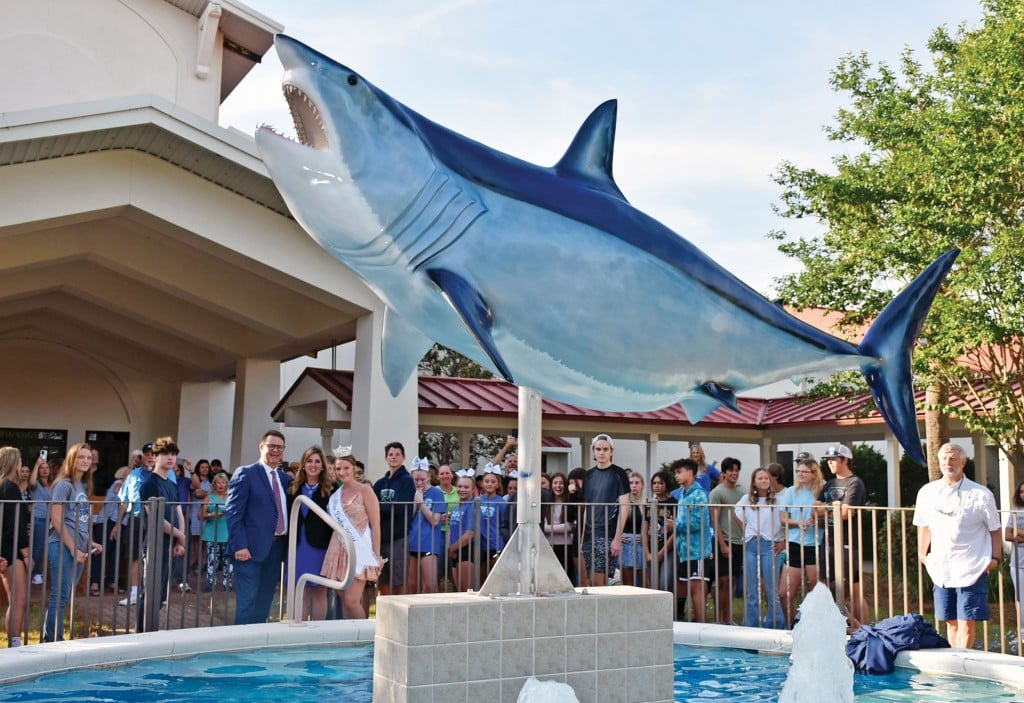 After years of sorting through complex issues, organizers of the new Destin High School are poised to celebrate when it welcomes its first students for the 2021–22 school year.
"Everything has been going very smoothly and the community is pulling for us," said Prebble Ramswell, president of the school's governing board and a Destin City Council member.
Destin High School is a tuition-free, public charter school located at the former Grace Lutheran Church site on Commons Drive, next to the Mattie Kelly Cultural Arts Village.
In the past, public school students from Destin had to attend either Choctawhatchee High School or Fort Walton Beach High School.
Acquisition, construction and renovation costs have been financed through a $10 million tax-exempt bond from Truist SunTrust Bank. Lord & Son was the project's general contractor.
DAG Architects Inc. developed plans for the campus, which comprises three buildings: a classroom building with cafeteria; the student gathering hall; and an administration building that also contains classrooms. The cafeteria is equipped with a full kitchen, "But we plan on working with community partners to have catered lunches from local restaurants each day," Ramswell said.
For the school's first year, enrollment will be capped at 300 students in grades 9 through 11.
Ramswell said a second phase of development at DHS may include a gymnasium. For now, the school will use local facilities, including the Destin Community Center and municipal fields.
"We will have all the traditional clubs and extracurricular activities, as well as some specialized clubs building on our career academies, such as sportfishing," Ramswell said.
Christine Cruickshank will serve as DHS's first principal.
"She is absolutely incredible," Ramswell said. "We did a nationwide search and received almost 200 applications from people all over the country."
Ramswell said she was impressed by Cruickshank's local knowledge and familiarity with school systems.
"It was just a perfect match, and we couldn't be happier," she said.
Cruickshank first visited the Emerald Coast with her then-future husband Kent, who grew up locally, graduating from Fort Walton Beach High School.
"I fell in love with the area, and we decided to move here from Central Florida," Cruickshank said. She taught for a year at Niceville High School and then spent 12½ years at Collegiate High School as a history teacher and assistant principal.
"When I was looking at moving here, Destin High School was my first choice, but unfortunately, there was no Destin High School here in 2007," Cruickshank said. "When I saw the governing board was looking for a principal to open the new school, I saw it as an amazing opportunity and challenge."
Cruickshank has received a warm reception in her new role.
"The community has been amazing," she said. "I have had the chance to meet many of the students and parents, and they are so excited. I have also met and am working with a variety of community members who want to be part of Destin High School, and they are wonderful."
The school mascot, a shark, was determined by voting at a Destin Town Hall meeting in the spring.
Brooke O'Keefe, the reigning Miss Destin at the time, and local banker Gloria Tucker submitted winning mascot drawings. Tucker is a great-great-granddaughter of William T. Marler, one of Destin's founders.
After classes commence, students will name the mascot; select a school motto and alma mater song; and establish a mission statement and founding principles.
Briar Ramswell, Prebble's daughter, created the school's logo, incorporating the shark. She will be a DHS sophomore this year.
"We wanted to show empowerment because this school is something Destin has wanted for a really long time," Briar said. "I look forward to being able to go to school with a lot of my friends so close, instead of going over a bridge or waking up so early in the morning to get ready. And we can work after school or play one of the sports."
In its first year, DHS athletics will be limited to club sports and intramural competition. In year two, the school plans to be joining the Florida High School Sports Association.
"Students may participate in sports at their regularly zoned high school until Destin High School offers them," Ramswell pointed out.
At the end of May, school officials introduced Philip Dorn as DHS's athletic director and unveiled a mako shark statue donated by the LoCicero family.
"The whole point of what we're doing here is not where we're going to start, it's where we're going to finish that matters," Dorn said, "and we want to finish as one of the best high schools in Florida, providing our student-athletes with the opportunity to be the best they can be."
Dorn has 39 years of coaching experience, 17 of them at the college level, and 22 years at high schools. He has been an athletic director for 13 years. He and his family live in Destin.
"In any startup situation, there are multiple challenges," he said. "There are a lot of things we're going to be doing on a continuing basis — fundraising, obviously, and working with the community to set up safe practice and competition facilities. We're also going to be working very hard to hire great coaches."
School board member Heidi LoCicero and her husband Brian, along with their son Andrew and fiancé Ann Elizabeth Walker and daughter Peyton and her husband Beau Trist, presented the school with the 15-foot shark statue that is positioned in the reflecting water fountain in the high school's courtyard.
Capt. Mike Parker arranged to have it molded and painted by a taxidermist in South Florida. It is a replica of the largest mako shark ever caught in U.S. waters.
"Great things are happening in our little beach town," Heidi LoCicero said. "In donating this gift, my family hopes that this iconic statue will be the backdrop of many wonderful memories and photos taken at Destin High for the next 400 million years."
Ella Stone, daughter of board treasurer Sarah Stone, has been wearing the school's shark costume.
"I get a couple of people to help me, and I just wiggle into it," she said. Local donor Joe Campbell gave the costume to the school.
"It's very rewarding to see all this come to fruition," Sarah Stone said. "I am most excited that our students will have the option to attend high school in their community, where they can get plugged in with their local businesses and city government to become the next generation of leaders for our community."