Surplus Salvation
Destin Harvest combats food insecurity in Okaloosa and Walton counties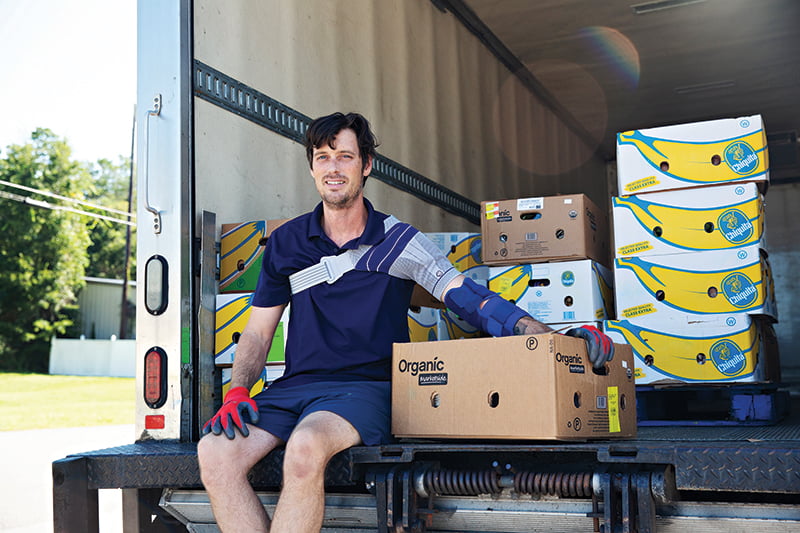 Despite the United States' status as one of the largest food-producing countries in the world, 38% of our nation's population goes hungry every year. According to Feeding America, a nonprofit network of food banks, Florida exceeds 2.2 million living with food insecurity.
Why then, in a country with an abundance of resources, is hunger such a pervasive issue? One answer (and possible solution) is food waste. In 2017, the USDA's Economic Research Service estimated between 30% and 40% of the country's food supply went to waste.
Destin Harvest, a nonprofit organization operating in Okaloosa and Walton counties, stops waste dead in its tracks, diverting surplus food from local grocers to more than 40 feeding programs across its two-county service area.
"We are a very small program," said Destin Harvest Executive Director Chris Leavenworth. "At most, we may have three people, and we are distributing about 100,000 to 200,000 pounds of food a month. That all goes out to food pantries, soup kitchens, churches and more." To qualify for assistance, the organization must be a 501(c)(3) or tax-exempt organization, the food must be offered for free and they cannot require the individuals to attend a service.
One organization that benefits from Destin Harvest's services is CALM House. CALM (Crisis Aid for Littles and Moms) is a Christian faith-based program that provides secure housing, healthy meals, child care, counseling and classes to at-risk mothers and children. Thanks to Destin Harvest, CALM has drastically reduced its food spending, allowing the program to expand the services offered to its residents.
"I think the biggest benefit outside of here for our residents is that our past residents know that this truck shows up every Wednesday at noon, and if they are in need of groceries, they can come and (the driver) will give them food as well," said CALM President, Chanie Erb.
Leavenworth got involved with Destin Harvest back in 2008, just one year after benefactor and current board chair, George Landegger, founded the organization.
Landegger is a successful businessman who frequently vacations in the area. Over the years, Landegger has leveraged his wealth to create surplus feeding programs like Destin Harvest in states such as New York and Alabama, but it was through his ties with the Destin waterfront restaurant, Harbor Docks, that Landegger first saw the need for such a program in Okaloosa and Walton counties.
"Harbor Docks has a free meal that they do every Thanksgiving," Leavenworth said. "The beautiful thing about that event is you have a wide mix of people that show up. You have people who are well-to-do. They come because it's an event that they look forward to every year. Then you have families that are genuinely in need of a meal that day, and they all eat together."
Like any lofty goal, Destin Harvest started small. When Leavenworth came on board as a part-time weekend driver, the program had one large truck, which Leavenworth would use to pick up surplus ingredients from restaurants across the two-county area and deliver on the same day.
"The reality of restaurants is that they are really good at limiting waste," Leavenworth said. "So, a lot of times you would be driving across Destin or Santa Rosa Beach for potatoes, and they just wouldn't have enough."
This challenge inspired the Destin Harvest board to establish a relationship with Feeding the Gulf Coast, which gave the organization access to surpluses from local grocery stores at the meager cost of one cent per pound of food. With this sudden increase in available supply came the need for additional transportation, and around 2009, Destin Harvest added two more trucks to its fleet.
"When I got started with Destin Harvest, I was very curious about what it was," Leavenworth said. "I can't say that I had a previous passion about hunger relief. That would be totally disingenuous of me, but once I got on the truck and started driving and meeting our programs and understanding what it was we were doing, I pretty much immediately felt connected with it."
Today, Destin Harvest is primarily supported by Landegger and other benefactors, though many residents make small, monthly donations that help support the program. Leavenworth said that, as time goes on, Destin Harvest hopes to shift into a community-supported model.
"Just $18 will cover 100 pounds every month," Leavenworth said. "If we were able to build that kind of organic community support, that would get us into a great place. Ultimately, that is what we are striving for, to secure our future in Okaloosa and Walton counties because who knows how long we can maintain getting support through the benefactors we have now? They aren't going to be around forever."
---
Wanted Advocates
With every $100 in donations it receives, Destin Harvest is able to distribute over 700 pounds of food to feeding programs in Okaloosa and Walton counties. The organization also relies on the generosity of the community to meet expenses for truck repairs, fuel costs and other cost items related to food rescue and distribution. Destin Harvest provides an opportunity for all, both residents and tourists alike, to give back to the community. Visit destinharvest.org and click on Donate Now to make a contribution.
---