Designing a Distinctive Driveway
They can be much more than pedestrian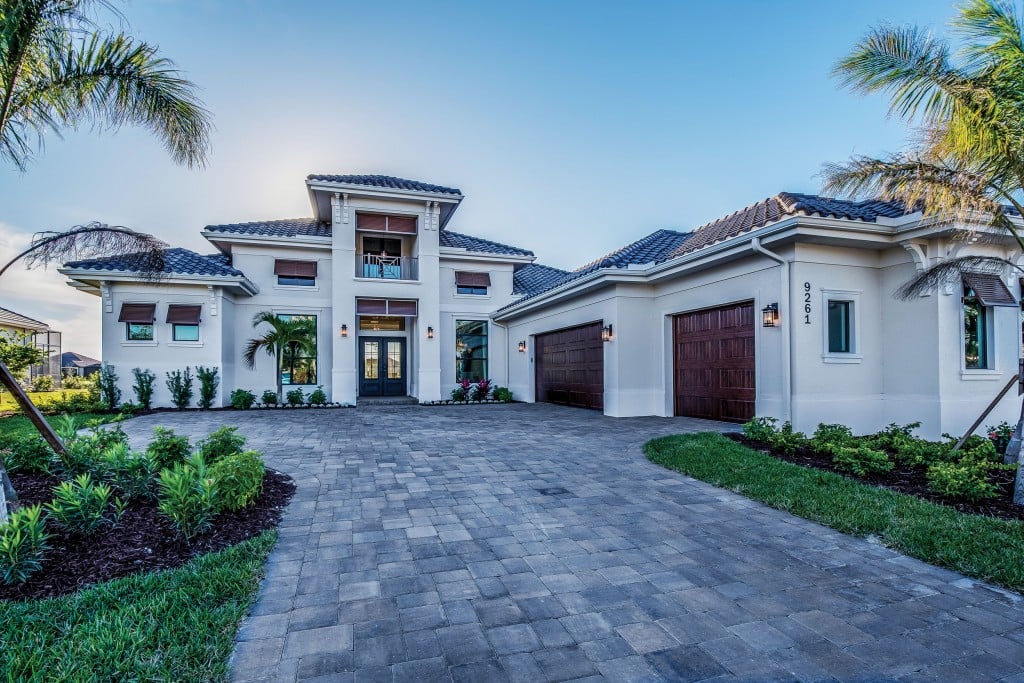 Your driveway deserves to be more than an afterthought. Think of it as a giant welcome mat, the pathway to your home, and, most of all, as an opportunity to play up the character of your home and enhance your property.
The material chosen for the driveway makes a huge difference explained Mark Bryer of Southern Construction and Paving, Miramar Beach. Some materials complement specific architectural styles more than others, so let them speak to you. For example, a gravel driveway goes well with a farmhouse look, and bricks or pavers laid in a fancy pattern can complement a traditional home, including a Victorian villa, while sleek concrete could be the way to give a contemporary home the proper curb appeal. Crushed shells, of course, are perfection for a beach bungalow.
Mixing and matching materials adds extra personality, noted James Murphy of Delta Pavers in Miramar Beach. For example, you could mix concrete with stones or pavers for a one-of-a-kind look. Or you could do a smooth concrete area for a basketball area, while the rest of the driveway could be decorative pavers.
"When you mix materials, the design options are infinite," he said. "But let us not forget there are practical considerations as well. A driveway can be designed to control flooding and erosion problems. And, of course, driveways should always slope away from the house."
Solid or permeable
Before selecting a design, you need to check with your county government, warns Bryer. You need to know if you can have a paved or permeable driveway in your location.
"The permeable driveway lets water flow into the ground rather than race to the nearest storm sewer," he explained. "It may be grass with two paving strips featuring loose stone or gravel, or permeable pavers. Today, there are even permeable concrete and asphalt options."
Since permeable surfaces are the best environmental bets, even die-hard paver or stone fans should make use of permeable grout or sand to fill the cracks.
Materials options
Asphalt, the most common paving material of them all, is cheaper than concrete, sets faster and can be maintained with sealants every few years. Price: $4 to $8 per square foot. In home resale value, it lags behind concrete.
Concrete is much more versatile than most people think. It can be colored, shaped, given surface textures or even be embedded with stone or aggregates. Concrete driveways can also be stamped or imprinted with a pattern to look like stone, cobbles or brick. Cost: $8 to $15 per square foot.
Bricks come in a variety of colors, and they are nicely non-slip for cars and people. They can be set in many patterns, from straightforward stretcher to intricate herringbone. Bricks are easily replaced if damaged. Some demolition companies sell old bricks for a distressed look popular for historic and rustic properties. Cost: $10 to $25 per square foot.
Pavers are smart and elegant and provide excellent drainage. They are laid in sand just like flagstones and brick, but they interlock to form a perfectly stable surface. They come in a vast range of colors, shapes and textures and invite design creativity. Cost: $20 to $25 per square foot.
Gravel can be made from just about any natural stone and come in many colors. It is the most affordable of all driveway materials and can add great charm to many properties. Cost: $3 to $5.
Now it's time to lay out the driveway. As with the materials, be creative by perhaps making it curve through your landscaping. Or perhaps a driveway that's a straight shot from the street will be the right look for your house. But be practical, too, advises Bryer. Make sure there is enough parking for guests. And when the grading is in place, take a test drive up and down the driveway to make sure it tracks comfortably for your biggest car. You wouldn't want to knock off your side-view mirror.