Deb Nissley Wields Patience and Perseverance in Her MKAF Job Role
This 23-year employee is producer of MKAF's Festival of the Arts, the organization's largest signature event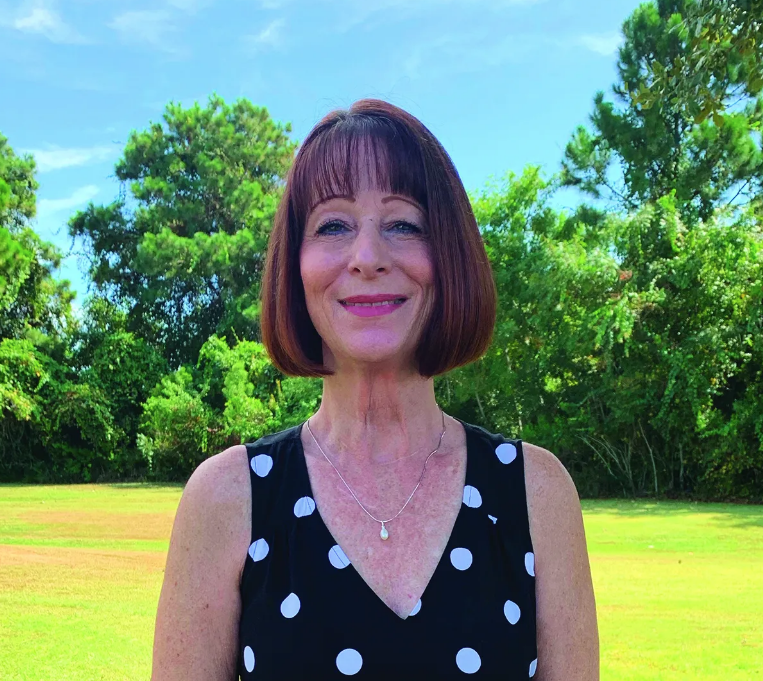 Before Deb Nissley joined the staff of Mattie Kelly Arts Foundation more than 23 years ago, she didn't have a background in the cultural arts.
She had designs on being a landscape architect, but life had other plans for this Michigander raised outside of Detroit.
"I don't have much of a green thumb anyway," she quips, something this wry, brunette bobbed 60-something-year old does a lot.
She began honing her professional skills in 1975 when she took a job at an advertising agency keypunching timecards into a computer. She moved up to assist a copywriter.
"I was a secretary to a secretary for a copywriter," she says downplaying her natural marketing acumen.
She then was promoted to art buyer working with the art directors and copywriters to produce Pontiac's car catalog each fall.
"It was a demanding but fun job, I enjoyed it," Nissley says.
She met her husband, Jim, who also worked at the ad agency in 1979 and they married in 1982. Jim got a job offer that took them to the Cleveland area. They lived in Chagrin Falls, Ohio and Worthington, Ohio near Columbus. Deb shifted her priorities from working to raising their two girls, Liz and Catherine.
After 12 years of making the trek from Ohio to the Emerald Coast on vacations, they figured why not get out of the Mid-west climate? So, they moved to Destin in the spring of 1998. After settling her girls in school, Deb began looking for something she could do with her office skills.
She began volunteering at Mattie Kelly Arts Foundation.
"I started doing administrative work in the tiny office shared with the Destin Chamber in the summer of 1998," she explains.
Her skills proved valuable, and by January 1999 she was hired to the three-member team.
"I enjoyed the job, I liked working with Marcia [Hull]. It was different than anything I'd ever done before, so it was exciting," she shares.
Today, Nissley is director of operations. And after 23 years, she lays claim as the longest-tenured MKAF employee. Over her two-decade tenure with MKAF, she has touched all aspects of the organization from advertising, fundraising, and special event planning to membership and volunteer development.
She also is producer of MKAF's Festival of the Arts, the organization's largest annual event.
"There is almost nothing I don't do," she explains. "I secure the artists, manage the juried process, layout the site, book the musicians, coordinate the food vendors, work with the marketing team on the program and the poster contest — basically whatever needs to be done"
This year marks the 26th annual edition. What started with just 12 artists has grown to an esteemed showcase of more than 100 artists from across the U.S. and Europe exhibiting their original artwork in upwards of two dozen art mediums. The two-day event, slated for October 30 and 31 at the Cultural Arts Village in Destin attracts upwards of 6,000 attendees.
The Festival has evolved, changed and grown over the years, but one thing remains the same for Nissley.
"I still look forward to working with the artists," she says.
After two decades of producing one of the premier art festivals in the Southeast, Nissley has plenty to show for it.
"My house is full of art. Every year I've added a bit more," she confesses.
Though she is careful not to play favorites with the exhibiting artists, she has developed a penchant for an art medium — pottery.
"I guess I like that it's beautiful and functional," she says.
Nissley may not have started out as an art connoisseur, but she relishes attending art festivals all over the country to improve the one she has been devoted to for 23 years. When she isn't taking or planning a weekend road trip, she loves to get lost in fiction and enjoys discussing books with the members of her Book Club.
Over the years, weather has proven to be a formidable challenger. One year, a waterspout erupted overnight upending the neat rows of tents. But it was no match for this prepared producer. "We got to work and by the time we opened, no one knew any different," she said.
Another year, the chalk that outlined the tent locations was washed away by rain. Nissley shifted gears creating a flag system for each artist's space — a system she still uses today.
What is the biggest lesson she's learned? "Patience," she says, "and to have perseverance."
Luckily, these days she has plenty of helping hands. MKAF committees assist with the Collaborative Exhibit, the silent auction & raffle, the artists market portion, along with a band of dedicated volunteers who help work the event.
With Demetrius Fuller at the helm of MKAF as CEO, Nissley is enjoying the infusion of new energy, ideas … and people.
"It's great. I really look forward to each day at work. I am seeing Sinfonia supporters coming to our MKAF concerts. It has added a whole new circle of people and that's exciting to see," she says.
This year, Nissley teases there will be plenty of "new surprises" to enjoy. As for advice on how best to enjoy the Festival, she says, "Plan to spend the day and come prepared to see a lot of great art, hear great music, enjoy the outdoors and meet talented artists."