Culinary Couple Realizes a Bayfront Dream Home
For James Briscione and Brooke Parkhurst, the kitchen came first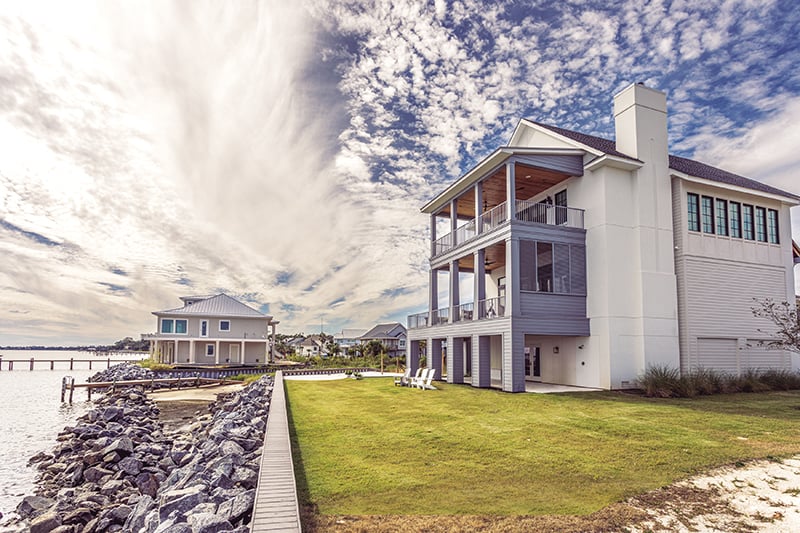 For James Briscione and Brooke Parkhurst, an island came first in their thinking — a kitchen island where they could chop and mix ingredients for their latest culinary creations. It would be a place where guests would gather and kids would do homework, and it would provide the ideal vantage point for watching the Blue Angels streak across the sky.
Briscione is the executive chef and Parkhurst is the wine director at their restaurant, Angelena's Ristorante Italiano in Pensacola. The couple has published four cookbooks together, and they regularly contribute content to The Food Network. Given their extensive backgrounds in the culinary realm, they made the kitchen the focal point of their home. It encompasses 60% of the main floor.
"Our lives and careers revolve around food, making the kitchen of our dreams an essential feature of the home," said Briscione.
Previously, the couple lived in apartments in New York City and Pensacola.
"We've built so many things together — a company, cookbooks, restaurants — and we knew building our first home would be no different," Parkhurst said. "We enjoy the process of creating together."
Together, they looked for an expert builder who would help them make decisions about the house and could be relied upon to be a good communicator. They found one in East Hill Building & Design and its contractor Steven Shelley.
"We loved our builder because they made a process that could have been stressful, seamless and enjoyable," Briscione said. "We talked with them every day and came to see the progress on the house almost every day. We cannot imagine what it would have been like to embark on this without East Hill Building & Design."
The couple worked with Shelley, owner of East Hill Building & Design along with designer and owner of DUH for Garden and Home, Quinn Stinson, and trusted brands to make selections that were aesthetically pleasing as well as functional.
They hand-selected a 5-centimeter Olympian White Classico marble slab from Vermont Danby Quarry, one of the largest single slabs for a kitchen that the company has cut. Monogram appliances created a chef's dream kitchen, from the brass-accented professional range to custom panel refrigerators and an indoor pizza oven that fits perfectly in the Italian-influenced home.
"Seeing the process of building a home unfold was a unique and exciting experience that we couldn't have done without the help of so many wonderful people," Briscione said.
The couple's 7-year-old son, August, is a Lego enthusiast who delighted in watching the house come together from its early stages to the stunning façade. Thirteen-year-old daughter, Parker, who enjoys fashion and art, provided suggestions during the design process.
The couple was certain that they wanted to reside and raise their family on Pensacola Bay. They wanted each room to provide expansive panoramic views, therefore, they enlisted the expertise of McNeill Palm to provide versatile window coverings that could admit maximum natural light or softly filter, depending on the time of day.
Parkhurst's favorite area of the home is the porch, which is an extension of the living room where the family relaxes, dines and entertains. McNeill Palm designed soft sheer columns of linen fabric that frame the bay view to perfection, creating a serene outdoor space. The home is a haven providing a respite and igniting enthusiasm for living.
"We get to be in a beautiful environment every day, and beauty is often associated with an escape, a paradise," Parkhurst said. "It's our dream family beach house that we get to live in every day."
---
BEHIND THE SCENES
Builder
East Hill Building & Design
Window Treatments
McNeill Palm
1191 N. Eglin Pkwy Ste. C, Shalimar | (850) 613-6228 | McNeillPalmLLC.com
Windows and Doors
Southeastern Sash & Door
450 E. Heinbery St., Pensacola | (850) 469-9002 | SoutheasternSashAndDoor.com
Outdoor Grill
Bay Breeze Patio
32 Forest Shore Drive, Destin | (850) 269-4666 | BayBreezePatio.com
Makeup
Glam On The Go Pensacola
(850) 490-9517 | GlamOnTheGoPensacola.com
Hair
Volume ONE Salon
7 W. Main St., Pensacola | (850) 434-5409 | VolumeOneSalon.com
---
---