Corey Cooper Infuses His Products With Soul
You could say he's bad to the board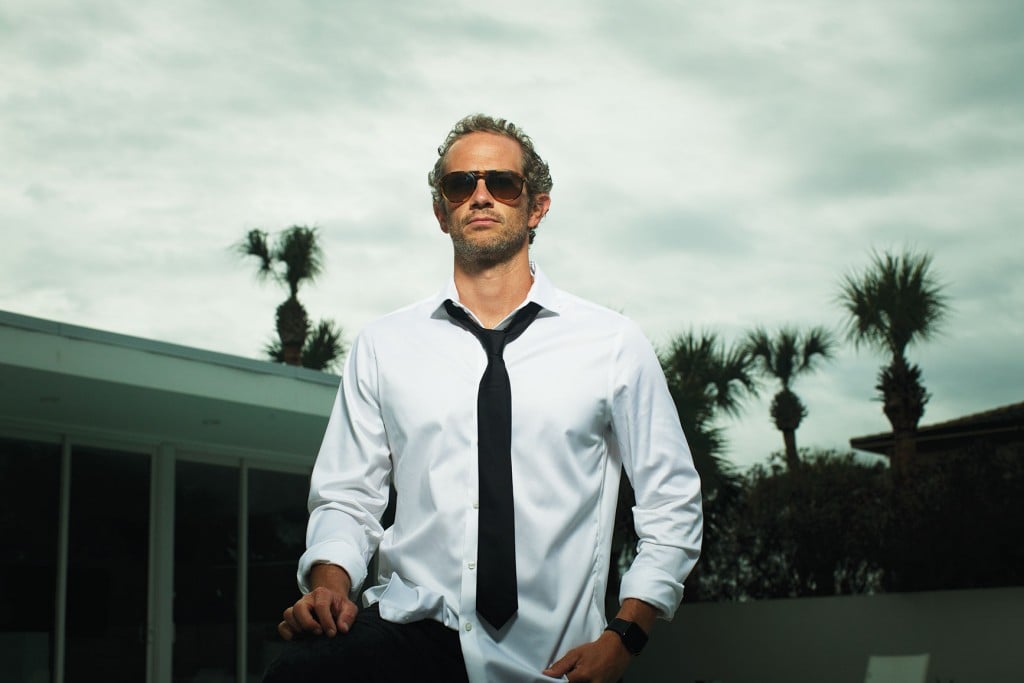 When Corey Cooper and his wife Magda first tried stand-up paddleboarding in 2008, the experience too closely resembled trying to maneuver about on a floating sheet of plywood. Early boards were outsized and unstable.
They were simple enough — and there may be no greater champion of simplicity than Cooper — but they lacked, in a word, soul.
Cooper set about building a better board.
To that mission he brought two sets of sensibilities: those of a mechanical engineer — he was an engineering major at Auburn University where he met Magda on their graduation night — and those of a rock guitarist.
Music serves Cooper as fuel, and he burns a lot of it.
"I'm very directional," he said. "I move with velocity, which is speed with direction. I don't like to use the word blinders, but I will say that I can focus intensely."
Cooper devotes, he said, 99 percent of his time and energy to his family and to BOTE, the Destin-based business that resulted from the success of his early board-shaping efforts. His family consists of Magda; 4-year-old Maksym; 7-year-old Ava; and 12-year-old Tristan, who was born about the same time BOTE was. What little alone time he has is primarily spent listening to or playing music.
"I grew up a huge music freak and started playing guitar when I was 12," Cooper said. "I got addicted to the rock music that was current at the time — Nirvana, Soundgarden, Pearl Jam. But pretty quickly, I got back to the earlier rock stuff, Led Zeppelin, Jimi Hendrix, all of the greats from the '60s and '70s, and that really fueled my passion for guitar."
Today, Cooper is a musical omnivore. He employs music as a creative outlet that "drives the ethos and style of our business."
"We take Easter eggs and nuggets from music that give you different vibes and incorporate them in our product and brand development," Cooper said. "More businesses should inject music into what they do."
Cooper wishes that the interface between the BOTE brand and music manifested itself more clearly and emotionally, and he concedes that his customers may not be able to "100 percent put their finger on it."
Nonetheless, he said, "It's in the air. It's part of our energy."
One gains the sense that every member of the BOTE team could without thinking recite the business's mission: Stand apart through industry-shaping innovation, fresh ideas and simplicity to create a product that defines a lifestyle. And that, if called upon by the boss to have that credo tattooed across a shoulder blade, they wouldn't much hesitate.
"Stand," as the first word in the mission statement, surely is not a coincidence.
"When we go to work, every member of our team, it's to win the day and do everything we can to deliver on our mission," Cooper said. "We may take two steps forward and one step back, but it's that one step forward that really propels you. Take every victory within the day, and use it as motivation to do better. I don't need any home runs, man. I'm good with base hits."
Keep the line moving.
Cooper likened the technical and stylistic differences between BOTE's first boards of 12 years ago and today's products to those between a Model A and a Mustang.
"But they have the same amount of soul," he said. "That's been a key for me. When we scale something, if there is any lack of soul or character behind the product, we've messed up. We are always striving to deliver a product that is best in class. The long and the short of it is that I hope our product is badass."
And, hey, speaking of badass, Cooper once paddled over the top of a 13-foot saltwater crocodile in the Everglades as he approached a boat landing at midnight following a miles-long paddle. He has encountered giant tarpon, paddle-biting sharks and whale sharks. Those other species didn't bother Cooper, he said, but the croc "was a scary one. He was ready to rip."
BOTE is a confluence of soul, yes, and simplicity.
"I am a blue jeans guy," Cooper said. "Black and white shirts. Desert boots, motorcycle boots. Nothing fancy, nothing over the top. Shorts, flip-flops.
"I think being as simple as possible is what attracts people to our brand," Cooper said. "Simple doesn't always mean bland, and simple is not always easy. The world is a remix. We take a lot of outside inspiration and we mix it, we shape it to what we think really personifies the BOTE brand and we create a fresh package."
In that, in Cooper's mind, BOTE and Led Zeppelin have something in common.
"Jimmy Page, he didn't create anything, he took the blues, he took music from a lot of other people, stole it, borrowed it, whatever you want to call it, and he said, 'Hey this is all cool, what if we packaged it like this?' "
Cooper sees his core customers as family, friends and community; they are the channels for the dissemination of his innovations. Building a community based on shared experiences and the universal appeal of hanging, fishing, chilling, paddling and water is a "huge" part of what BOTE does.
That community is becoming increasingly international. BOTE has made inroads to Australia and Europe, and its three-year plan is to become the predominant watersports brand on the planet. A step along the way, BOTE in 2020 was tabbed the fastest growing watersports brand in the U.S. by the NPD Group, a big-time market research firm.
"We don't want to be second," Cooper said.