Cool Play
Emerald Coast springs offer refreshing reprieve from dog-day heat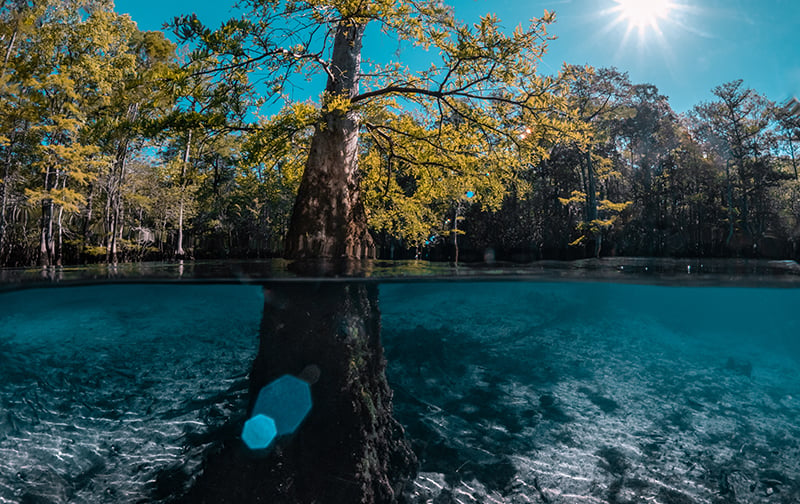 The springs of Northwest Florida are crystal clear and idyllic settings for swimming, snorkeling, scuba diving and kayaking. Clean your goggles or masks! You are going to want to enjoy the best views possible of the limestone formations, fish, turtles and more that these pristine waters harbor.
Ponce De Leon Springs
Ponce De Leon Springs is located just off of Interstate 10 at exit 96. The park offers picnic pavilions and grills. A swimming area is accessible by stairs, docks and platforms. Short trails offer signage that describes the area's flora, fauna and history. Fishing at the park yields catches of catfish, largemouth bass, chain pickerel and bream. Admission to the park is $4 per vehicle.
Vortex Spring
Vortex Spring is the only privately owned spring in the area that is accessible by the public. It is located five miles north of Ponce De Leon Springs State Park. The natural spring is the centerpiece of a playground adventure park, offering myriad activities and amenities. Visitors enter the spring from the surrounding grassy area and stairs. Adventurers can take shortcuts to the 68-degree water via the park's waterslide, diving boards, high dive platform or zip line. Scuba divers can explore the spring's 50-foot-deep basin and 115-foot-deep cavern. A dive shop is located on-site and daily dive passes are available for $25. Tubes, paddleboards and dive gear are available for rent. Camping and lodging accommodations are available at the park. Daily park admission is $15 per person, with a $6 surcharge for snorkeling at the basin.
Morrison Springs
The 161-acre Morrison Springs County Park is located five miles south of Ponce De Leon Springs State Park. Morrison Springs is one of the area's most popular spots for scuba diving. The 250-foot-diameter spring has three cavities which produce its cold waters. The deepest of the three reaches 300 feet in depth before ending at an "underground chamber of unknown dimensions," according to a Walton County website. The web page also offers weekly updates on spring clarity levels. A boardwalk leads to a small, sandy beach and a diving dock. Dive stations are available at the start of the boardwalk and at the dock. Picnic and pavilion seating is available. Admission to the park is free.
Cypress Springs
Cypress Spring is located about 45 miles north of Panama City Beach and 10 miles south of Interstate 10. The spring is accessible only by boat, kayak or canoe by way of Holmes Creek. Nearby Cypress Springs Adventures offers rentals and a shuttle to dropoff and pickup points.
Pitt and Sylvan Springs
The Pitt and Sylvan Springs recreation areas are located in Youngstown off State 20, about 25 miles north of Panama City. The Pitt, Sylvan and Williford springs are connected by boardwalks throughout the park, and their spring waters feed Econfina Creek, which kayakers can travel to reach swimming areas. Fresh, clear, cold water bubbles up from several places in the Pitt and Sylvan springs, while Williford's water originates from under a limestone ledge, which is visible about 12 feet below the surface. Each swimming area is accessible by stairs into the water and offers nearby pavilions and grills. Admission to the recreation areas is free.
Jackson Blue Springs
Located five miles east of Marianna, Jackson Blue Springs Recreation Area is home to the 202-acre Merritts Mill Pond. The pond is popular for swimming, picnicking, scuba training and exploration, fishing and boating. The park offers a designated swimming area with a small, sandy beach and diving board, rentable pavilions and areas for basketball and volleyball. Tubes, canoes, paddleboats, basketballs and volleyballs can be rented at the recreation area. Coldwater Outfitters offers guided tours and kayak, canoe and paddleboard rentals. Scuba adventures are available through Cave Adventurers Inc. Admission to the park is $4 per person or $30 for an annual pass.