Contest Winner Erin Mason Has Reclaimed Her Passion
Inspired by her grandson, the photographer is finding "art in the ordinary."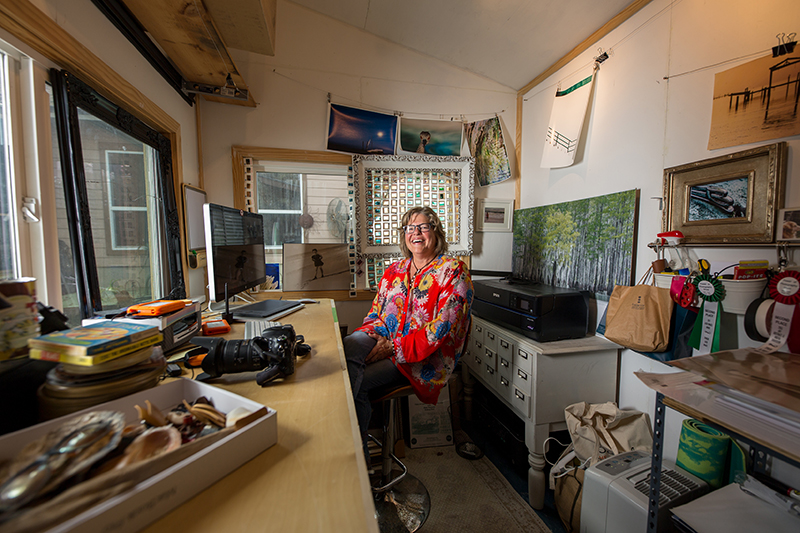 When her 6-year-old grandson expressed interest in participating in the junior division of the F:/STOP North Florida Photography Competition, conducted at the Panama City Center for the Arts, Erin Mason figured she might as well enter some images of her own.
She did so without even realizing that the competition awarded cash prizes to category winners and entitled the overall "Best of Show" winner to a show at the Center.
It was Damon who was leading the way.
The boy did well. Of the two pictures he submitted to the competition, his shot of a child's "ride-on car," as his grandmother described it, was purchased by an admirer of his work.
At that point, he was a sold artist and Mason, despite her considerable training and experience, was not.
Mason, who grew up as the daughter of bait shop owners in Englewood, south of Sarasota, never has forgotten as assignment she completed while in high school.
She was equipped with a 35-mm camera and told to submit several photos of a single tree that evoked five different emotions.
So, it was fitting that Mason, the accidental entrant, won the F:/STOP competition with a photograph of a cypress tree that she shot during a downpour at Pine Log State Forest north of Panama City Beach.
Take that, Damon.
"It started to rain and the wind came up and it flattened out the water where the tree stands," said Mason, recalling the shot. "I took maybe 15 photos of the tree and when I had the one I wanted, I immediately knew it."
"Cypress Rain" appeals to Mason because it is "confusing," she said. "You have a green cypress tree in what appears, at first glance, to be a snow bank. I like it when a photo causes people to pause and figure things out."
That likely was the experience of Atlanta photographer Joe Boris, who judged F:/STOP. In commenting on Mason's entry, Boris noted that he spent a lot of time with the photo and kept coming back to it.
(By the way, Boris's online portfolio includes shots of felled and stacked pulpwood trees that resemble to a great extent work that Mason did with large-diameter pipes stored at the old Panama City airport.)
"Cypress Rain" was a departure for Mason in two regards. It is a color photograph, and its subject is scenic rather than mundane.
It is more like her to produce black-and-white images of bridge components or razor wire or guardrails.
"Color does a lot of the work for a viewer," Mason said in explaining her preference for gray scales.
"Black and white leaves more to your imagination. You see a photograph in a form that is more pure."
People rarely figure in her photos, although she has thought about taking a series of photos of women with whom she works out at the Sequence gym in Panama City Beach "so that they could see what we see when we look at their muscle development."
Mason finds "art in ordinary objects," she said. "I have always done that. I see things from a perspective that is unlike that of most people. I love shadows. I will drive down the road and slam on the brakes when I see something that interests me."
For Mason, taking a drive often means wandering the state. She may disappear for days at a time along circuitous routes that she would have a hard time retracing.
Periodically, she will shoot a road sign and send it to her family, just to give them a clue as to her whereabouts.
These days, Mason works for a custom builder and assists her husband, who is the director of operations at The Hub, a collection of restaurants in Santa Rosa Beach.
But she looks forward to a day when she can devote all of her working hours to photography.
That would represent the realization of the goal she had when she studied photography and anthropology at Appalachian State University in North Carolina and was attracted to the work of photographers, including Jay Maisel and Rodney Smith.
"I wanted to go into filmmaking or become an anthropological photographer," she said.
In that, she may have been influenced by her experience picking tobacco alongside migrant workers while in college.
It does appear that Mason is gaining momentum in the world of photography.
Her show, held last summer at the Center for the Arts, led to the scheduling of a show for next summer at The Light Room, a center for photography education and exhibits in downtown Panama City.
And, at this writing, she anticipates putting together a display of her work at the Apalachicola Center for History.
One day, she may even fulfill her dream of taking photos at the Galapagos Islands.
This much is for sure: She's got to keep moving.
Damon may be gaining on her.
See more of Erin Mason's photography below: