Todd Wilkinson's 10 Takes
MKAF'S 'music man' weighs in on why you should attend MKAF's Concerts in the Village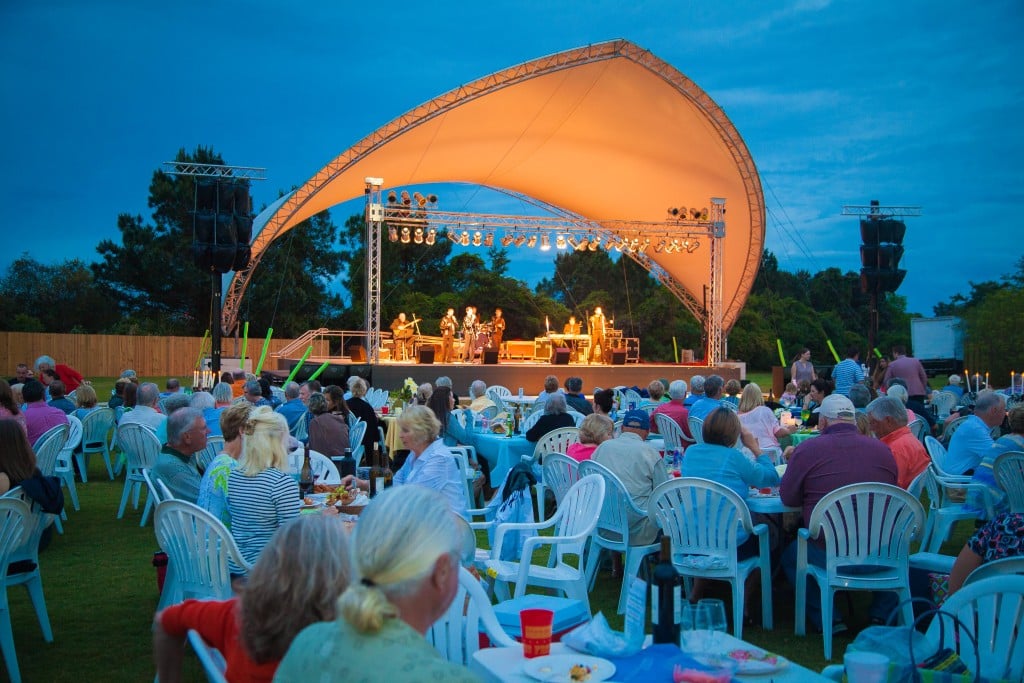 It's springtime! That means it's about time to shake a leg … and your booty … at the Mattie Kelly Arts Foundation (MKAF) Concerts in the Village.
This year MKAF presents 10 entertaining concerts by a range of musicians, from a local Pensacola party band to A-list national Las Vegas-style acts and tons of talent in between.
To break down the 2022 lineup curated by MKAF CEO Demetrius Fuller we went to the "music man" who helped make it happen MKAF Concert Committee Chair Todd Wilkinson. Here, we give you Todd's Take on each of the 2022 MKAF Concerts in the Village:
The 2022 MKAF Concerts in the Village kicks off on Thursday, April 21, with a live Vegas-style tribute to the King of Pop with MJ LIVE.
Todd's Take: "Jalles Franca has impersonated Michael Jackson since 2002. He is absolutely one of the best tribute performers doing Michael Jackson. Period. He's been a lifelong fan of Michael and Franca's performance is about as close as you can get to seeing Michael. You will be dancing. You will be singing, and you will think you are seeing Michael. He is an amazing performer."
Todd's Take: "Hailing from New York City we have what Quincy Jones calls 'The best a cappella group in the world.' Most people think of an acapella group as just vocal harmonies, and don't get me wrong, their vocal harmonies are stunning, but Naturally 7 are also reproducing instrument sounds with their voices as well. Some of the music may be backed by a band, but other times they will be singing and performing, and you will think it is a full band when it's just the seven of them. They themselves make all the noises and it is breathtaking. Plus, they are doing a two-day residency in our local schools, so they really are amazing."
Thursday, May 5| Shania Twin (Shania Twain Tribute)
Todd's Take: "This performer is Donna Huber. She is coming in from Canada. She's been a Shania Twain tribute artist since the late '90s. Her shows are extraordinarily authentic. Her voice is tremendous. She really is a Shania twin. Plan to be singing along and dancing along. I guarantee the crowd will have a great time."
Todd's Take: "Get ready for a great group of musicians that have perfected the tribute to the soft rock era of the '70s. They have carved out a place in musical performance for this style of music and play it authentically. Back in Indiana when they first did a whole show of their soft rock it killed. The bar owner was so blown away he asked him to do it again the next night. So, that is where "yacht rock" was born. They started it. They are the best in performing this kind of music for crowds. It will be a huge show."
Todd's Take: "Led by Kyle Hooks on locals, this is a high-energy fun party band from Pensacola. They will get the crowd up, moving, singing along, and dancing from the first notes. These guys are tremendous performers. They really engage the crowd. Everybody young and old will have a wonderful evening of music that night."
Todd's Take: "From her 1987 'Tell It To My Heart' hit she became a star and has been in an American pop icon ever since. She's been making music for 37 years and is still a fantastic performer. She has 17 Top 20 singles, earned three Grammy nominations, an American Music Award among others and is on the Rolling Stone Top 20 list as one of the best female dance artists of all time. This is a stellar performer for sure."
Todd's Take: "This will be a classic night of music. These guys are an authentic Eagles tribute band and are going to make you think you're at an Eagles concert. Their harmonies are outstanding. Their musicianship is tremendous. The Eagle songs are well known, and these guys do them really, really well. It's going to be another one of those great nights where young and old are going to be singing along. Everybody knows this music. They are a nice group of guys too, so, we're very happy to have them back."
Todd's Take: "This is a big one. I mean their 1994 hit 'All For You' was their debut single and topped Billboard charts. They are an American alternative rock band based out of Gainesville originally and had been just cranking up great music for 20 some years. This is a national chart-topping band. They will put on a show you won't want to miss."
Thursday, June 16| Music of Led Zeppelin featuring the Sinfonia Gulf Coast orchestra
Todd's Take: "If there is a band whose music can only be enhanced by a symphony behind them, Led Zeppelin is absolutely that group. Their music is big in nature and that symphony is just going to fill it in and round it out even more. I am truly looking forward to this show because everybody knows the songs and adding the symphony behind it is just going to make it that much more impactful. This is a must-not-miss show.
Todd's Take" "We are closing it out big time with this show. The dance floor is going to be filled. It will be a party. This is a high-energy band that will have people moving from the get go. Disco/funk is such a popular genre of music across all generations. From the first notes, people are going to be up and busting a move on the dance floor. And, we have something special, a silent disco following the event to keep the party going."
You've told us who is coming; now we ask why should folks come out?
"Some of the best bands anywhere are on our MKAF stage. The setting for the music is absolutely the best in our area. The caliber of music that we're bringing this year is something that's area hasn't seen in a long time — and it's for a good cause. You just don't want to miss this."
Todd's No. 1 Tip to Take Away
Become an MKAF member! "If you attend four concerts, you pay for the entire membership, and besides, proceeds go to MKAF and its ArtsReach programs — what more reason do you need?"
Save the dates for all 10 of the Concerts in the Village in April, May and June. Grab a blanket or a couple of beach chairs and enjoy a night under the stars at the most beautiful outdoor music venue on the Emerald Coast. Bring a bottle of wine, your favorite craft beer, some delicious snacks, or purchase dinner and drinks at food trucks and restaurants on-site. The doors open at 6 p.m. and the concerts start at 7 p.m.
For more information on MKAF memberships and the full Concert in the Village schedule, visit MKAF.org.