Compose Yourself
When the music starts, everything changes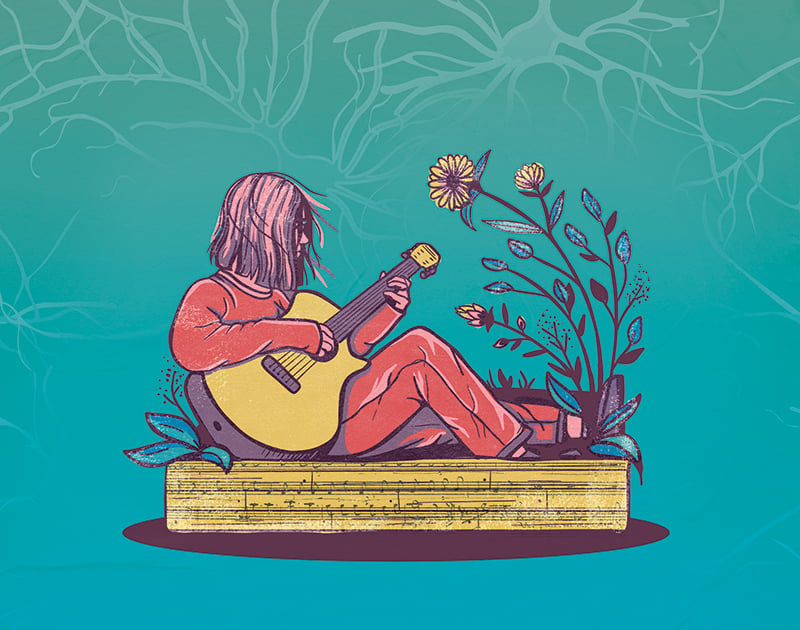 Elvis Presley took the stage at Chicago's International Amphitheater on March 29, 1957, in a gold lamé suit and proceeded to cause 13 girls to faint. One even fainted twice.
Elvis catalyzed a ravenous fanbase, tapping into the ways music strikes a chord with everyone.
As music therapists, Kayla Connick of Milton and Colleen Cox of Panama City use the vibrations of a guitar or beats of a drum to reach clients in ways that only music can.
Cox has been engaging clients since 1988. Her work, she said, involves  "the use of music to reach a nonmusic objective."
Anyone can engage with music on a physical level by swaying to a tune or tapping toes to a beat. These movements connect people with music, allowing them to feel more present and alive.
"It's like a natural antidepressant," Cox said. "When we laugh, smile and sing, we are stimulating our body neurologically to induce serotonin and dopamine."
Connick and Cox develop individual treatment plans, employ flexible intervention options and continually analyze data to measure progress.
"Music therapy is for everyone because we all engage with music," explained Connick, who serves patients in Escambia, Santa Rosa and Okaloosa counties. "We can all take part in it, but it is also highly individual. The music you like and the music I like might be totally different."
Every generation may be identified by its songs, performers and musical moments. Baby boomers have The Beatles, Generation X has MTV and millennials have Beyoncé. Music therapists find the music that most effectively resonates with a client.
"In my groups, I will use songs that are from their youth," said Connick of her process. "Right now, that usually means songs from the late 1940s to the early '70s."
Elderly patients, even those with dementia, often react to hearing songs they listened to in their younger years.
"Of course, as we age that will shift, which is funny to think about," Connick said. "One day, I may be playing Metallica for patients."
For individuals with developmental barriers, music therapy can offer a unique form of expression.
"Music therapy is a process that addresses your social, emotional, physical, cognitive and behavioral dimensions," Cox said. "All aspects of the individual can benefit. It has the ability to broaden opportunities to engage with people."
Cox shared her experience with a client who had been diagnosed with fetal alcohol spectrum disorder. The focus for treatment was working on behavior.
"We started out in drumming," Cox explained. "Every visit I would ask, 'What do you like the most?' With the piano, you don't necessarily feel the vibrations — he wanted to try the guitar. The strumming and proximity of the instrument allowed him to have an immediate tactile response. I look for the most immediate reinforcer that will help the client."
Neural connections
People often have misconceptions about counseling and mental health services.
"I'm used to advocating for music therapy as a form of care," Cox said. "People say they don't need therapy, that they don't need help and can figure it out on their own. I try to educate people about how music helps us physically and helps our brains, how it's all connected."
Connick and Cox are well acquainted with the beneficial effects that music, singing and playing instruments have on neurological processes.
Processing music, rhythm and sound utilizes both sides of the brain, which can be of great benefit to patients with brain injuries.
"Music therapy was part of the treatment plan for Gabby Giffords, the former Arizona congresswoman who was shot in the head," Connick explained. "She had to relearn how to speak. She couldn't speak, but she could sing. She has played a wind instrument for years, so that experience was already in her brain.
"If I am working with someone who has lost his ability to speak, they can still sing most of the time."
Treatment provided by a music therapist enhances mental and physical wellness. Music and rhythm are used as tools to assist clients requiring motor skills training or people who are learning how to walk again.
"At its base level," Connick said, "music is already in our brains, whether we are musicians or not. Musicians may have larger areas of the brain that process sound and rhythm, but nonmusicians do, as well."
Future of Music Therapy
Along with group sessions in memory care facilities, Connick hosts workshops as a way to provide community music therapy.
She is leading a therapeutic songwriting group in Pensacola in partnership with the Pensacola Songwriters Community.
"It meets at a brewery and is free to people of all ages," Connick said. "We use songwriting as a therapy tool. We're not teaching people how to write a hit song. It is about making connections with people and getting things out in the form of a song."
Connick also conducts group and individual sessions virtually to make music therapy more accessible to more people.
Cox began serving the Northwest Florida community at Tallahassee Memorial HealthCare and Emerald Coast Behavioral Hospital. She now serves the Bay County community in both private practice and working with VITAS Healthcare in hospice care.
A new therapist and Cox's former intern, Elise Gandara, has moved into the Bay County area from Dothan, Alabama. Cox hopes to see greater acceptance of music therapy, locally and nationally.
"The field of music therapy has a long history in mental wellness," Cox said. "I am board-certified, and we are seeing more national music therapy groups requiring a level of credentialing or licensure. I am hopeful for further integration of music therapy in health care — we may soon see more health insurance companies that pay for these services."
Both Connick and Cox hold bachelor's degrees in music therapy, a minimum requirement for board certification.
"People wonder, 'What is the girl with the guitar doing here?'" Connick said. "Music therapy is not easy work, but I think anything worth doing is difficult. But I find joy every day in working with my clients. When the music starts, everything changes."
Steve Bornhoft contributed reporting to this article.