Commelfo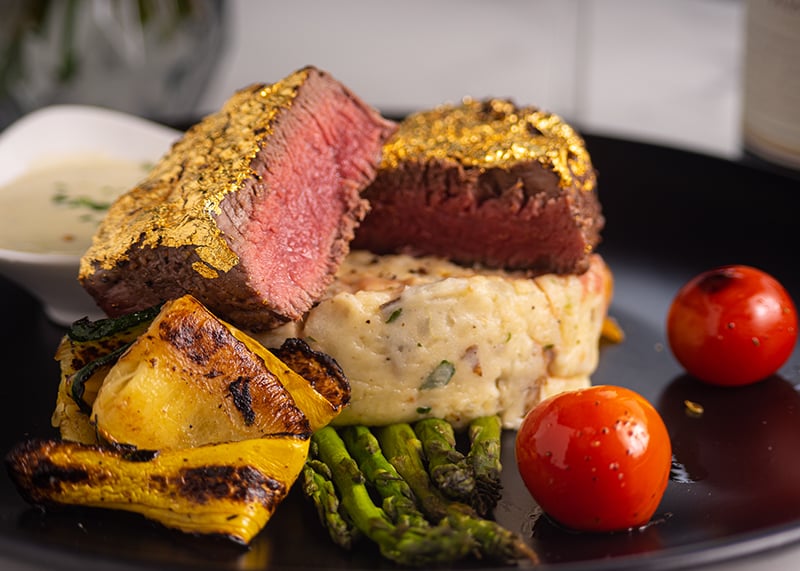 Gold furnishings lend a glow to the table brimming with inviting dishes. You take your first bite of lamb as an attentive waiter fills your wine glass.
You're experiencing Commelfo, a restaurant whose name is a French word meaning "done the proper way."
Owners Vincent and his wife Nadya are committed to providing diners with an experience done right, starting with the hostess's greeting and carrying through to the last bite of 24k golden cheesecake.
With Vincent's 15 years of experience managing restaurants and Nadya's background in hospitality, they knew the ins, outs and in-betweens of the industry. Their interest in starting their own business was solidified when Vincent visited Houston and was inspired by the restaurant scene there. He sought to bring an elevated yet approachable experience to Miramar Beach.
In May 2022, Commelfo opened its doors. The interior adheres to a palette of greens, gold, black and white, but as attractive as that is, one's attention is quickly drawn to what's on his plate.
"Every dish is completely unique," Vincent said. "We are not a conveyor belt. Our talented chefs dedicate time to each dish and infuse it with creativity and flavor."
On the menu, you'll find European influences merged with regional offerings. The chefs use fresh, authentic ingredients and employ traditional cooking techniques.
Menu standouts include the New Zealand rack of lamb, filet mignon, prosciutto-wrapped stuffed chicken and Gulf Coast pasta. The breakfast and brunch menus are heavily influenced by European favorites such as burrata toast, steak and egg dishes featuring fresh crab or smoked salmon.
While the menu is elevated and the staff exemplifies a high standard of service, Vincent is hesitant to call it fine dining.
"We want everyone to feel relaxed and welcome here," Vincent said. "We will provide excellent food and attentive service so you can enjoy those you are surrounded by and sharing a meal with."
---
Commelfo | 10859 Emerald Coast Parkway, 303, Miramar Beach (850) 353-2991
Commelfo.com
---