Combatting Autism
Behavior analysis program at FSU PC reaches kids with positive reinforcement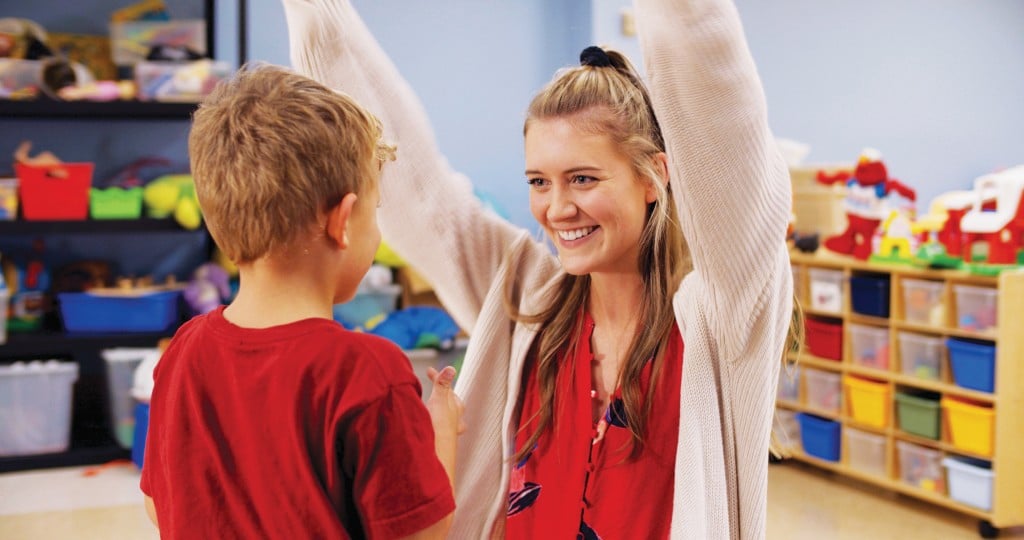 Some may insist upon eating white foods, only. Cauliflower and mashed potatoes.
Others may be seen to engage in repetitive behaviors or to be content to study a piece of string or spin a top for extended periods of time.
Most will be slow to develop language skills and to interact with others.
They are children with autism spectrum disorders, and they are the focus of the Early Childhood Autism Program (ECAP) at Florida State University Panama City, an initiative that represents a remarkable example of campus-community cooperation.
Established in 2001, ECAP was at first limited to clinicians and student therapists working with clients during visits to their homes. It evolved to also include sessions at an on-campus clinic and in the community at large.
"If a child is having difficulties at school, we can go there," said ECAP director Nikki Dickens. "We have been to church services, the grocery store, doctor and dentist appointments, any environment in which a child may need to learn to better function."
The on-campus Camille Butchikas ECAP Clinic was established with a gift made in 2012 by the George A. Butchikas Foundation for Autism. George owns the familiar Angelo's Steak Pit in Panama City Beach. His daughter, Camille, is autistic.
George's wife, Carolyn, serves as director of the foundation, which has been helping families of autistic children afford therapeutic services since 1987. It has been supporting ECAP since 2002 with contributions that have totaled more than a half-million dollars. That's a lot of beef.    
"ECAP would not be what it is today without the Butchikas Foundation and its commitment to making it possible for children to receive the kind of help that benefitted Camille," Dickens said.
The program enjoys relationships with several more consequential community partners.
The Bay Health Foundation made possible a parent resource center located next to the clinic. With a grant from the Community Services Foundation, ECAP created an indoor play area. A local chapter of the AT&T Pioneers has made financial contributions and has provided gaming chairs, computer tablets and recreational equipment. When Hurricane Michael damaged FSU PC, the Woodlawn Methodist Church in Panama City Beach gave ECAP a temporary home in its choir room.
ECAP, meanwhile, has engaged in outreach activities that have included teaching firefighters in Panama City and Panama City Beach and lifeguards at Shipwreck Island Water Park how to interact with autistic kids.
At this writing, ECAP is serving 21 children and young adults, ages 2 to 24, from across Bay County. Services are being delivered only at the clinic. Due to the pandemic, at-home visits and work in the community have been suspended.
The program generally works to foster communication and integration in client children while extending intense, two-year internships to students pursuing applied behavioral analysis (ABA) master's degrees.
ECAP is not a diagnostic facility. Parents of children diagnosed with autism may contact ECAP after hearing about its services in the media or elsewhere. The majority of clients are referred to ECAP by pediatricians.
ECAP's behavioral analysis approach, Dickens said, "is 100 percent based on positive reinforcement. Basically, it is the science of behaviorism applied to socially significant problems."
Explained Dickens, "We let children lead us to what they want to do. For example, I had a child who indicated that he wanted to play with a large ball. But first, we showed the child pictures of a stove and a refrigerator and asked him which one is hot. When he answered correctly, we asked him again to tell us what he wanted. And he told us he wanted the ball and was rewarded."
That is, the program is engaged in "functional communication training."
"We encourage them to communicate their desires," Dickens said. "If they can't, that is when they scream. Or they bite themselves because, when they do, people respond by scrolling through things they might want. Ultimately, it's a lot easier to say 'milk' than it is to harm yourself when you are thirsty."
Over time, therapy aimed at communication gives way to sessions designed to develop vocational aptitude.
"Our mission is to work ourselves out of a job," said Dickens, a 2005 FSU PC graduate who worked for 10 years with accused felons judged to be incompetent to stand trial, and then returned to her alma mater.   
Autism is universally symbolized with puzzle pieces. And, the mystery surrounding it is far from over. Researchers from fields including medicine, psychology and behavioral analysis are working to identify causes for the increasing incidence of autism.
A behavioral analyst in South Florida, Dickens said, is trying to determine whether increased eye contact in infancy can tamp down the severity of autism. Neurologists are using functional MRIs to try to determine if autism has a genetic, physiological basis.
"The nature-nurture question is still out there," Dickens said. "But it's clear that the autistic person processes a lot of information most of us don't notice."
"ECAP's staff and student therapists really are champions," said FSU PC director of development Mary Beth Lovingood. "Despite all of the challenges presented by Hurricane Michael and COVID-19, they have remained focused on doing whatever they could to keep the program's doors open."
When, for a time, the pandemic precluded in-person visits, ECAP team members visited with clients via telehealth. After Hurricane Michael, students whose residences were not damaged offered couches to students who suddenly were homeless.
For the students involved, FSU PC's ABA program presents an invaluable and coveted opportunity.
"The program attracts students from across the country," Lovingood enthused. "And we are proud to say that it is No. 1 in the world for pass rates on board certification."
That is success that the Bay County community has chosen to reward.
DONATE
Donations earmarked for the ECAP program at FSU PC may be made via the FSU Foundation foundation.fsu.edu.
---
ABA and Autism
More than 40 years of research support the use of applied behavioral analysis to teach children with developmental disabilities. It is widely acknowledged that ABA is the treatment of choice for children with an autism spectrum disorder. The Early Childhood Autism Program at FSU PC recognizes that every child is unique and that different techniques work for different children. The program takes pride in developing individualized, research-based programs for each client.