Coastal Style With a Twist
A classic approach is updated with touches of function and the familiar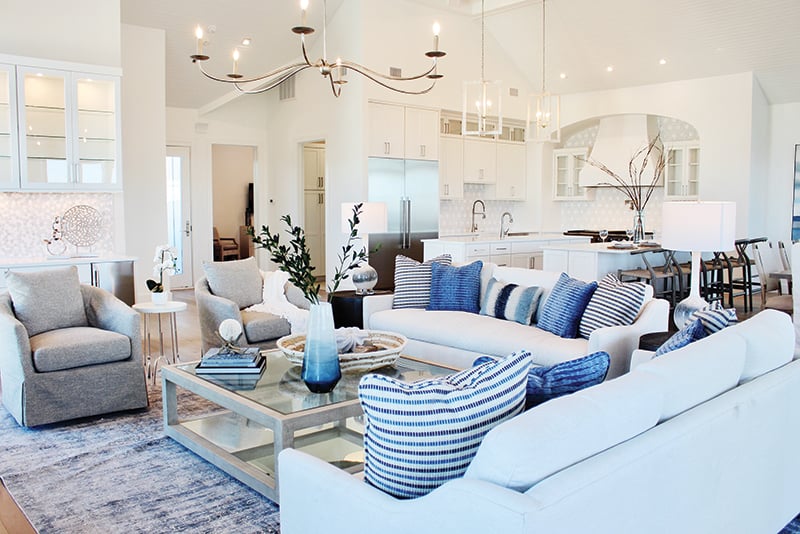 Coastal design, that evolving, elegantly curated aesthetic dubbed "coastal grandmother" by TikToker Lex Nicoleta, is suddenly everywhere. Nicoleta felt inspired by such movies as Something's Gotta Give, It's Complicated and The Holiday and, in one fell swoop, distilled the aura of Meryl Streep, Diane Keaton and Cameron Diaz baking chocolate croissants in gorgeously appointed homes. From there, the drumbeat continued via Vogue, HGTV and Instagram.
Cindy McCarley, an award-winning kitchen and bath designer in Santa Rosa Beach, likes the style. She describes it as the elegant aunt of beach house and farmhouse looks and applauds its lack of pretense. Literal references such as mini lighthouses, anchors or whales are no-no's, she warns. No kitsch, no clutter.
"One of its assets is that it works on so many budget levels," she explains. "You can put the homeowner's personality into the design, making it truly unique, but still faithful to what this trend speaks about: flawless function but also warmth and comfort. And, by the way, you needn't be a grandma or even live by the sea to embrace this style."
A Villa by the Sea
It's hard to imagine a finer example of the coastal grandmother style than one seven-bedroom, nine-bath Sea Sunsets home in Seacrest. When interior designers Lindsay Cannon and Karen Kerns of Lovelace Interiors in Miramar Beach created the home's interiors, the label had not yet been coined, but as it turned out, many of the villa's elements and overall vibe were coastal grandmother personified.
"Our inspiration was a transitional look, designed with tone-on-tone neutrals and Gulf hues," Cannon says. "High ceilinged, white painted, large spaced and many windowed with glorious Gulf views beyond — the home is incredibly airy and breezy, but we also made sure to incorporate warm and natural elements such as rattan stools, Capiz lighting pendants, loads of pillows and throws to cozy up the many sofas and chairs, pottery and art. Watercolor seascapes are everywhere. These are all refined accessories, and the closest we come to beach style is a clutch of weathered driftwood working as a dining table centerpiece."
She calls it a romantic look as well: four-poster beds, marbled baths, slubby-textured knit throws, white linens romanticizing a thousand old plantation movies. They're all part of the picture.
"Heirlooms are at home with this style," adds Cannon. "Think your grandma's collection of creamware or oyster plates, a vintage silver basket piled high with fruit. Just don't clutter up the space."
Family Kitchen
Coastal grandmother elements are plentiful in Cindy McCarley's own kitchen, making it both a comfortable hub for family and friends and a design studio where she demonstrates cabinetry ideas and the beauty of countertop marble. "Many clients are afraid of marble," she says, "but I would hands down choose marble again. It's such a classic. So are my white cabinets. They'll never go out of style. And my custom pecky cypress hood provides a one-of-a-kind look that embodies the coastal grandmother look. So do my built-in dish cabinet and the many personal pieces, such as the wall clock, a vintage item from my mom's kitchen, and a little blue lunch box that was my grandmother's. Special pieces like that add personality and warmth to otherwise airy and streamlined coastal interiors."
But does coastal grandma have staying power? McCarley says she isn't sure that's what the look will always be called, but that its clean, sophisticated appearance, with a soft coastal palette and personal items will always be desired. "Mixing and matching creates a lovely, lived-in place, and I think this perfectly sums up the coastal grandmother look."
Lindsay Cannon is on the same page: "Like all styles, it will probably evolve over the years," she says, "but its elements are such classics that it will always be relevant."