Coastal Creatives: Jordan Aucoin
His fanciful art appears ready to take flight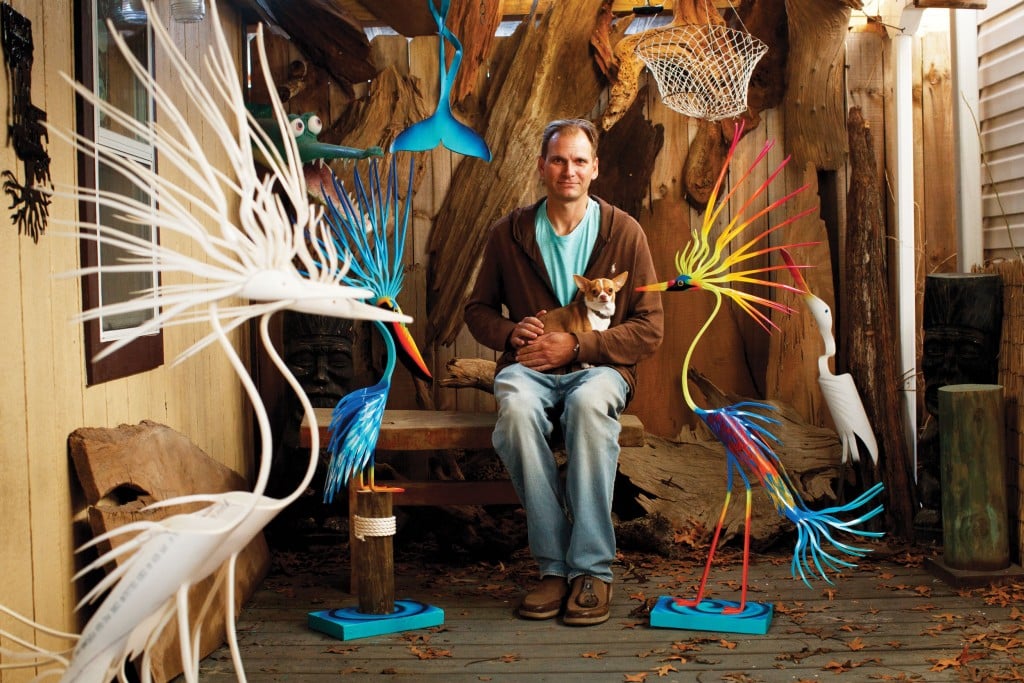 If you lived in Destin during the early 2010s and were a frequent beachgoer, you more than likely bumped into Jordan Aucoin.
His white pickup truck, sometimes stationed near the Whale's Tail Beach Bar and Grill and otherwise cruising Scenic Highway 98, ferried some unusual passengers.
Every weekend, Aucoin, an artist specializing in birds and other critters fashioned from PVC pipe, would fill his truck bed with colorful pelicans, toucans, flamingos and egrets, piquing the interest of tourists and locals alike.
"Back then, I had just started making my first birds and had no idea how to promote myself," Aucoin said. "So, there I'd be in my swim trunks, with my phone number on my truck, just going to the beach as I normally would."
The reception, Aucoin said, was amazing. Birds that didn't sell in one weekend would surely be gone the next, leaving him to hatch the next batch. Quickly, art became a full-time gig.
"My grandfather and father were artists, and I grew up helping my parents with arts and crafts shows as a way to make some extra money," said Aucoin, who moved to Destin from Baton Rouge, Louisiana, in 2006. "I never saw myself as an artist. But six months after my father showed me how to make my first bird, I was quitting my job to do this."
Aucoin said sculpting just "came to him." His father, who is now retired but still produces similar sculptures in Baton Rouge, laid the foundation for the hundreds of creatures you'll see adorning yards, homes and rental properties in Destin.
Aucoin, who has now been sculpting for eight years, has found his own creative signature.
Aucoin cuts out his birds with a jigsaw. Often, they feature vibrant, spiky crests and shimmering plumage. Some pose on a perch, while others spread their wings and appear ready to take flight. The artist paints them in subdued natural colors or the hues of Emerald Coast sunsets and waters.
"I'm very inspired by the natural surroundings," Aucoin said. "I can paint a bird naturally, or it can become my canvas. When you keep working with color theory, you'll discover there are endless combinations of colors. You learn what colors can and can't touch, and which colors make a piece flow and look good."
These days, Aucoin is focused on egrets and pelicans. You can't go to the beach without seeing one or the other, he said. Many go home with tourists as souvenirs. Specializing in these two species has also boosted his productivity, though you may own an Aucoin owl, flamingo, frog or butterfly.
"When you've been at something for as long as I have, you have to find a way to keep doing it," Aucoin said. "I work alone out of a shed at my house. I don't really advertise and rely on word of mouth. So, I knew I had to choose a focus going forward, something I could get a little bit better at each day."
Aucoin produces about eight birds a week. His work can be found at Footprints Gifts in Miramar Beach, Topsail State Park and Big Mama's Hula Gallery in Seaside, but many of his clients are from out of state. He rarely ships his work, though, and encourages people to come spend time in Destin while they pick up their bird. That way, they can appreciate the beauty of the area that the birds represent.
"It's still surreal to me that there aren't very many places you go in Destin that you won't see one of my birds," he said. "From the beginning, the response has been wonderful. People tell me all the time that they like my birds. They don't know why, they just do."
In 2016, Aucoin received the People's Choice Award at the Mattie Kelly Festival of the Arts, an honor he cherishes to this day. Though he'd like to participate in more shows and festivals, he would rather share his creativity than display it.
Aucoin keeps his work affordable, charging about $180 for a pelican or egret.
"I think back to those days I was selling the birds out of my truck, and I miss them," he said. "I'd take my phone with me when I'd go paddleboarding just in case I got a business call. I did that for nearly two years, and people still remember seeing me along 98, selling art by the beach. Who knows, maybe I'll do it again someday."
He still has the truck.