Coastal Creatives: Donna Burgess
Her watercolor hobby became an obsession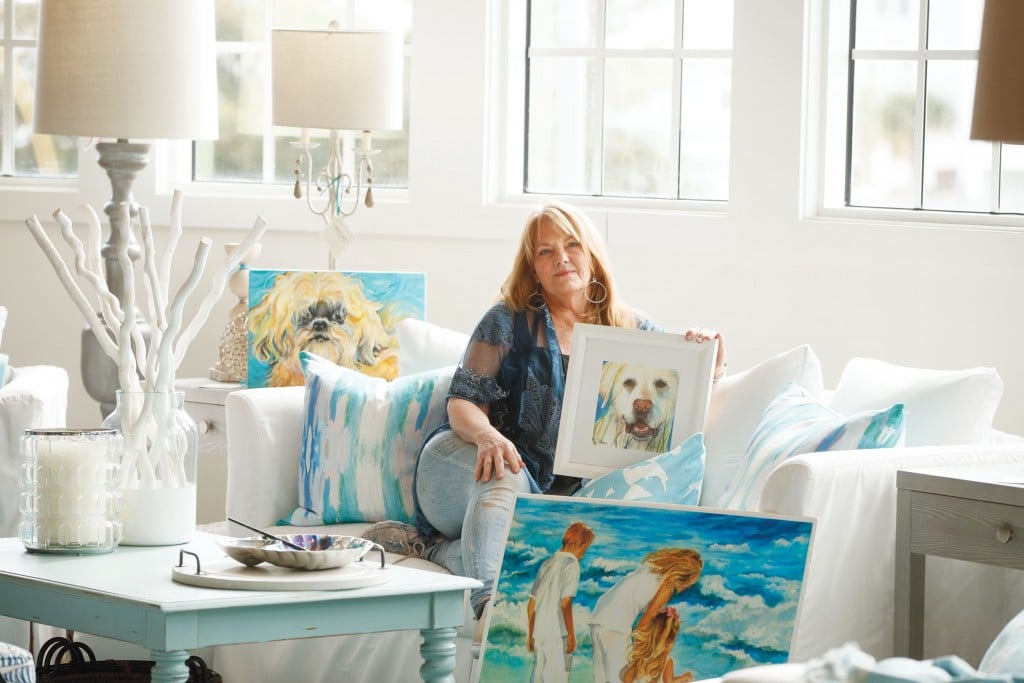 Donna Burgess has had a trying couple of years.
When her mother fell ill, the longtime painter moved to Panama City, leaving behind her Sandestin gallery at Grand Boulevard, where she had worked for 12 years. Her new gallery in downtown Panama City was open 11 days before Hurricane Michael hit.
And then came COVID.
"After 32 years with an art gallery, I made the decision to close," Burgess said. "The economy was so bad, it just couldn't support brick and mortar. But, then came the silver lining."
Burgess, who has known Susan Lovelace of Lovelace Interiors Inc. in Miramar Beach for the past 30 years, said her friend was "the safety net that caught her."
Lovelace designers, with whom Burgess has worked for years on commissions and murals, welcomed her into their family. Burgess said Lovelace showrooms in Miramar Beach and Phillips Inlet now serve as exclusive representations for her art.
Burgess, 64, feels that she has come "full circle." Her mother was an artist and designer for an interior design firm in Panama City. As a child, Burgess recalls her mother working with clients to put together beautiful spaces and coming home to create a painting that would tie a room together.
"My mother was an untrained artist but the most naturally gifted person I ever knew," Burgess said. "And not just with drawing and painting, but anything from building to plumbing. Once, on a whim, she just decided to taxidermy a fish and made our whole house smell like formaldehyde. That was my mother."
But while Burgess's mother always encouraged her to pursue possibilities, she didn't realize her own creative potential until her late 20s when, while reading the paper, she stumbled upon an ad for a painting workshop in Shalimar.
Graduating with a degree in English, Burgess fancied herself a writer. But one class with Marie Green, a signature member of the American and Florida Watercolor Societies, had her trading pen for brush.
"That class caught me on fire, and watercoloring became a hobby turned obsession," said Burgess. "Marie was the most wonderful, profound watercolorist, and you just wanted to learn from her. I didn't even know how to mix color, but she would do these elaborate setups. Since I started with an advanced group of watercolorists, I had to go back and teach myself the basics. But if I had started out painting an apple, I don't think the passion would have stuck."
Burgess said she entered the local art scene in about 1987, when she created her first poster for the Destin Seafood Festival. She has since created posters for the Sandestin Wine Festival for 30 years, as well as pieces for the Destin Fishing Rodeo and Silver Sands Autumn Tides. Aptly, Burgess's friends refer to her as the "Poster Child."
Burgess said she encourages any young artist to gain exposure by creating posters.
"Choose an event, and put your heart into it," she advises. "For me, poster art is the combination of your ability to interpret the event and the craft of creating its image."
But you'll also find Burgess's art on canvas — in corporate buildings, homes and the Emerald Coast Conference Center, where 22 of her ethereal seascapes and whimsical depictions of local flora and fauna adorn the walls.
Burgess's subjects range from vibrant dog portraiture and architectural landscapes to detailed shell and sea life studies. She is a product of the Emerald Coast and simply paints what she loves. If Burgess had to label herself, she would be a "watercolorist who paints in acrylic."
"For 15 years, I painted exclusively in watercolors, so it wasn't an easy transition from paper to canvas," she said. "But adaptability is the key to staying fresh. I learned to wet the canvas, salt it and spray starch it to get the look of the washes I wanted."
Burgess sketches basic shapes and then ponders them. Taking walks helps clear her mind, as well as flipping through magazines and perusing secondhand stores. Upon returning to the painting, she creates light washes, letting the paint shape an image.
Many times, paintings have come together, and Burgess felt that she did nothing more than hold a brush.
But, for her, it's teaching others to open themselves up and explore art that's most rewarding.
"When you get a group of people to feel comfortable enough, you won't believe the stories that come out," said Burgess. "It's very therapeutic.
"Can't draw a stick figure? Not required. Can't draw a straight line? Please don't. I have a few days to pull you through that tunnel of doubt and give you the confidence to proceed on your own. Anyone can use a brush and learn to mix colors. My biggest joy is giving you something you can use for the rest of your life for peace of mind and enjoyment."