Coastal and Rustic Décor for Your Home and Yard
Bringing a new twist to home for the holidays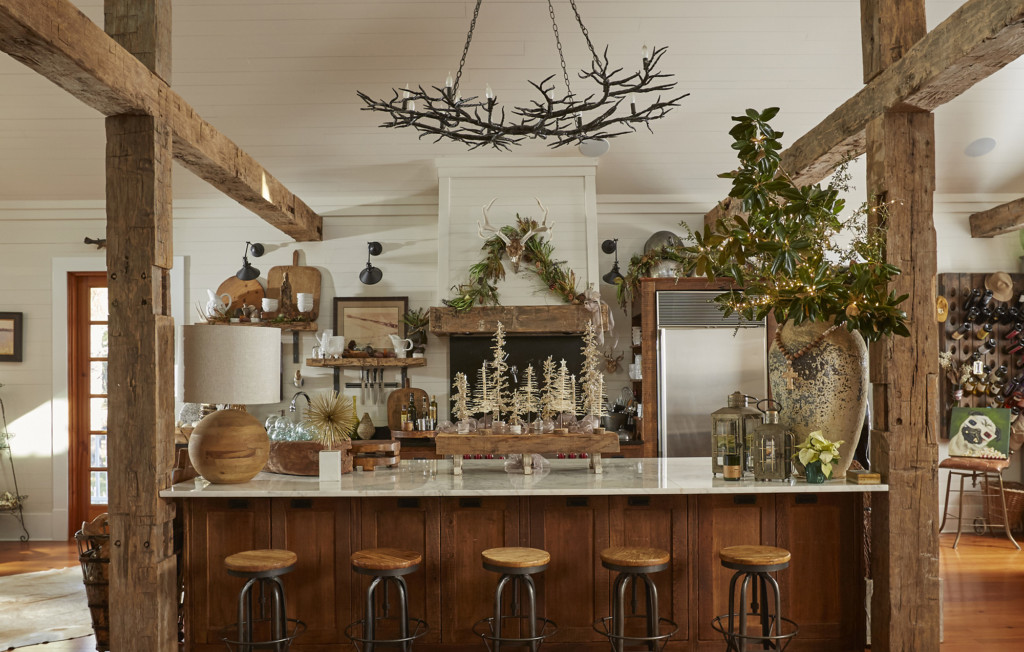 Kathy Bunker gets my drift.
As owner of Living Interiors of Bay County, she appreciates a traditional Christmas, even on the Emerald Coast, where some residents prefer a beach theme for the holidays.
"I try not to push that, unless my client specifically asks for a beachy or coastal theme," Bunker said. "You know that feeling we had when we were children, when we helped decorate the tree. People like that feeling of nostalgia. It's comforting."
As a child, I would tackle the indoors with my mom and sister, carefully shuffling through wreaths and nativities wrapped in newspaper.
From sunrise to sundown, my father would turn the outside into as much of a Winter Wonderland that Florida would allow. My father works with his hands and has a keen eye for creation.
He didn't want the same light-up, blow-up décor that everyone else had in their yards, so he took to creating his own. I'm not going to insist that you go out and buy wood to whittle and fashion your own reindeer. But I'll point out that you have many affordable and easy décor options that will make your home and yard stand out.
I certainly understand Emerald Coast residents who prefer a coastal holiday flair. To do that, you can tie bows around pieces of driftwood and fill clear tree ornaments with shells and sand.
One online message board participant suggested beach towels as a tree skirt.
Paula Manthey, design consultant at Sugar Beach Interiors in Destin, says she's seeing a trend "toward that organic cozy Christmas." She said that could mean filling a wood bowl with ornaments and using cable knits for stockings and tree skirts.
"That adds that cozy coastal feel that I think people need because they're so busy," Manthey said, "and I think they want to simplify more than make it overflow with clutter."
She says she sees more of a coastal Christmas approach from part-time residents.
Full-time residents tend to stick with what's trending — a coastal contemporary style featuring natural materials and textures, with blushes, greens, blues and super-light blues, she said.
Instead of red for the holidays, she said, you might consider blush pink. "Some people like to bring lighter tones to classic red," she said.
For that beach look and feel, any ribbons or embellishments in aqua and beige "look golden together" for the way they emulate water and sand, said Bunker of Lynn Haven-based Living Interiors of Bay County.
Maybe you prefer a rustic look inside and out.
You can find galvanized tin buckets at antique stores, flea markets, craft stores or tractor-supply stores. Take three to four varying in size. With the largest as the base, stack them in size order.
You've created a Christmas tree. Now string colored lights around it for a rustic, country Christmas aesthetic.
Want a fun family activity? Fashion your own signs and yard posts. In greens and reds, paint messages of holiday cheer, perhaps including "Santa Stop Here."
Do it together every year, then watch your children's handwriting change as they grow.
Whenever we go to the Christmas tree farm, my dad still always asks for extra clippings from which he creates beautiful wreathes for our doors.
Most tree farms will give these to you for free or for a small fee. Fashion these clippings and top them with a bright red bow.
Whatever you do, designers say, be consistent.
Maybe you want a Winter Wonderland theme, as my dad still does.
Some prefer coastal. Some prefer whimsical. Many prefer traditional.
Regardless, carry the theme inside and out.
"Otherwise it tends to look hodge-podge," Bunker said, "and doesn't have that warm, comforting, flowing feel to it."