ClasSea Couture
Boutique owner Alyssa Jamieson's childhood dream never went out of style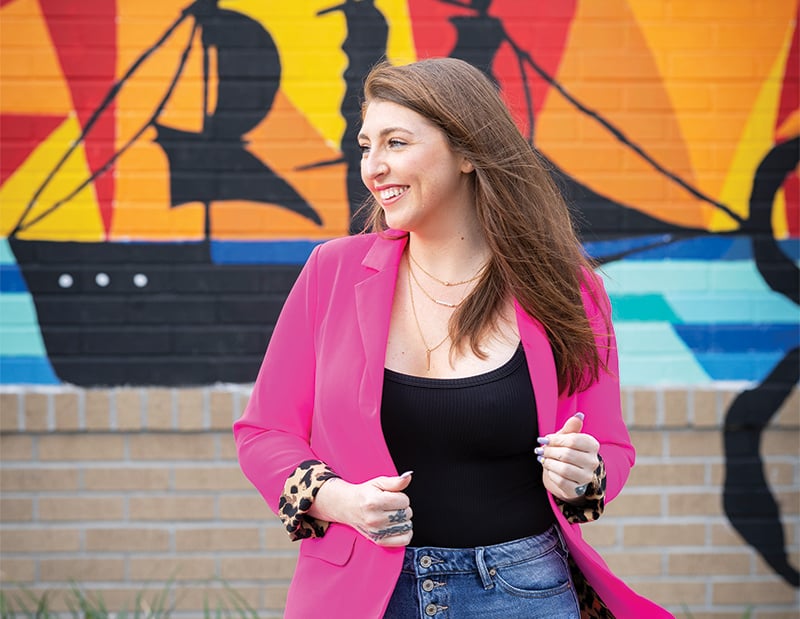 Few children, when asked, could accurately predict what their futures will hold. Many future doctors dreamed of being pirates or princesses, but Alyssa Jamieson's childhood aspirations bordered on premonition.
"Ever since I was a little girl — probably like 4 or 5 — I've just always told my mom, 'When I grow up, I'm going to have my own store. When I grow up, I'm going to sell my own clothes,'" Jamieson recalled. "It's just been a dream of mine since I was very little."
A young Jamieson watched fashion shows, created vision boards of clothing clipped from magazines and played dress-up with girlfriends, trying her hand at pretend stylist and store owner. At 14, she landed her first boutique job.
"I started in boutiques, and I've never worked any other job except in boutiques," Jamieson said.
"My mom always jokes, 'It's in your blood. It's just in your blood.' So, I think I was just born with this passion, and it just grew from the inside."
With passion came ambition. At 21, Jamieson launched ClasSea Chic Boutique as an online platform, working out of a spare bedroom in her home.
"I started out with $300 that I had saved up and bought one box of inventory," Jamieson recalled.
"I just believe deep down that it's not going to fail because this is my dream. This is what I want. I worked very hard for it."
After years of success through her website and social media, Jamieson began to outgrow her at-home workspace. In 2020, she graduated to a storefront in the high-traffic downtown strip of Fort Walton Beach.
Now a two-time Boutique Owner of the Year winner from Scarlett Magazine's Woman of the Year Awards, Jamieson is still playing dress-up. Whether styling a customer or picking out her own wardrobe, she is living her dream every day.
"We all have a fun side," Jamieson said. "We don't always want to be stuck in oversized sweaters. Every now and then, you want to dress up and go out and have some fun. My style is fun, flirty but very comfortable."
Jamieson hand selects pieces for her boutique that speak to a wide-range audience, with styles fitting for ages 16 through 80.
The boutique's style is inspired much by Jamieson's own. A mom of two toddlers, ages 3 and 5, she prefers casual outfits that speak to trends as much as they do to comfort and ease. On any given day, she'll opt for an oversized T-shirt or crew neck, biker shorts and tennis shoes. She also loves the simplicity of a good romper — a stylish one-and-done look — paired with a simple sandal. She almost always has her hair in a high ponytail with light jewelry touches like a layering of dainty necklaces and neutral-toned clay earrings.
"I am a very bold person," Jamieson said. "I like those bright pinks and the bright blues, but I do like the simplicity of solid colors."
She stands by skinny jeans, despite the generational debate, but she's a fan of high-waisted jeans in any style. At ClasSea Chic, she said, high-waisted skinny jeans and high-waisted mom-jeans tie for the most popular cut.
Summer is Jamieson's favorite season, and she is stocked up on trending looks for warm weather. Mix-and-match sets, crop tops, strappy tanks, palazzo pants and shorts will line her clothing racks. As wedge sandals become less popular, she's following the trend and incorporating more platforms. Locally handmade clay earrings and cross-body sling bags, she said, have proven popular accessories at the boutique year-round.
Looking ahead, Jamieson's vision board has customer interests in mind. She plans to expand her offerings to reach a wider audience, including lines for children and men.
"I'm not corporate," Jamieson said. "I base everything on that small-business relationship with my customers. I like to be their small, go-to place for whatever they need."
In the future, she plans to open a second location within the Destin to Navarre region.
"I hope that I can make the community just feel comfortable in the clothes that they wear," Jamieson said. "One of my main goals is to become friends with every customer I have and help them love themselves in their outfits because we deserve to look cute, and we deserve to be comfortable and, you know, have fun shopping."