Case Studies
Across the region, families cling to hope for closure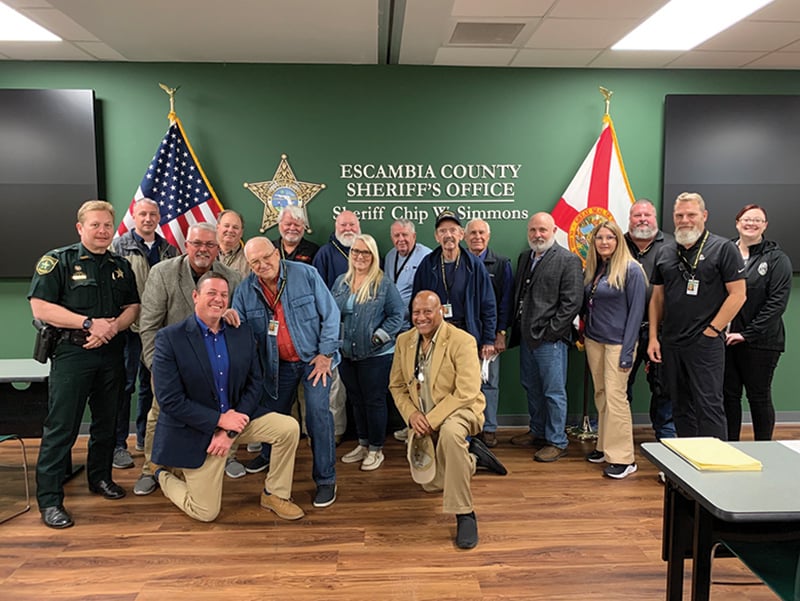 In counties including Bay, Escambia and Walton, it has become common for retired sheriff's investigators to volunteer to work long unsolved cases that developed during their years on active duty.
Two of those cases involve a woman who was gunned down while picking blackberries at the side of a road in Escambia County and a bartender who was killed in Walton County not long after his boss had him close the Lone Branch Bar early.
With over 130 active cold cases, the Escambia County Sheriff's Office annually hosts a two-day symposium designed to encourage collaboration among retired law enforcement detectives, state attorney's offices and lab analysts and gain new insights into unresolved homicides and disappearances.
Sgt. Jason Comans, who oversees the cold case, special victims and missing persons units for the Escambia County Sheriff's Office, said the symposia typically focus on about four cases with participants offering notes, ideas and potential leads.
"It's been helpful in providing us with new information and in opening our eyes to new possibilities we haven't even thought about," said Comans, who has been with the sheriff's office for 14 years. "They can create new theories based on their expertise and potentially lead us to more people to interview."
One case featured at this year's symposium was that of 38-year-old Anna Brown.
Brown, a mother and a resident of Molino, was found dead on the evening of April 30, 2017. She was lying face down at the side of Gibson Road near Alligator Creek and had suffered multiple gunshot wounds. Comans said Brown was believed to have been taking a walk and picking blackberries at the time of her murder.
"We know a couple of things," Comans said. "We know she, at the time, was going through an ugly divorce. We have nothing to say that she had anybody accompanying her at the time. Because the road is isolated — kind of out in the country — it is my belief that it was not a random act of violence."
According to the Escambia County Sheriff's Office, witnesses described hearing gunfire around 4 p.m. and saw a silver, early 2000s model Volvo fleeing the scene.
Statistics compiled by the Bureau of Justice Statistics indicate that 76% of female homicides are perpetrated by people with whom the victim is familiar. Comans said members of Brown's family believe that was true in her case; investigators have not ruled out that possibility.
"It's important to us to stay in contact with her family, and all our cold case victims' families, to let them know we're still invested and we haven't forgotten them," Comans said. "Sometimes family members hear things we don't, and they may remember things or suggest new people for us to interview. If there's a lead we can chase, we do."
Comans said he and others are relying on vetted volunteer case reviews, collaboration with other state and federal agencies, and findings gleaned from the most recent cold case symposium to pursue justice for Brown.
"There's a lot of work to be done, but I'm hopeful we'll be able to solve it," he said.
Murder at closing time
Bobby Ray Jones was killed 52 years ago, but Steve Sunday, an investigator who oversees cold cases for the Walton County Sheriff's Office, still seeks answers.
The recently retired Sunday, whose law enforcement career spanned 33 years and primarily involved investigations and violent crimes, said time has been the case's biggest enemy.
"As the years go by and cases get older, we lose witnesses," Sunday said. "Memories fade, and evidence decays. But in the case of Bobby Ray, I believe someone who knows what happened is still out there."
Bobby Ray Jones was a resident of Darlington, a small, unincorporated community in northern Walton County. He was a bartender at the Lone Branch Bar, where he and his wife, Betty Jones, made their home. It was there he was killed in the wee hours of the morning of Sept. 30, 1971.
"The report says the owner of the bar told him to close up early, and Jones and his wife remained on the premises where they were staying in the back," Sunday said. "About an hour after he closed, there was a knock on the front door. It was before the bar's normal closing hours, so he went to answer. The female who was in the back heard some conversation but couldn't make out what was being said. She heard the cooler door open, then close. A few seconds later, she heard gunshots."
Betty Jones reportedly left the living quarters behind the bar after surmising that the attacker(s) had left. Ray had been shot in the chest and succumbed to his injury within minutes.
Sunday said the case attracted the attention of the Florida Department of Law Enforcement and became a "big" investigation. It garnered myriad suspects (most of whom have since passed away) and occasioned theories ranging from a robbery gone wrong to a possible love triangle to a personal vendetta.
"As a bartender, you know people," Sunday said. "I want to say whoever knocked on that door, Bobby Ray knew enough to some degree to invite them in."
Recently, Sunday distributed fliers depicting Ray at his old stomping grounds. "It puts his face out there, and it lets people know this was a human being who didn't deserve this," he said. "You hope you get one person who sees it. Maybe they've had that information and realize it's time to come forward.
"My biggest fear is that that person has already passed, and that information has died with them. I know whatever we do isn't going to bring back Bobby Ray or any of these victims, but we can hope to bring some peace to their families."
Jones has one surviving sibling, Charles Jones, who is a pastor in Enterprise, Alabama.
"Bobby Ray loved life," said Jones. "He was outgoing, a cut-up and had a personality you just loved being around. Our mother didn't like him working at that bar. The day he died, he told her, 'Mama, don't worry; I don't have an enemy in the world. Everybody loves me.' But, as I told someone the other day, he had at least one enemy."
Jones, like Sunday, believes one day he will gain closure.
"I don't want to know so this person can receive any more punishment than the one they're going to receive from the hand of God," said Jones. "I have forgiven this person long ago. I don't harbor any animosity or hatred. I just want to know so I can ask them, 'Why did you do that? What did he do that would make you want to take his life?' I believe someone, somewhere still has a heart and will want to get this off their conscience."
---
Escambia County Case Study
Six years after the body of Anna Brown was discovered at the side of a road in the Escambia County community of Molino, the case remains unsolved. Investigators believe that Brown knew her killer. She was in the midst of a divorce when the killing occurred and appears to have been picking blackberries when she sustained multiple gunshot wounds.