Caring Community United by Compassion
Philanthropic events serve to bolster the efforts of nonprofits in Walton County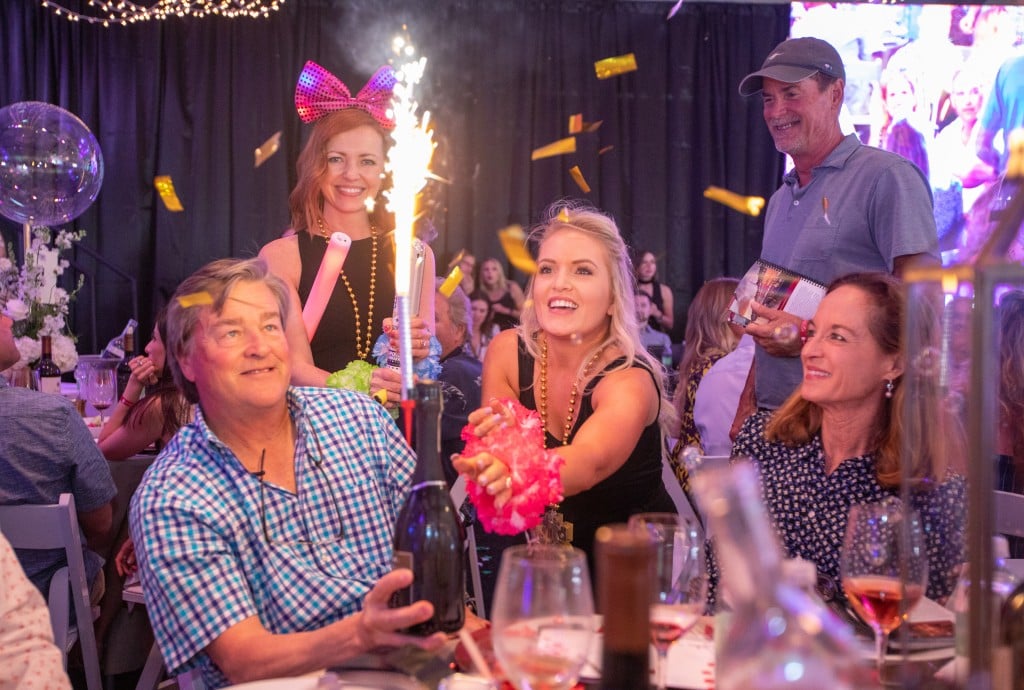 It's been said that "the greatness of a community is most accurately measured by the compassionate actions of its members." Here in Walton County, our "members" are comprised of residents, business owners, second homeowners, visitors and passionate individuals who strive to give back.
The ways they give back may look different depending on which group you shine the light on. Whether here in Walton County, across state lines in Louisiana or at events throughout the Southeast, county employees, event planners, marketing professionals and event attendees are hard at work — or having a great time — raising funds for a good cause.
So, what exactly does this look like locally? Well, take an organization like the Miramar Beach-based Destin Charity Wine Auction Foundation (DCWAF). Recognized as the fifth largest charity wine auction in the United States by Wine Spectator, this nonprofit organization has donated more than $25 million to local children's charities since its inception.
These funds have helped an estimated 100,000 at-risk youth with services ranging from medical care to food insecurity. In 2021, the DCWAF donated $2 million to a total of 16 charities.
"The fact that DCWAF has just celebrated 16 years of philanthropy is a testament to the values of so many people in our community," says John Russell, DCWAF president. "Our supporters and donors have shown their commitment to our mission from our very first auction in 2006."
The DCWAF raises funds in a variety of ways but most notable is their annual Wine Auction, as well as signature events like Harvest Wine & Food Festival that takes place in WaterColor. These events bring in thousands of visitors from outside Walton County for food, fun, live entertainment and philanthropy.
Funds raised during these events directly impact organizations like Food For Thought Outreach, which works to fight child hunger through five year-round programs, designed to fight the negative impacts of child hunger in the lives of food-insecure children in grades K-12. Food For Thought supports a child's development and educational experience by bridging the gap between school meals during weekends, summer and holiday breaks.
In the world of nonprofits, partnerships are incredibly important and can be the lifeline these groups need to sustain their missions. In addition to partnering with DCWAF, Food For Thought also works closely with the Emeril Lagasse Foundation (ELF) on programs like its Full Circle Kitchen and Full Circle Garden.
"Partnerships with Destin Charity Wine Auction Foundation and Emeril Lagasse Foundation fuel our work locally fighting the negative impacts of child hunger. Since 2010, Food For Thought Outreach has been bridging the meal gap in the lives of food insecure children in our community," says Tiffanie Nelson, founder and CEO of Food For Thought Outreach.
Although ELF may not call Walton County home (though its namesake is a Walton County resident), its commitment to our community shines locally through programs with Visit South Walton.
"The Emeril Lagasse Foundation is endlessly grateful for the continued support from Visit South Walton, who has helped to move our mission forward year after year. Fundraising is a crucial part of the foundation's efforts and essential to achieving our mission to inspire, mentor and enable youth to reach their full potential," says Brian Kish, foundation president.
So, when one looks back at the "members" of this community, they should be proud that there are so many individuals dedicated to giving back and supporting those in need. Tourism may drive the Walton County economy, but it also drives lifelong learning and support for local nonprofits.
"We are fortunate that the Walton County TDC understands the importance of high-quality, nonprofit events when evaluating the best use of marketing funds. Events like the DCWAF Harvest Wine & Food Festival and our annual auction in April not only generate good will for the county, but also increase visitation and ultimately bed tax collections," Russell says. "But perhaps the most important contribution our partnership with the TDC provides is funding for organizations that help the children right here in our community."