Renewing a Tradition that Crumbles
Holiday season after holiday season, some Christmas cookie recipes can't miss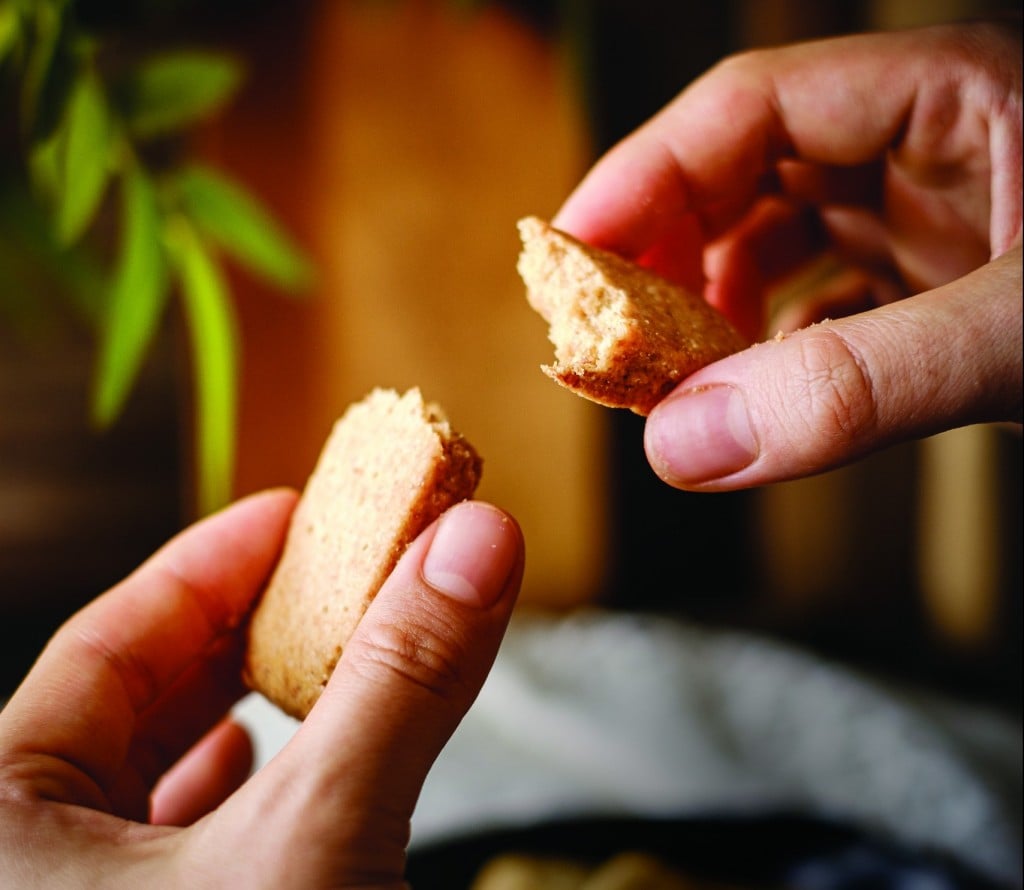 Ah, Christmas cookies, those holiday essentials that delight the senses and pack on the pounds. We all have our favorites, even if we don't want to admit it for fear of offending the cooks we love.
Here, Emerald Coast Magazine shares the three very best Christmas cookie recipes. You'll probably recognize them, and we invite you to add your own touches. These recommendations come from three sources who really know Christmas cookies: a Northwest Florida chef and caterer, Santa and this writer. Happy Holidays!
Sharing a family tradition
At first, Chef Jessica Bright McMillan didn't "get" the magic of shortbread's buttery flavor.
"Obviously it was complex," she said. "Why else would we pay for wrapped packages of the delicate cookies to cross the ocean, rather than making them ourselves? My grandparents would routinely gift a tin of the stuff, which I joyfully dipped in my tea every Christmas. … I looked forward to it all year long."
A friend who never cooked solved the mystery, proudly disclosing that she learned how to make shortbread from her Scottish immigrant grandfather. Grandpa Stobo's Scottish Shortbread became a Christmas tradition for McMillan, too.
"This simple combination of three ingredients magically melts in your mouth," she said. "The recipe couldn't be easier and is perfect to make in bulk and gift to your friends."
Scottish Shortbread Cookies

In a large mixing bowl, cream butter and sugar. With the mixer running, gradually add the flour to form dough. Place dough onto baking sheet lined with parchment paper and shape into a large circle ¾ inch thick. Prick with fork, then score into wedges and place in refrigerator for 30 minutes. Preheat oven to 375°F. Bake for five minutes, then reduce oven to 300°F and bake for 45 additional minutes until pale gold. Don't let it brown. Cut into wedges along scored lines before it cools completely.
Ingredients:
1 cup softened salted butter (2 sticks)

¾ cup powdered sugar
2 cups flour
Optional additions: Add a half-teaspoon of fresh minced rosemary, dried lavender or fresh ground black pepper for an unexpected burst of flavor. You can also dip in chocolate and decorate with holiday sprinkles.
Sugar Cookies
Ingredients:
½ cup butter (see Chef's note below)

1 cup sugar

1 egg

½ teaspoon salt

2 teaspoons baking powder

2 cups flour

½ teaspoon vanilla or almond extract
Preheat oven to 400°F. In a large bowl, cream butter and sugar together. Add egg and vanilla, mix. In a separate bowl whisk together remaining ingredients, then gradually add to creamed mixture while mixing. When evenly mixed, remove dough from bowl and roll out, then cut as desired with cookie cutters. Place shapes on a sheet pan lined with parchment paper, with 1 inch between cookies. Chill cookies for about 10 minutes in refrigerator before baking to help the dough hold its shape. Bake cookies until slightly golden, about 7–10 minutes, depending on the size of cookie.
Chef's note: If you have a powerful mixer, you can cream the butter with the sugar straight from the refrigerator and start rolling dough right away. However, if you're using a standard kitchen mixer, we recommend using room-temperature butter, then chilling the dough after mixing (before rolling) so it can hold its shape better.
Royal Icing
Ingredients:
½ cup cold water or 4 egg whites

¼ cup meringue powder

1 teaspoon lemon juice

Pinch of salt

4 cups powdered sugar
Beat meringue powder into cold water or egg whites until soft peaks form, then beat in lemon juice and salt. Beat until stiff peaks form, and gradually incorporate confectioner's sugar until desired consistency. Add more sugar for stiffer icing. Divide icing into bowls and color as desired, then pipe or spread icing on cookies. Allow cookies to air dry.
Chef's notes: Meringue powder is also called powdered egg whites and is available online, at stores that sell cake-decorating supplies and seasonally at well-stocked supermarkets.
If you don't have a piping bag, you can create an effective substitute by putting the icing in a plastic zip-top bag and cutting a small hole in one of the bottom corners.
An adaptable Southern classic
Pecan Tassies have always been a double winner because they're both tasty and easy to make. Now there's one more reason to love them: They can be made gluten-free.
It's worth buying a tart tamper, which makes shaping the shells a snap.
Tart Shells
Ingredients:
½ cup butter (1 stick), softened

3 ounces cream cheese, softened

1 cup gluten-free baking flour, plus extra for the tamper
Filling
Ingredients:
2 tablespoons butter, melted

½ cup firmly packed brown sugar

1 large egg

1 teaspoon vanilla

1 cup chopped pecan halves

Powdered sugar (optional)
Preheat oven to 350°F. Beat the butter and cream cheese until well blended. Mix in flour to form a soft dough.
Shape dough into 1-inch balls. Place dough balls in ungreased cups of a mini-muffin pan. Dip tart tamper lightly in flour, then press tamper into the dough until edges rise slightly above the pan's rim.
Pour melted butter into bowl. Stir in brown sugar, egg and vanilla. Add pecans and mix well.
Place a couple of teaspoons of filling in each shell; do not overfill. Bake 20–25 minutes or until light golden brown. Let the cookies cool in pan for 3 minutes, then remove to a wire cooling rack and let cool completely. Sprinkle with powdered sugar, if desired.