Built on the Sand
Dan Anderson's creations are both ephemeral and fun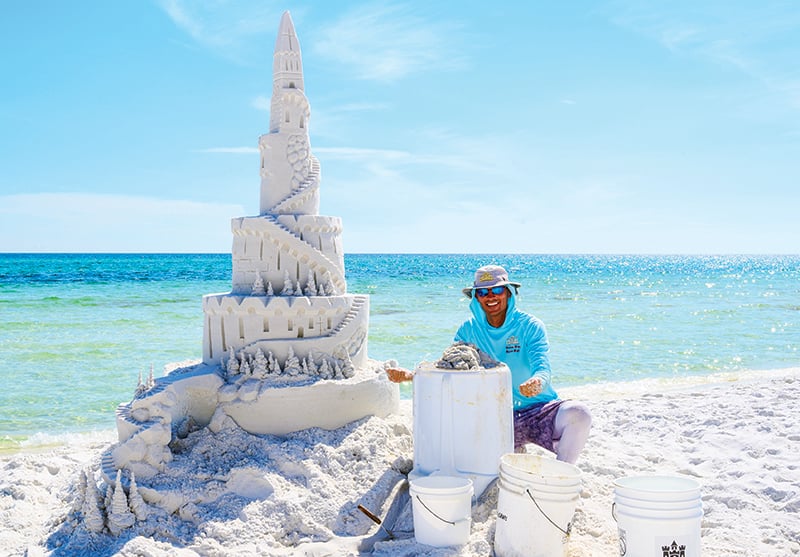 Dan Anderson's life took a drastic turn when he found an ad on Craigslist offering sandcastle training. He was working at an animal hospital at the time and loved animals — still does — but it wasn't fueling his passion the way he desired. In short, he was open to new opportunities, even far-fetched ones.
"I thought it sounded like something fun to do," he says now, "so, I just went for it. I signed up to learn how to make a really good sandcastle."
As most 5-year-olds can tell you, making sandcastles has few requirements: a plastic bucket, a few toy shovels, sand and water. Perhaps a sifter and cut-out shapes for the more serious sand architects.
Known as Dan in the Sand, Anderson prides himself on using ordinary tools to make extraordinary sandcastles. In the compact cart he wheels around on the beach are several 5-gallon buckets, some 3-gallon buckets, paintbrushes, metal scrapers, a small scooper ordinarily used to make cantaloupe balls and his most trusted item: a "sandblaster 3000." That might sound fancy and expensive, but it's just a metal straw.
Anderson's sandcastle instruction sessions last anywhere from 90 minutes to two hours, but time seems to melt away, he will tell you, when you're having fun along the shorelines of the Emerald Coast.
"Everyone loves a good sandcastle," he said, "and that's why I find so much joy in what I do: I get to watch people of all ages remember how much fun it is to build a sandcastle."
It's not all fun and games, though. There is a science behind Anderson's immaculate constructions.
"Once you know the science of sandcastle building, the possibilities are endless," he said. "I teach the basics and let my clients have at it, giving them ample space to create."
Here is the science: "Soupy" is the ideal consistency, starting out, Anderson said.
He puts sand into a 5-gallon bucket with no bottom. That allows him to easily remove the bucket, creating a freestanding tower. But first he adds water, using his hand — nay, his entire arm — to whisk around the contents, which he allows to settle into a concrete-looking unit.
Then comes "verbal encouragement."
Anderson smacks the bucket's sides, water soaking deeper into the sand mixture, then exhorts it: "You got it, sand!" Young participants follow his lead: "Yeah, sand! You can do it!" The cheering section grows as curious onlookers walking the beach stop and join in.
For larger sandcastles, which can take up to eight hours to complete, Anderson uses 100 to 200 gallons of water. "I stay skinny working this job," he said, laughing. "I promise I eat — a lot. I'm just constantly hauling heavy buckets of water back and forth on the sand. It's a workout."
His most prized creation was one of his first: an 8-foot-tall replica of the Eiffel Tower.
"I built that one right around the time of the Paris attacks in 2015," said Anderson, who has operated his business since 2020. "It was my favorite because I was still a new builder, and it turned out better than I imagined it would."
A close second are the ones he creates for marriage proposals.
"I get goosebumps and tear up every single time," he said. "(The woman) never expects it, and it's such a romantic and beautiful experience. There's more planning that goes into those because it must be set up just right, so she'll see it."
With each one, Anderson carves "Will you marry me?" and the prospective bride's name into a heart, then places a GoPro camera nearby to capture the special moment. A few nervous fiances-to-be have walked right by the grainy sculptures and Anderson smoothly, discreetly guides them back, though it's hard to imagine anyone overlooking his work or turning down such a gorgeous proposal.
---
To learn more about Dan in the Sand, visit DanCastles.com.
---