Bud & Alley's Mark Anniversary with Exciting Enhancements
Famous for its sunset celebration toasts—marks its 35th anniversary in 2021.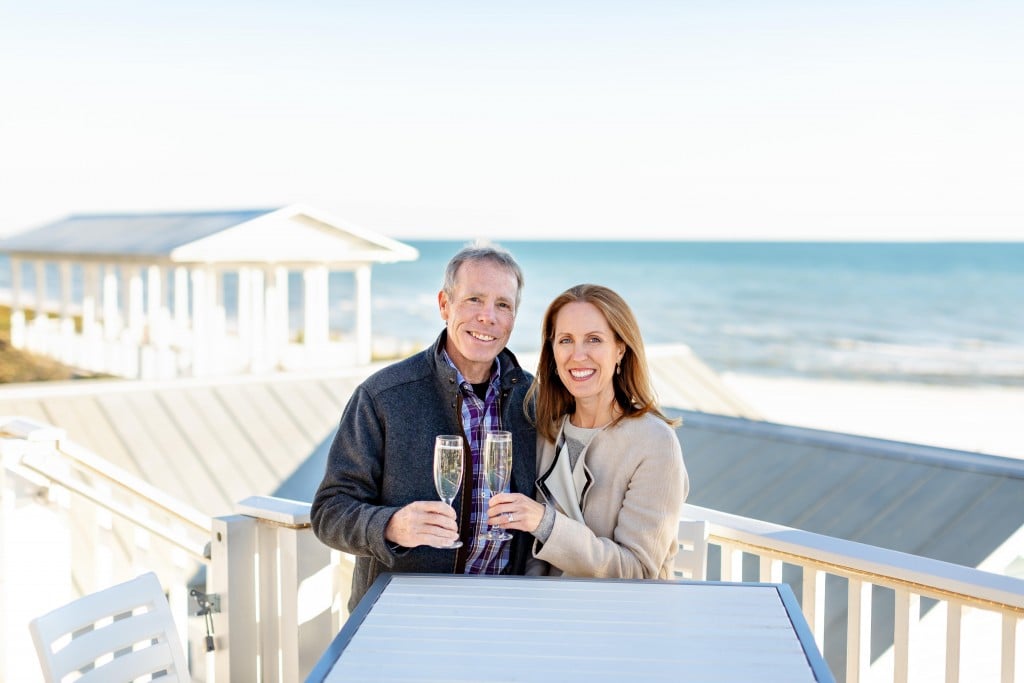 Bud & Alley's Waterfront Restaurant on Scenic Highway 30A in Seaside, Florida,—famous for its sunset celebration toasts—marks its 35th anniversary in 2021.
Soon, Bud & Alley's foodie fans can lift a glass at the daily sunset celebration toast on a newly renovated Roof Deck.
"With care and consideration for the past and to honor the original building Bud & Alley's remain largely the same, save some minor interior restoration. Thankfully, architect Dhiru Thadani was up to the delicate challenge of marrying the old and the new," founder/owner Dave Rauschkolb says.
The resulting design is a perfect match.
A new entrance plaza flanks Bud & Alley's to the east and west with a tree-lined walkway to the north. With 850 additional square-feet, the rooftop deck affords both a stunning Gulf view and a panoramic view of Seaside's Central Square. A new full-service bar fronts 30A, a stunning three-story tower entrance to the roof deck is now equipped with an elevator, and 10 restrooms have been added. A gleaming hand-crafted wood bar rail leads guests from the back-deck area to the beach via a beautiful beach boardwalk.
Bud & Alley's daily sunset celebration was enhanced, too.
"The new tower is poignant," Rauschkolb says, "Finally, there's a proper place to house the vintage sunset bell we've had all these years."
Still, the tradition remains the same. If you guess the exact time the sun sets, you are treated to a complimentary cocktail and get the honor of sounding the bell.
"I am so humbled to be marking this milestone," said Bud & Alley's owner/founder Dave Rauschkolb. "I owe a debt of gratitude to Robert & Daryl Davis of Seaside, my original partner Scott Witkoski, and, of course, our legions of loyal patrons who honor us by continuing to gather with their children and now grandchildren at our table again and again from all across the US. After 35 years, I'm still as excited as I've ever been."
Bud & Alley's, South Walton's longest established restaurant, pioneered the farm- and sea-to-table movement in Seaside and along 30A. Its devotion to serving dishes with the freshest possible ingredients extends to its two sister restaurant menus (The Pizza Bar and The Taco Bar).
Rauschkolb also is a partner in Black Bear Bread Company (Grayton Beach, Miramar Beach).
Founded in 1986 in Seaside, Florida, Bud & Alley's has become a revered gathering place by local patrons and visitors known for "Good Food. Good People. Good Times." Over the years, Bud & Alley's has been recognized with numerous awards and accolades, including Florida Trend Magazine's Golden Spoon Hall of Fame Award, designation as one of the Top 20 Restaurants in Florida, Coastal Living Magazine's Best Rooftop Bars, Emerald Coast Magazine's Best Place to See the Sunset and Visit South Walton's Perfect in South Walton Awards for Best Seafood Menu and Best Sunset View among others.
Though much has changed this year for the restaurant that pioneered the farm- and sea-to-table movement in Seaside and along Scenic 30A, the seafood-centric menu curated by the capable hands of executive chef David Bishop remains largely the same.
"Our fresh, locally sourced menu favorites such as Bud & Alley's Famous Crab Cakes, head-on Barbecue Shrimp, and Sweet Potato Fries are still offered," Bishop assures.
Bud & Alley's is open daily for lunch and dinner (as well as breakfast, seasonally). For more information on Bud & Alley's Waterfront Restaurant, call (850) 231-5900 or visit www.budandalleys.com.