Bud & Alley's Celebrates 35 Years
Cheers!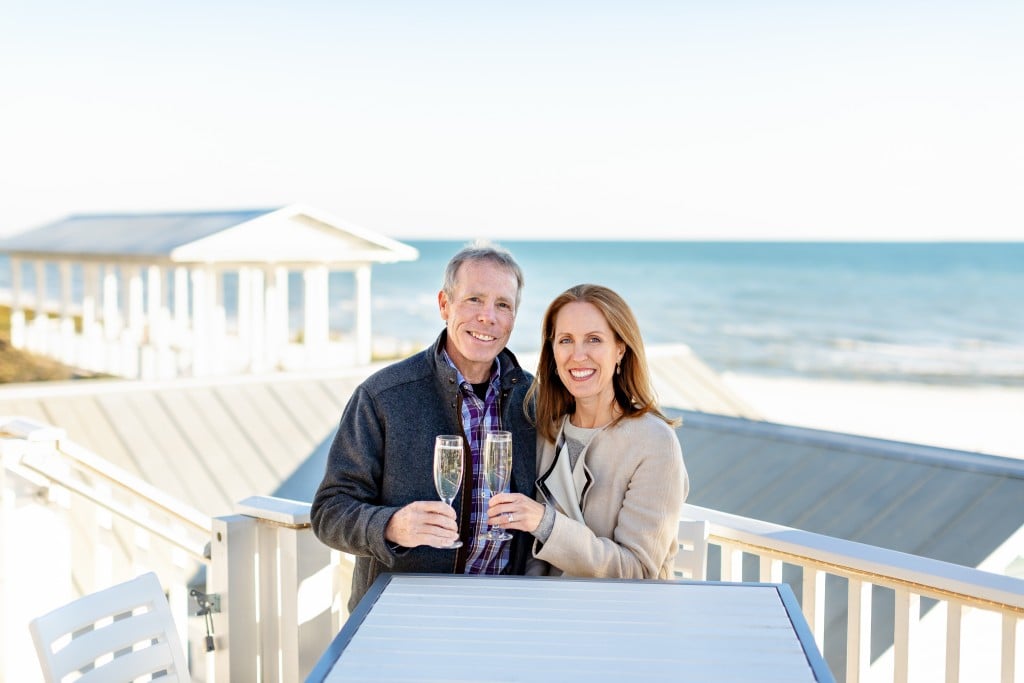 Bud & Alley's Waterfront Restaurant on Scenic Highway 30A in Seaside marks its 35th anniversary in 2021. Foodie fans can now toast the daily sunset celebration on a newly renovated Rooftop Deck.
With care and consideration for the past and to honor the original building, Bud & Alley's remains largely the same, save some minor interior restoration. Architect Dhiru Thadani delicately marries the old and the new, and the resulting design is a perfect match.   
A new entrance plaza flanks Bud & Alley's to the east and west with a tree-lined walkway to the north. With 850 additional square feet, the rooftop deck affords both a stunning Gulf view and a panoramic view of Seaside's Central Square. A new full-service bar fronts 30A, a stunning three-story tower entrance to the roof deck is now equipped with an elevator, and 10 restrooms have been added. A gleaming, hand-crafted, wooden bar rail leads guests from the back-deck area to the shore via a beautiful beach boardwalk.
Though this year has seen many changes for the restaurant that pioneered the farm- and sea-to-table movement along 30A, the seafood-centric breakfast, lunch and dinner menu curated by the capable hands of executive chef David Bishop remains largely the same.
"Our fresh, locally sourced menu includes favorites such as Bud & Alley's famous crab cakes, head-on barbecue shrimp, and sweet potato fries are still offered," Bishop assures.
Founded in 1986 in Seaside, Bud & Alley's has become a revered gathering place by local patrons and visitors known for "Good Food. Good People. Good Times." Over the years, Bud & Alley's has been recognized with numerous awards and accolades, including Florida Trend magazine's Golden Spoon award Hall of Fame, being named one of Florida's top 20 restaurants, selected as one of Coastal Living magazine's best rooftop bars, and voted "best place to see the sunset" by the readers of Emerald Coast Magazine, among others.
"I am so humbled to be marking this milestone," said Bud & Alley's owner and founder Dave Rauschkolb. "After 35 years, I'm still as excited as I've ever been."
(850) 231-5900 | BudAndAlleys.com | @budandalleys