Broken Field Musician
Songwriter Tim Jackson runs from sideline to sideline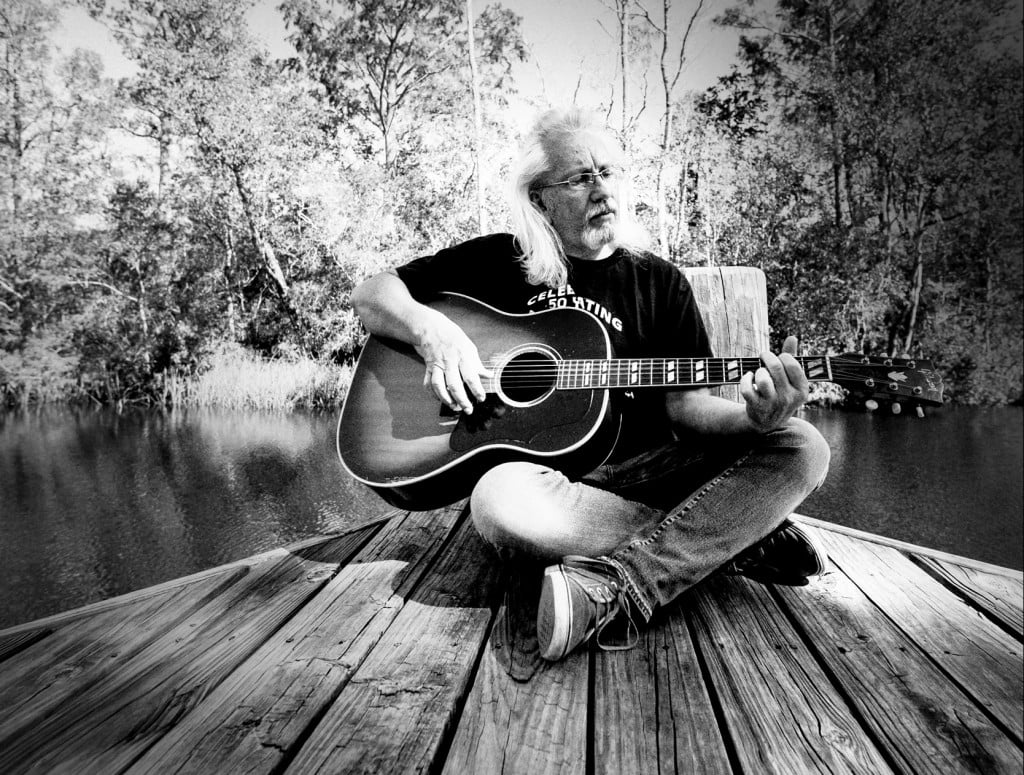 Tim Jackson comes across as a kind of alternative Country & Western — wire-rimmed glasses, Vandyke beard and long, gray hair. He is elusive or tongue-in-cheek when he speaks about himself.
"I was born in the middle of the Blues Delta."
He lists a couple of big talk shows that he has not been a guest on; claims he's not the "next big thing" in singing and songwriting; and says he can't much play guitar, either!
So how come, early on, Jackson was hired by bluegrass daddy Bill Monroe as a guitarist — provided he got a haircut?
Jackson complied, somewhat. On the day the tour was to leave, he showed up and started to board the bus, but Monroe blocked him, letting him know that Bill Monroe wasn't satisfied with his hair length. Jackson blew off Monroe and hiked down the road rather than compromise his tonsorial integrity.
Maybe it's good that things went down that way. Forty years and 1,200 songs later, Jackson is living large in the burgeoning art scene around Choctawhatchee Bay. His songwriting has evolved way beyond the rigid parameters of bluegrass, beyond traditional Nashville. Two of his works have been nominated for Grammys. Two more, Happy Birthday Baby Jesus and the McLeanesque All American Mutt are becoming classics.
And Then the Rain, Jackson's new album with musical sister-in-arms Lindsey Thompson, illustrates Jackson's gift for understated insights into themes intimate, meditative and obsessive. Glorified by Thompson's expressive voice, Jackson's styles range from the rock-a-billy homage of All Day to the plaintive minor-note intensity of Quietly, part of a project in progress evoking the almost sinister ambience of a Balkan Bistro, with arrangements for klezmer fiddle and his dad's old crowbar.
Jackson, of Freeport, is a broken-field runner musically. Recently, he put out a video with vocalist and sax man Ike Bartley. It's a duet of a different kind, an intimate kind of paeon about passing fire from one generation to the next.
Bartley, a Crystal Springs, Mississippi man, formed Wynd Chimes with some college bandmates in the 1970s. That led to a signing with RCA and several years performing in Japan. In 1990, after years elsewhere, Bartley returned to the Florida "Handle" and settled in Santa Rosa Beach.
Bartley's affect is cool — beret, gold earrings, shades and a black suit. Out front, he plays saxophones, from soprano to baritone with the detached gameface of a man who's paid his dues. Vocally, he can wail like the tenor sax hung around his neck or croon a lullaby.
Image-wise, Jackson and Bartley couldn't be more different. Yet, they've known each other for years and once upon a time played together in the Fishhouse Band. But, it was Jackson's 12-year-old grandson Madden who inadvertently played the muse for Hallelujah.
This past spring, Madden, with his mom and dad, witnessed a Black Lives Matter protest in Tallahassee. Jackson recounts how his son, daughter-in-law and Madden returned home buzzing about the protest. When he realized that something about the notion of being out front and defending the underdog had lit a spark in Madden, it must have triggered, in Jackson, a sudden joy. He relates how, after seeing his family's elation, he headed directly to his studio.
I Sang Hallelujah starts at the intersection of Main and Madison in Freeport. A Ford pickup pulls in to a local garage. Out jumps Jackson.
Cut to Jackson and Bartley sitting outside together, leaning against the wall of the garage.
Bartley begins:
You can paint it black; you can paint it white. Pick a side, who's wrong or right.
Then, at the refrain, he sings:
I'll sing Hallelujah late at night, all alone. I'll be thankful where I stand, I'm glad this boy is grown.
Jackson takes the second verse, while across the intersection stands grandson Madden facing traffic, holding up a handwritten sign that reads, "Love Wins!"