Brett Cyphers Tells Us How NWFWMD is Protecting Florida's Springs
The other Florida coast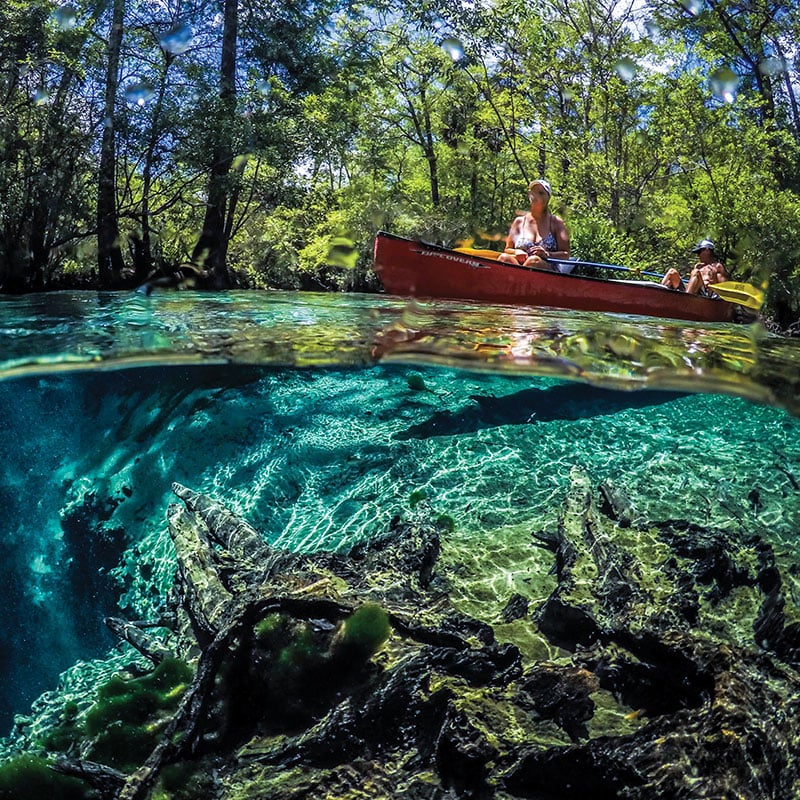 Beneath Florida's sandy topsoil and spreading through about 100,000 square miles of porous limestone lies the Floridan aquifer. One of the most productive aquifers in the world, the Floridan supplies water for more than 10 million people.
Rainwater keeps the aquifer full, and in some places, pressure in the aquifer builds to the point where water is forced through openings in the earth's surface, revealing freshwater springs.
Florida has more than 1,000 springs — the largest concentration of freshwater springs in the world — and more than 250 of those are located within the Northwest Florida Water Management District which includes the entire Florida Panhandle and a significant portion of the Big Bend region.
"This region's 255 springs and their associated rivers and bays have significant ecological, cultural and economic value," says Northwest Florida Water Management District Executive Director Brett Cyphers.
"They provide important habitat for wildlife and plants, recreational opportunities for the public and an opportunity for people to connect with their natural environment.
They also represent the visible part of the Floridan Aquifer, where most of our drinking water comes from. Restoring and protecting these priceless resources remains a priority for our District's board and staff, and the state's support of those efforts is vital to continuing the great progress we've made so far."
Ecological value of the springs
Northwest Florida is one of the most biologically diverse regions in the U.S. This diversity can be attributed, in part, to the area's spring ecosystems. Many of these ecosystems have existed since the end of the last ice age, which means that numerous plant and animal species in these ecosystems are entirely unique — even endemic to particular spring systems.
The springs are teeming with flora and fauna. A day at the springs might result in sightings of the mottled longbract wakerobin (also known as trillium), cabbage palms, largemouth bass, pond crayfish, American alligators, river otters, dragonflies, great blue herons and even West Indian manatees.
Cultural value of the springs
Thousands of years ago, the Paleoindians who lived in Florida relied on fresh water and freshwater ecosystems for survival. They lived and hunted near bodies of fresh water, and evidence of the impact that springs had on their lives is visible today in the form of exciting archaeological findings, recovered from springs throughout Florida.
Springs are still important to Floridians and to tourists who visit the Sunshine State. Many Northwest Florida springs are accessible to the public and present wonderful opportunities to paddle and swim in some of the most beautiful waters on earth.
Economic value of the springs 
Northwest Florida's springs are an important source of drinking water. The springs that feed Econfina Creek in Bay County, for example, flow into Deer Point Lake, which provides 90 percent of all drinking water in Bay County. But another spring in Northwest Florida provides water to communities around the world via Nestlé Waters North America, which has a water-collection facility on Holmes Creek at Cypress Spring.
Some Holmes County residents are opposed to the presence of the Nestlé facility, yet Cyphers says that these individuals may not be aware of Nestlé's role in maintaining Cypress Spring's health.
Nestlé owns about two-thirds of the land surrounding Cypress Spring, and the Water Management District owns the other third. This means the land surrounding Cypress Spring is not farmed and so is from farming fertilizers that tend to find their way into springs.
For those who are concerned about the quantity of water Nestlé collects for bottling purposes, it's one-tenth of a percentage of the spring's average daily flow of nearly 58 million gallons of water per day.
"Even if Nestlé reached a point where they were collecting 400,000 gallons of water a day, which is what they're permitted and which is eight times what they actually use, that's not enough to even move the needle in regards to harming this natural system," says Cyphers, who also noted that Nestlé's business model relies on clean water, meaning the company is committed to protecting the spring.
Crystal Gainey, of Vernon, Florida, appreciates what Nestlé has done for her community. "Their tax money helps Vernon," she says. "It goes back into the school system and to other places."
Gainey has helped her father run their family-owned business, Snaggy Bend Outfitters LLC, for five years, now. The business is located on Holmes Creek near Vernon and was built on land that the Gainey family has owned for at least 150 years.
"I really think the springs bring a lot to Vernon's economy," Gainey says. "About 85 to 90 percent of Snaggy Bend's business comes from people who aren't from Florida. They're looking for a little change in scenery — something to get them out of the salt water for a while. That's why they come to what we call, 'The Other Florida Coast.' They like to kayak and go on paddle trips, but everyone always wants to see Cypress Springs. That's the main attraction."
Protecting the main attractions
Dana Stephens, Director of the Mattie M. Kelly Environmental Institute and Chair of the Department of Environmental Science at Northwest Florida State College, says, "Studies have shown the negative impact of humans on flora and fauna. Sometimes, if there's too much recreational use, you can overwhelm a spring system."
One spring in Northwest Florida that was almost destroyed due to recreational overuse is Williford Spring, on Econfina Creek.
"People would kayak and canoe down the creek, and then, when they reached the spring, they would just beach their boats," says Cyphers. "That causes a lot of erosion to spring banks."
To mitigate the over-use, the NWFWMD installed a canoe dock at Williford Spring where paddlers can park while they enjoy the spring. The District constructed wide, ADA-compliant steps leading into the spring for swimmers — helping to protect the shoreline at Williford Spring from too much foot traffic. The District also planted "geotech bags," plants and trees to discourage people from walking on the spring bank.
"We still wanted people to have access to the vent, because we knew that if we didn't provide some access, people were going to make their own, and, in the process, destroy plants and cause erosion," Cyphers says. "We had to do some strategic planning and some engineering so we could 'manage the feet' and keep people from accidentally loving the spring to death."
Another key concern for Northwest Florida's springs is excess nutrients, particularly in the case of Jackson Blue Spring in Jackson County.
"A spring's contribution zone is the area around the spring where water soaks into the ground and ends up in the spring," says Cyphers. "Jackson Blue Spring's groundwater contribution zone stretches up into Alabama. It's a rural zone, and it's also agricultural. Farmers of crops like peanuts, cotton, soybeans and corn — which are what we have in that zone — use quite a bit of nitrogen in their fertilizers."
Stephens explains that nitrogen is used in fertilizer because it encourages plant growth. "But if people are using fertilizers and are living near a watershed that surrounds a spring, these elements can leach into the soil and eventually into the springs, causing eutrophication, or more 'biology in the system' than the system can handle," she says.
"Some nutrients appear in Florida's springs naturally; but an overabundance of nitrates represent an anthropogenic, or human-induced, introduction of nutrients."
The excess plant growth depletes oxygen and injures other species in the ecosystem.
Cyphers and his on-the-ground staff with NWFWMD have worked with farmers to implement programs designed to offset the impacts of these excess nutrients.
NWFWMD staff visit the farms in Jackson County and talk to the farmers who live there.
"For years we had a program where we'd go out to farmers and measure how much water they're using," says Cyphers. "Then, at no cost to the farmers, we'd look at their irrigation system and give them suggestions on how they could improve the efficiency of their system."
As an example, Cyphers references overhead sprinklers that spray water onto crops. The problem with overhead sprinklers is that when the weather is at all windy, the water doesn't fall directly onto the crops, and farmers are forced to use a larger quantity of water for a longer period of time to achieve the soil saturation they want.
"Now we approach farmers with a BMP (Best Management Practices) cost-share program, where we use the state's Springs Restoration and Protection dollars to pay 75 percent of the cost of new technology, equipment and retrofitting for these farms, while the farmer only pays 25 percent," says Cyphers.
The newer technologies reduce the amount of money farmers spend on water and fertilizer while still enhancing their yields. The cost-share program also reduces as much as 630,000 pounds per year of nitrogen entering the Jackson Blue Spring contribution zone and saves as much as 8 million gallons of water per day in withdrawals in Jackson County.
"We actually have more people who come in requesting to be a part of the cost-share program than we can manage," Cyphers said. "We're going to have to expand."
Another way in which NWFWMD is trying to reduce nitrogen levels is by purchasing conservation easements to intensely farmed land and requesting that crops be converted to trees, which require less fertilizer and water.
"You just let the trees grow, and then, later on, you thin them and sell the timber … or whatever you want to do, just so you don't grow corn or some other intensively managed crop there," Cyphers says. He explains that trees hold eroding soil in place, absorb nitrates from the ground and provide natural habitats for many animals.
Cyphers is also busy helping farmers to implement a sod-based crop rotation, which results in the use of less nitrogen and water. Simply put, farmers alternate planting bahiagrass with planting their regular crops. Bahiagrass has a dense root system that holds water and nutrients in the soil. This means that after a field that once held bahiagrass is converted back to row crops, the topsoil retains a rich organic base in which crops flourish.
"You get better yield because you have this really good fertilizer built into the ground, and the water stays there," says Cyphers.
Nitrates also appear in springs because of leaching septic tanks. In Marianna, the town nearest to Jackson Blue Spring, many homes use individual septic tanks because there is no access to a central sewer system running to a wastewater management facility. NWFWMD is working with the city and county to change that.
"We're always looking for new ideas," says Cyphers. "Our programs aren't stagnant. We can adjust them to fit the need. We always maintain our focus on the end result: What is going to get us to the goal of a healthy spring?"
A healthy spring is one that is at or below its standard water quality measurement for various components. For nitrates, that's 0.35 milligrams per liter (m/l). The springs on Econfina Creek are below that, but Jackson Blue Spring is currently at 10 times that number, meaning it's at 3.5 m/l.
"An old friend of mine used to say that if you were to drink a cup of water from Jackson Blue, it would be like drinking six hot dogs in terms of nitrates," Cyphers says. "People still recreate there — it's still a great, beautiful place — it's just not healthy for the ecosystem as a whole, which is why we're tackling it."
Cyphers says changes at Jackson Blue Spring will take time. He explains that the porous, karst geology varies radically in that area, and that in some places, it only takes a day for nitrates applied on the ground to flow into the spring, where in other places, it takes 17 years.
"It's not an overnight thing or even a five-year thing," he says. "We're looking at 20 years until Jackson Blue reaches its standard water quality measurement. But while there are challenges, we're moving forward. We're getting all of the support that we could ask for from the governor and the legislature right now.
And the good news is, there are no places in Northwest Florida where the health of the springs is getting worse. We have people who were once a part of the challenge — like the farmers and septic tank owners in Jackson County — who are now becoming a part of the solution."
Visit the springs
Econfina springs (including the Gainer spring group, Pitt Spring, Sylvan Spring and Williford Spring)
Magnitude: Collectively, 1
Location: Econfina Creek in Bay and Washington County
Details: Open daily, sunrise to sunset; activities include paddling, snorkeling, swimming, wildlife viewing, hiking, camping, fishing and picnicking
Holmes Creek spring group (including Cypress Spring, Holmes Blue Spring, Jackson Spring, Ponce De Leon Spring and Vortex Spring)
Magnitudes: 2, 3
Location: Holmes Creek in Vernon, Holmes County
Details: Open daily, 8 a.m. to sunset; activities include boating, paddling, fishing, snorkeling, swimming, wildlife viewing and geocaching; entry fee is $4 per vehicle (maximum 8 people) or $2 for pedestrians/cyclists
Jackson Blue Spring
Magnitude: 1
Location: Jackson Blue Recreation Area in Jackson County
Details: Open between Memorial Day and Labor Day, 9:30 a.m. to 6 p.m.; canoe, kayak and paddle boat rentals are available in the park; activities include paddling, swimming, diving, snorkeling and hiking; entry fee is $4 per person, military and first responders get $2 off, children 5 and under are free
A conversation with William Shirling, spring enthusiast and citizen biologist
Holmes Creek has been a big part of William Shirling's life since the early 1950s. As a child, he spent every summer with his grandparents, Julia and Emrie "Tink" Bruner, at their home on Holmes Creek. Over the years, Shirling witnessed the health of the creek and the springs that fed into it deteriorate. In 2000, he decided to do something about it. Kim Harris Thacker of Emerald Coast Magazine spoke with Shirling to find out more.
Emerald Coast Magazine: Please describe your Holmes Creek project for readers.
William Shirling: Holmes Creek is a very unique and special place, made up of numerous springs. When I started my project, there was some commercial damage to some springs that was going on. A local group got together to try to prevent more damage to these springs, and I got involved with that. Then I got interested in trying to protect the river system of Holmes Creek. I found out that the Northwest Florida Water Management District wasn't aware of all of the springs on Holmes Creek, so I decided to document them. I documented 53, but there are more on the creek than that.
ECM: Did you have experience in surveying or formal training in mapping?
WS: No. It was just my passion for the creek and trying to protect the creek from further damage and getting awareness out to people that caused me to think I could help. I bought a GPS and a video camera, and I started at the upper section of Holmes Creek and documented around 35 miles to its confluence with the Chattahoochee River. I worked on the GPS-ing and taking photos and videos for a year. Then it took me another year to put together my findings in a paper that I presented to the Water Management District. Basically, it was an inventory of Holmes Creek flora and fauna.
In the process of me doing all this, I began getting phone calls from the University of Florida, from the U.S. Geological Survey — all kinds of biologists and scientists wanting to come have a look at Holmes Creek and maybe have me give them a tour. We found a lot of rare and endemic species doing that.
ECM: How are you involved in preserving Holmes Creek today?
WS: I still stay active on the creek. I'm still keeping a mental registry of what is going on. When you develop a love for a place, it gets in your blood and stays with you. It becomes a part of you.