Bodacious Booms as Community-Based Business
The business model that revitalized downtown Pensacola and what keeps it going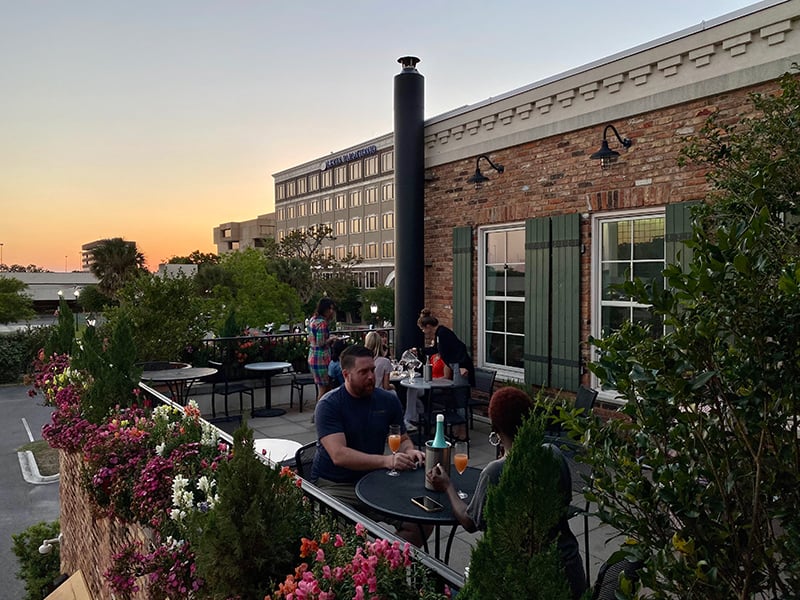 The sun sets as you relax into sipping wine and snacking on charcuterie from a balcony overlooking downtown Pensacola — a common setting at Bodacious Shops in downtown Pensacola.
Bodacious Shops' location wasn't always a place buzzing with business or a spot where gatherings regularly attracted crowds. But 11 years ago, the location found its start when Rishy Studer and her husband, Quint, conceptualized a revitalization project for downtown Pensacola and Palafox Street — the Bodacious Shops dining and retail umbrella.
The Bodacious Olive was the first to open, shortly followed by The Bodacious Brew coffee shop, So Chopped Salad Bar & Bistro, and a coffee roasting room where they roast their coffee beans in-house. Eventually, retail followed including So Gourmet culinary shop and, just a couple blocks away from the main shops, The Bodacious Bookstore.
The latest addition includes an upstairs kitchen and event space that can be rented and where patrons can attend cooking classes with local chefs that range from four-course meals to specialized focuses, such as sushi making.
So Gourmet includes an impressive selection of wines and gourmet cheeses, ideal for charcuterie at sunset with a live-music background at one of Bodacious' monthly Sunsets on Main events.
Bodacious Shops takes pride in stocking shelves with products from local businesses, such as NaturBaker's nutritious and allergen-free treats, Chef Phil's barbecue sauces and rubs, and Bill-E's small batch bacon.
"We are always seeking to invest in local businesses," said Noelle White, vice president of retail at Bodacious Shops. "It's part of our mission to help local businesses grow and to provide them the platform to do so."
The overarching mission that the Studers established in 2012 is to improve the quality of life in the communities they serve.
The Studers regularly invest their revenue dollars into the community by providing scholarships to local universities and donating to local hospitals, YMCAs and domestic violence centers.
Most notably, they've established the Studer Community Institute, which works to improve life in diverse communities through initiatives including kindergarten preparation and the creation of jobs through
mentorships with entrepreneurs and business leaders.
In the future, Bodacious seeks to host open mic nights at the downstairs café, offer more opportunities for family-friendly events and increase use of their space for events both at Bodacious Shops and their sister event venue, 5eleven Palafox.
"We get to support our community by providing this space to gather, feel welcome and eat healthy, fulfilling foods," said White. "In turn, every time someone sits down for lunch, attends an event, hosts an event or simply grabs a coffee, they are supporting the growth of our downtown, our community."
---
Bodacious Shops
407 S. Palafox St., Pensacola | BodaciousShops.com | (850) 433-6505