Bluffs & Blarney
An American in Ireland resists a cabbie's advances and with cliffs takes chances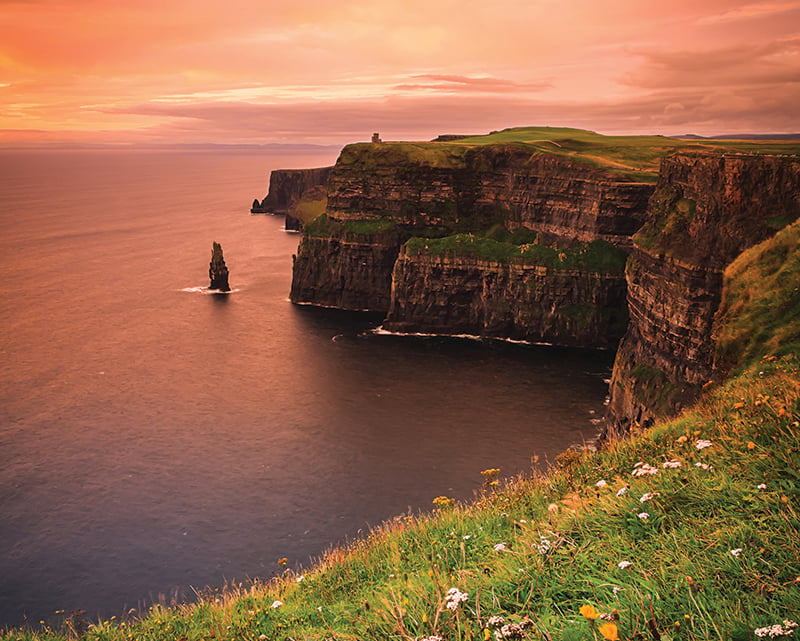 My love affair with Ireland began the minute I heard Delores O'Riordan's haunting voice singing Zombie. Her impassioned lyrics and the unmistakable sound unique to the Cranberries became part of the soundtrack of my adolescence — despite my mother constantly asking me to listen to something "less depressing."
Twenty-odd years later, I may not be playing the Cranberries on a constant loop, but my fascination with them, and with Ireland, is as strong as ever. So when I discovered in October that round-trip airfares to Ireland were running just a smidge over $600, I couldn't hit the "Book Now" button fast enough. Add an Airbnb for a week in Dublin, and I was set.
One layover and a seven-hour trans-Atlantic flight later, I landed at Dublin International Airport where, oddly, cows are pastured right alongside the runways.
Unfortunately, as my wireless carrier is not one that offers international roaming, I was left to figure things out the old-fashioned way, largely without internet access or any semblance of phone coverage. Outside of the airport terminal, I had nothing, which meant I couldn't book a taxi or use Google maps to navigate the public transportation system. What I could do was join the queue for taxis outside the airport.
After 10 minutes of waiting in very chilly, very damp air, I settled into the backseat of a black Mercedes. I gave the cabbie the address for my Airbnb, happy to be out of the cold drizzle and on my way to somewhere I could get my bearings. The apartment where I would be staying had internet access, which meant I could formulate some sort of game plan for my stay.
I am not one to sit silently in the back of a taxi, and I was happy when my driver struck up a conversation without prompting.
"So, what brings you to Dublin?" he asked in a thick Irish brogue.
"I've always wanted to come to Ireland, and I thought now would be the perfect time to do it," I replied.
"What will you do while you're here?"
As many times as I'd been asked this question after telling people I was taking a trip — by myself — to Ireland, I still didn't have an answer better than, "I'm not really sure."
His eye caught mine in the rearview mirror. "You're winging it, then," he said with a chuckle.
"Pretty much," I agreed.
"My, you must be rich," he said. "Tell me, are you married?"
I laughed because I am neither rich nor married.
"No, I am not," I said, shaking my head.
"Well," he said with a grin. "Would you like to be? I would make you the happiest woman in all the world."
"I'm sure you would," I said in jest.
"So is that a yes, then?"
"I'll think about it."
And as we sped toward the Airbnb, Seamus, as I'd come to call him, and I swapped stories and got to know one another.
When the ride came to an end, he removed my suitcase from the trunk and handed it to me with a tip of his cap.
"I've grown used to rejection, love," he said. "My heart can take it. Enjoy your stay in Dublin."
While without a plan, I did just that, exploring City Centre after dumping my bags at my Airbnb in Clongriffin and taking the bus to all the action of Dublin. I popped into a corner store for a quick bite of local cuisine — a curry chicken puff pastry. I ate it as I wandered down Dame Street, marveling at the crush of people, the insanely historic setting and the jarring presence of modern stores in such an ancient place.
Like a typical tourist, I shopped for wool scarves and hats for family members and tees emblazoned with "Dublin" before stumbling onto something absolutely marvelous: the Irish Rock 'n' Roll Museum Experience.
I bought a ticket for a €14.99 tour of this place, which I came to discover was a combination working recording studio, music venue and museum.
For starters, I was the only person on the tour, led by a delightful little bearded and bespectacled Dubliner named Alan. The tour began with a wall of gold records that featured top-selling Irish musicians including Thin Lizzy, the Pogues and two of my favorites — Enya and, of course, the Cranberries. Alan told me stories about each band — where they'd started, how they'd risen to fame and how many of the people whose names were on the wall had met untimely ends. I learned that I was standing in the very place where the Cranberries had practiced and recorded. I was thrilled.
We were soon joined by a Brit whose interest centered on Thin Lizzy. He was in luck, as the owner of the studio had had a close personal relationship with the performer. We watched a video that described contributions made by Ireland and especially U2 to the music world. As we neared the end of the tour, we stopped in a room with a raised platform and a drum kit as well as two amps and a pair of guitars, along with a microphone.
At Alan's behest, I sat on a stool behind the drum kit and followed his instructions: two taps of my foot on the pedal and one beat of my drumstick, to be done in a repeating loop. As I began to realize where we were going with this, Alan took the mic and began singing the opening lines of Queen's We Will Rock You. And then came the kicker.
"You've just played on the very drum kit on which Metallica practiced when they were here," Alan said.
I concluded my day with a half-pint at the famed Temple Bar, where I was seated next to a lovely couple from New Jersey. As I sipped my Guinness, I listened to threads of conversations around me and noticed that there were a number of American accents.
I spent the week taking solo excursions that included a hike along the scenic cliffs of Howth. A little fishing village just outside of Dublin, Howth is spectacularly picturesque and a very popular place to go hiking and trail running.
I lack much of a sense of direction, but the trail, I was told, was clearly marked. All I had to do was follow the purple arrows. It was simple, my South African triathlete Airbnb host said. She dropped me off at the trailhead on her way to work one morning and bid me a nice hike.
Along the trail, I stopped frequently to take photos. The cliffs, the water, the sheer beauty of this place all had an ancient feel. It was almost overwhelming — and completely disorienting.
Past a point, I ran out of purple arrows and stopped seeing other hikers, so I turned around and tried to retrace my steps. Eventually, I gave up on my planned path, turned around and hiked back to where I'd started. Even at that, I had logged 10 miles on my Apple Watch and was ready to find food.
I dined at a little restaurant, the Brass Monkey, recommended by my host. After refueling with soup and brown bread, I resumed walking and passed the home of William Butler Yeats with the Cranberries' Yeats' Grave playing in my head. I had enjoyed a long, adventurous day.
Determined to end my trip with a bang, I booked a day trip to the Cliffs of Moher and Galway to be followed on my last day with a tour of Trinity College. Rising at 4:30 a.m. to make the Moher tour bus, I rode through the pre-dawn streets of Dublin in a cab I'd booked on FreeNow, Ireland's version of Uber. After we boarded the bus, Peter, our tour guide, regaled us in his thick brogue with colorful commentary on the things we saw as the sun rose and we made our way to Moher. At one point, he directed our attention to a bright yellow deer crossing sign ahead.
"I recall once an American country music singer came to Dublin on tour and had a radio interview," he said. "As she spoke to the radio host, she asked why we put our deer crossing signs in such dangerous places, as it gives the deer the mistaken impression that it's safe to cross there."
Later, he pointed out the window at some massive rocks strewn about a field.
"I welcome questions, and we get some very interesting ones," Peter said. "For instance, those rocks. One tourist asked me why we have rocks like that in the fields in Ireland. I told him we just like to put them where we please. Then the tourist asked why there were sheep around the rock. 'Oh, the sheep are guarding the rock to keep it from going anywhere,' says I."
We spent two hours walking the cliffs and drinking in the spectacular scenery — the cliffs, O'Brien's Tower, the vast expanse of sea that stretched into eternity. Again, I was struck by how small and seemingly insignificant I felt in this place.
After Moher, we stopped at a field that was once one massive rock, now broken into immovable pieces that could fit together like a puzzle. From there, we visited the ruins of a castle tower near a church and graveyard with markers so old that inscriptions had been worn away. Lastly, before we made our way back to Dublin, we rode to Galway and toured the Eyre Square Shopping Centre, basically a mall where a section of the Medieval Galway Wall runs smack through the middle of things. The shopping center was permitted on the condition that the wall be incorporated into the design.
A few of us followed Peter through to the Latin Quarter and a pub where Columbus had his epiphany about sailing to the West Indies after the body of an Inuit washed ashore in the remnants of a small fishing boat.
On we walked through an intensifying rain to a cathedral with an irreverent stained-glass window that depicts Jesus as a small, redheaded boy handing Joseph a cup of tea while Mary sits knitting a traditional Aran sweater. Only in Ireland.
The next day, I rode a bus to the City Centre and legged it the rest of the way to the campus of Trinity College. There I met up with a small tour group and our guide, an affable and animated Italian named Antonio whose wild, curly hair made him stand out in a crowd. He led us through the college where we toured the Book of Kells exhibit.
The incredible work of artistry took 800 monks working over 75 years to complete, in part because certain inks used to illustrate it were highly poisonous and deadly. The book has survived 1,400 years, having been kept safe from Viking raiders as well as from Oliver Cromwell, who destroyed all of the Catholic iconography and relics he could find. To protect it, the Book of Kells was hidden at Trinity College, a Protestant institution and consequently not a place Cromwell thought to look. There it stayed.
Next, we walked through the Long Library, the longest library in the world and home to a copy of every book ever published in Ireland. According to Antonio, we were a lucky bunch, because the library would be closing at the end of the year to begin a five-year restoration project. It was incredible to behold, stunningly beautiful and overwhelmingly vast.
We left the campus and made our way to Dublin Castle and then through the City Centre to see memorial gardens and the bronze statue of the fabled Molly Malloy, whose ample breasts showed evidence of all the hands that have rubbed them.
Over the course of a week, I learned that my love of Ireland was not misplaced.
---
Ireland Fast Facts
» Ireland has been the most successful participant in the Eurovision Song Contest, begun in 1956.
» Halloween was invented in Ireland.
» Ireland has the highest concentration of red-haired people in the world.
» Ireland is the
only country in the world to have a musical instrument (the harp) as its national symbol.
» It is estimated that there are 30,000 castles and ruins in Ireland.
Source: nordicvisitor.com
---
---