Blue Wahoos' Ballpark Reinvents to Reopen
With baseball season on hold, the ballpark offers community-oriented activities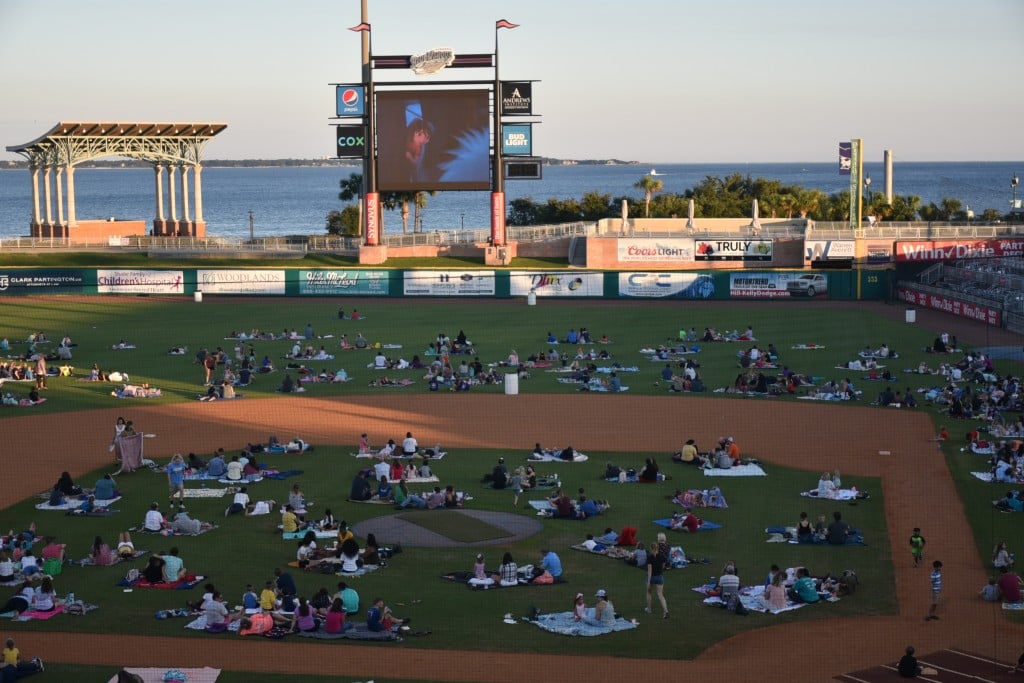 Singing "take me out to the ball game" may prove to be fruitless this season, but the Blue Wahoos are providing ways that you can still take a visit to the ballpark. The sound of ball and bat connecting and screens filled with images of your favorite players rounding the bases are being replaced with other sites and sounds — such as guests competing in trivia night and watching movies from the jumbotron. 
With the season being postponed, Quint and Rishy Studer co-owners of the minor league baseball team, began seeking ways to safely welcome fans back into the park while also providing continued work opportunities for their staff. As a result, the stadium has transformed into a restaurant, movie theatre, disc golf course, Airbnb and hub of activities. 
"We have a commitment to the community," said Quint Studer. "We feel it is vital to create ways for people to enjoy the stadium. The ideas we have implemented have come for the Blue Wahoo staff and people in the community." 
The ballpark is taking all precautions to ensure that they are providing a safe open space for people to gather and enjoy community-oriented activities. The park is open to t
he public for weekly movie nights, trivia, bingo, disc golf, dining and Q&A sessions with Blue Wahoo players. 
The Studers developed these plans in an effort to keep the community engaged and to interact with fans, but even more so to keep all of their employees employed. The decision was made not to furlough any of the over 300 front-office staff, trainees or interns in order to make the staff even stronger when the season does resume. 
Even in the early phases, the Blue Wahoos were one of the first in the nation to open concessions for curbside pickup and meal kit offerings. Eventually, they opened to include a restaurant open seven days a week for lunch, dinner and Sunday Brunch. 
The Bubba Watson's Diamond Disc Golf Challenge, designed by the two-time Masters champion and co-owner, is an on-field disc golf course open Fridays–Sundays from 11 a.m. until 3 p.m. 
The mo
st innovative idea has been opening part of the ballpark as an Airbnb. A stay includes access to the team's newly renovated clubhouse that features all-wood lockers, leather logo couches, multiple flat screen TVs, a ping pong table and an extra-bass sound system.
Two queen-sized beds and four bunk beds have been set up in the team dining room. The kitchenette offers a fridge, freezer, coffee maker and microwave.
Guests have access to the batting cage, full batting practice on the field and a full ballpark tour provided by staff members. For additional costs, add-on experiences are possible, including a fireworks show, personalized jerseys, dinner prepared by Blue Wahoos executive chef Travis Wilson, a drinks package and cooking classes provided by the nearby Bodacious Shops. 
"It has been thrilling to see the people who attend stadium events from dinner, disc golf, team celebrations, graduations and staying at the Airbnb, which has become a national sensation," said Studer. "It feels so great to be able to provide these experiences." 
Even with these adaptations, the organization is predicting a $3 million loss. The Blue Wahoos' website is actively updated with events and ways to sign up in order to participate.