Blended Aesthetic
Sculptor Jeff Badarak combines mechanical and mythological elements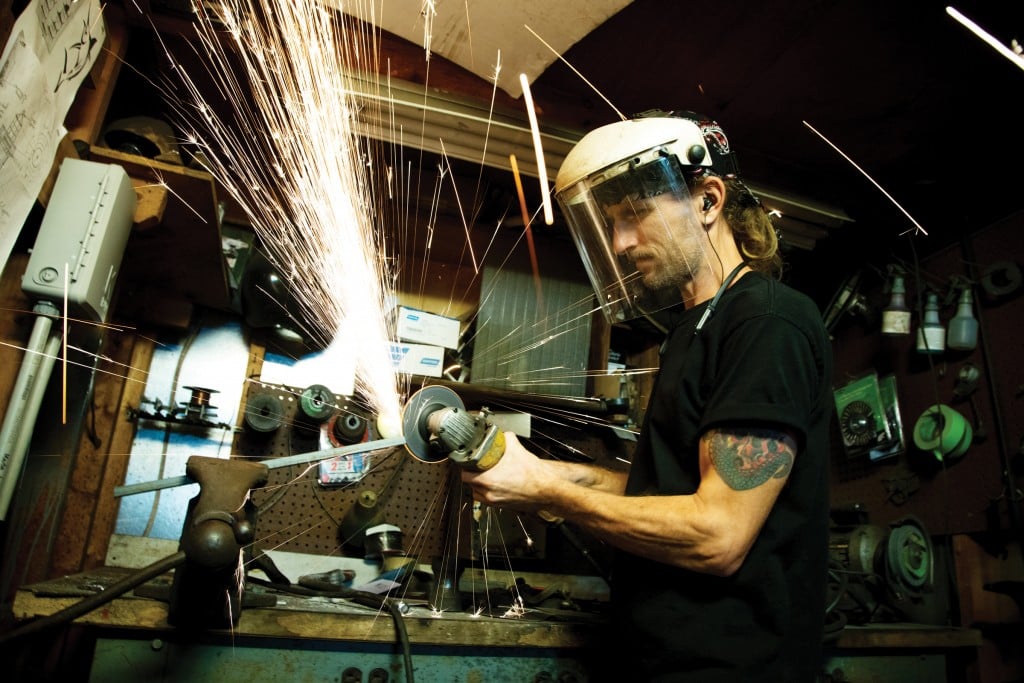 Jeff Badarak always wanted to set up his sculptor's workshop somewhere warmer than Michigan. He tried Arizona and learned old-school blacksmithing there, but the desert didn't suit him.
So, it was back to Lyon, outside Detroit, where his friends still hung out and his family had a long history. It's a good thing he did because that's where he met Deborah Shimkus, a Fort Walton Beach girl with a great voice and a grin all her own. They teamed up as a performance duet, The Visionaries, got married and moved south to Shalimar where it is warm, and Badarak is not bothered by the humidity.
Sculpting is Badarak's default gig. He learned metal crafting early, first from his father and later as an auto factory employee. He attributes the realization that his metalworking skills could be more than utilitarian to his mother, a painter. That awareness today has unleashed fantastic sculptures on the world — finely worked pieces like a dragon chimenea, its scaly head and neck belching forth smoke from below.
Badarak conjures up sculptures from industrial scrap metal the way some folks see figures in passing clouds. Beside stuff-of-Tolkien dragon images, he seems to have a taste for the bizarre, leading him to place what looks like a metallic rendition of your own head atop an insect-like coat rack, add a top hat and a ringmaster's mustache, and paint it all black — tres steampunk!
Closer to artisanal wrought-iron railing is the elegant Art Nouveau-ish "Seagrass," commissioned by a swanky beach villa in Navarre. Badarak used rebar left over from the villa's construction to create the piece.
It is Badarak's meticulous craftsmanship that's responsible for one of his most impressive qualities as a sculptor. One quickly surmises that he likes wings. His pieces feature birds and dragons, feathered or scaled, in minute detail. Yet the artist's works are not above social commentary, either. "Soul Distraction" is a human simulacrum with ample wings, yet kneeling on the ground, finger poised above the face of a cell phone.
And it is wings that reify the most haunting of Badarak's sculptures — his 8-foot, from toes to wing tips, steely embodiment called "Angel." When the Christmas story describes the angel's appearance to the shepherds, the heavenly envoy's first words are "Fear not!"
Badarak's "Angel" would do well to offer that reassurance. "Angel" is no Disneyfied fairy godmother with a halo. She is a supernal warrior, her wild hair — strips cut from the hood of an automobile — charged with lightning! The steel of her ball-bearing eyes takes in half the compass, emanating so palpable an aura that if she but moved a finger, you would drop to your knees in awe!
Badarak completed the penultimate version of "Angel" in 2008 in Arizona, but was never willing to declare it complete until 2018 when he found its "final touch."
In a curious way, Badarak's sculptures seem a hybrid of steampunk and the Arts and Crafts Movement of the mid-19th to early 20th century. The movement developed in reaction to the pretentious, overwrought sensibilities of the Victorian era. A new generation of artists had come to regard Industrial Revolution art as having fallen into an elaborate mediocrity.
Arts and Crafts aspired to simplicity in decorative design and prescribed adhering to the essential function of, say, a drinking cup. There could be no hole in the bottom, no serrated knife-edge around its rim.
Yet, temperamentally, Badarak's fiendish, cutting torch, begoggled portrait of himself conjures up the retrospective steampunk look of films like Wild, Wild West or H.G. Wells' Time Machine, seemingly drawing on the very Gilded Age zeitgeist that the Arts and Crafts Movement was rebelling against. So what do you get when you crossbreed two opposing aesthetics?
In Jeff's Badarak's case, you could say "hybrid vigor."