Bill Cramer Views Education as a Community's Cornerstone
Inside a long legacy with Gulf Coast State College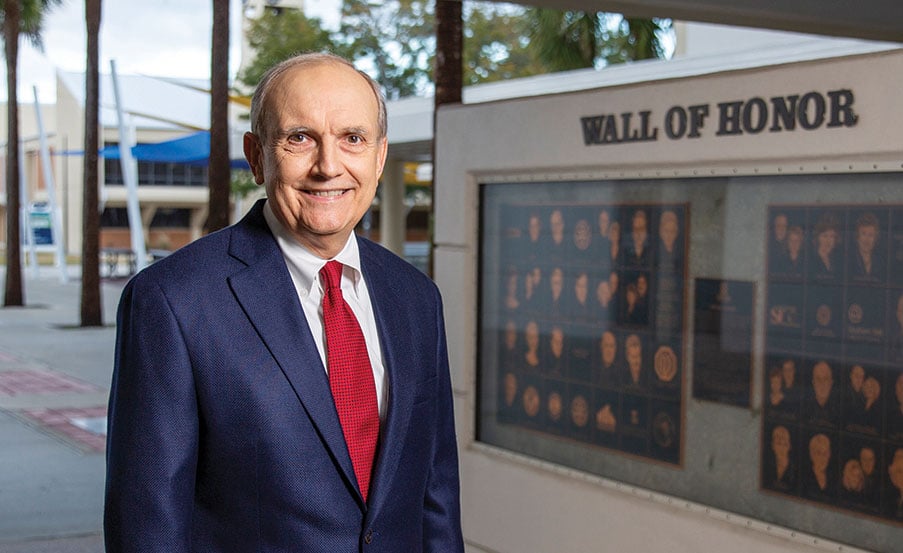 Bill Cramer's father was the first Republican elected to Congress from Florida since the Reconstruction Period following the Civil War.
William Cato Cramer Sr., first elected in 1954, represented the St. Petersburg area (Pinellas County) in Washington continuously until 1970.
His son didn't get the bug.
"Because I grew up with it, I knew that I didn't want to go into politics," Bill Cramer said. "I knew about the pitfalls and the toll that it takes on a family."
But, even as Cramer was disinclined to pursue elective office, he was attracted to his father's penchant for public service. The senior Cramer was the first member of Congress ever to establish a local office. He was devoted to taking care of his constituents and, in his district, found himself dealing with lots of seniors who needed help with Social Security matters.
In 1979, Bill Cramer went to work at Tommy Thomas Chevrolet, a Panama City dealership owned by his father-in-law. He had married Carolyn Thomas in 1975 following his first year at Harvard Law — the two began dating when both were undergraduates at schools in North Carolina. Cramer was working for a federal judge in Jacksonville when Tommy put the arm on him.
Thomas was for Cramer a mentor like his own father — a politician, albeit unelected, who served as chairman of the Republican Party in Florida, and a community servant who made the Salvation Army a personal project.
"It was one of those 90-degree turns in life that you never expect," Cramer said about moving from court filings to car sales, but it brought him into contact with a school that would become his Salvation Army.
Cramer earned a bachelor's degree in mathematics at the University of North Carolina and believed before entering law school that he would become a teacher. At then-Gulf Coast Community College, Cramer tried on that role, teaching trigonometry as an adjunct. Thomas would soon see to it that Cramer was too busy to moonlight in the classroom, but a relationship had been established.
For 40 years, Gulf Coast State College, as it is known today, and Cramer have remained close.
"I have always had a keen interest in the college and the pervasive good that it does in our community," Cramer said.
In 1987, Gov. Bob Martinez appointed him to the GCSC Board of Trustees.
"It was a way for me to get back into education and to be of service," Cramer said. "Serving on the board of trustees was a great privilege."
Dr. Larry Tyree was Gulf Coast's president when Cramer joined the board but departed for the community college system in Dallas a few months later. Soon, Cramer was getting to know well Dr. Bob McSpadden, Tyree's successor.
"Bob and I talked about his vision for the college and between the two of us, we thought there was an opportunity to raise money for scholarships," Cramer recalled. At the time, the Gulf Coast Community College Foundation was 20 years old but had only a million dollars in its fund.
Cramer and others launched a Wall of Honor campaign that lasted 19 months and generated $1.1 million in community contributions. Federal and state matches brought that total to $3.8 million.
The campaign's success, Cramer said, "wasn't because we were such great fundraisers. The community rose to the occasion because they appreciated what the college could do for people. They had seen the results. Everyone knew someone who had been touched by the college."
Today, the foundation's assets, given succeeding campaigns and the passage of time, exceed $32 million.
"We've spent about $25 million on scholarships and other programs of the college," Cramer said. "I can't take the lion's share of the credit for that. We have helped tens of thousands of students due to the efforts of lots of people."
Cramer has been part of the foundation for 33 years. He served as a college trustee for 20; was Community College Trustee of the Year in Florida twice; and, in 2005, was named the winner of the National Trustee Leadership Award presented by the Association of Community Colleges.
The national award, Cramer said, "was one of the highlights of my life."
Of late, the GCSC Foundation has raised more than $1 million to cover non-tuition expenses incurred by military personnel and their dependents and military veterans. It raised $1.5 million to help GCSC students and employees through the tough times brought on by Hurricane Michael.
As president of the Air Force Association at Tyndall Air Force Base, Cramer is helping to raise funds for STEM (Science, Technology, Engineering and Math) camps in Bay County.
And what is now Bill Cramer Chevrolet Buick GMC annually carries on a tradition started by Tommy Thomas Chevrolet by annually contributing in a big way to the Empty Stocking Fund benefitting the Salvation Army.
Aware of Cramer's love of numbers, I asked him for a favorite math trivium. He dropped Galileo's Paradox on me.
Consider: For each number, there is a square. The square of 1 is 1, the square of 2 is 4, the square of 3 is 9, and so on. So, there are as many squares as there are numbers (integers), but there are lots of numbers that are not squares — numbers such as 2, 3, 5, 6, 7 and 8. Ah, but the size of the two sets is the same even though one is contained within the other. For every number there is exactly one square; hence, there cannot be more of one than the other.
Capeesh?
The squares, Cramer told me, are termed a "countably infinite set." You don't have to be Bill Cramer to appreciate that concept, but it surely helps.
As to the man himself, his generosity and devotion to community appear to be practically limitless. I will leave it to him to determine whether those traits are countably infinite.