Behind the Camera, Behind the Gun
In his turbulent novel, Myron Hines explores anger and violence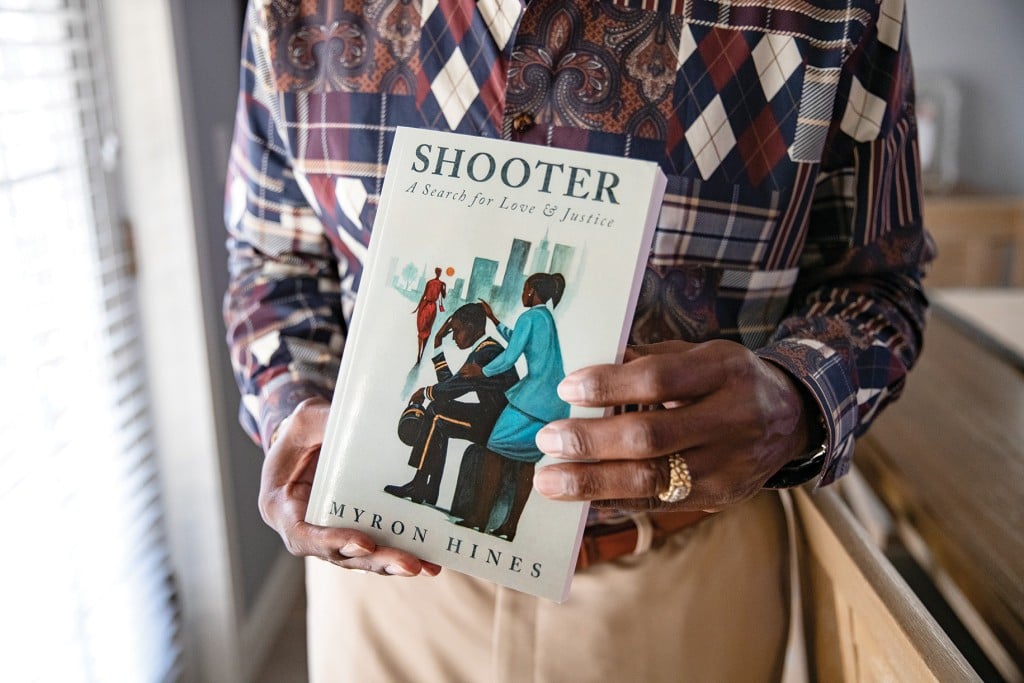 Myron Hines can picture very well the drinking water fountains once present at a convenience store on Sixth Street in Panama City, one labeled WHITE and the other, COLORED. Of the two, only one fountain delivered cool water.
He recalls with ease the time he visited the store as a boy with friends, one of whom quenched his thirst with cool water. The owner of the store took after the boys, who knew that he was no threat to catch them.
Hines was a boy when his father was stabbed and bled out, unattended, in a Bay County hospital. He was a Black man, and doctors were in no hurry to get to him.
Thereafter, his mother provided for Hines and his siblings by hosting card games and collecting two dollars from each table every four hands.
She learned to feed the players and to loan them money when they got cleaned out.
"There were only two reasons to leave the game — you got hungry or you ran out of money," Hines said. "My mother figured out how to keep the women playing. She could make a thousand dollars in a weekend."
Hines' first days spent at a newly integrated high school were traumatic, sure enough.
"Really, it was more like tragic," he said. He was separated from friends who were zoned to another high school. The sports teams he had come to enjoy were busted up.
"The superintendent of schools opposed forced integration," Hines said. "Not that the schools were integrated; they were just desegregated. The principal didn't want us there. The white students didn't want us there. We didn't want to be there."
Fights were frequent and unfair. When they broke out, white students ran to their cars and retrieved chains, clubs and bats.
"We didn't have cars," Hines said. "All we had to fight with was a belt and a buckle."
It was from that racially charged environment that George Hobbs, the protagonist in Hines' 2021 novel, Shooter: A Search for Love & Justice, escaped by enlisting in the Army. Hobbs finds love (twice) and imposes justice, swiftly and irreversibly.
Hines, who was never in the military, found his way to a 48-year, behind-the-camera career in television in Panama City. He was an accomplished videographer and, ultimately, an executive.
To prepare himself to write authentically about military service, he consulted his brothers, Wayne and George, both veterans. His son, Terrill, currently in the military, also helped out. A photo of Terrill served as the basis for Atlanta artist Sidney Carter's cover design for Shooter.
George Hobbs, Hines said, is a blend of those family members and their experiences.
Hobbs's drill instructor, aware that he had joined the Army to get away from the punishing racial dynamics in his hometown, pairs Hobbs with a white man from Illinois who was nicknamed Football due to his oblong head.
Hobbs distinguishes himself as a marksman and qualifies for weapons school where he becomes an expert in small-caliber weapons. Hobbs and Football fatefully meet again after completing tours in Vietnam and separating from the service.
By then a married father of two, Hobbs returns to Panama City after he exits the military and lives in his hometown long enough to embark on a career in television that parallels Hines's own track. He moves his family to Atlanta after catching on as a shooter with a network affiliate station there. He looks forward to a fresh start in a new city, where he might make new friends and hope to reinvigorate a marriage gone cold.
The move is an occasion for Hobbs' wife, LaToya, too, to take stock …
She was athletic and smart, and she had grown up without a father in the house. Still, he had played a big part in her life. George somehow reminded her of her father, the way he was stubborn and caring, gentle while tough. He was a hard read, but that didn't matter. She loved him, and they were off to another life in Atlanta.
A hard read. Gentle while tough. To that extent, Hines prepares his readers for the chaotic romp that unfolds next.
Post Army, Football settles in Las Vegas, goes to work as a custodian at a casino and trains to become a dealer. Fast company catches up with Football, and he incurs fat gambling debts making him a marked man. He enlists sharpshooter Hobbs, whose life he had saved in Nam, to take out the gangsters who were trailing him.
One killing leads to another. Hobbs is good at it and buys into Football's rationalizations.
Football knew that killing was wrong, and yet he felt strongly that there were some people in this world who needed to be killed, and he was going to find a way to make a buck taking out the garbage.
In the midst of all the shooting, love breaks out. Hobbs encounters a woman assigned to a U.S. senator's security detail and the consummation of their mutual infatuation soon follows. Maybe this will be the fresh start that Hobbs is looking for. Maybe he will learn that he cannot escape himself.
For sure, he isn't through rationalizing. Playing at poetry, he writes a few lines:
When true love comes through pain
And obstacles of tormented stormy rain
Pleasures galore should rule the day
Because Mom said it would be that way.
Hobbs is for Hines an illustration of someone who harbors within himself the capacity to take actions that you would not think him capable of performing.
"If you get angry at someone and they don't get agitated, if they stay cool, you better back off," Hines told an interviewer, seemingly speaking from experience.
Hines is a family man. He and his wife Verma have five grown children. Long a campaigner for civil rights, he is often called upon to represent the Black community at meetings like the charrettes held to gather ideas for the redevelopment of Panama City's downtown.
Hines dismissed the gatherings as "charades" and challenged a consultant, asking, "Are you trying to bring about a downtown that truly will be accessible by all or are you making a place for the rich man to walk his dog?"
Hines can make people uncomfortable, now.
Race relations have improved little if at all, he finds. Today, more abuses come to light because everyone has a camera in his pocket, but "that's all that has changed, more cameras."
More cameras. More guns. More shooters.
Hines simmers and writes … but doesn't shoot.
ABOUT THE AUTHOR
Myron Hines retired from broadcast television after 48 years as an industry professional and executive. In the course of his career, he met the likes of Julian Bond, Andrew Young and President Jimmy Carter. Born and raised in Panama City's Glenwood neighborhood, Hines and his wife Verma have five children. Hines is available for book signings and can be reached at myronhines52@gmail.com.