Be Prepared
Save time, money and calories with make-ahead meals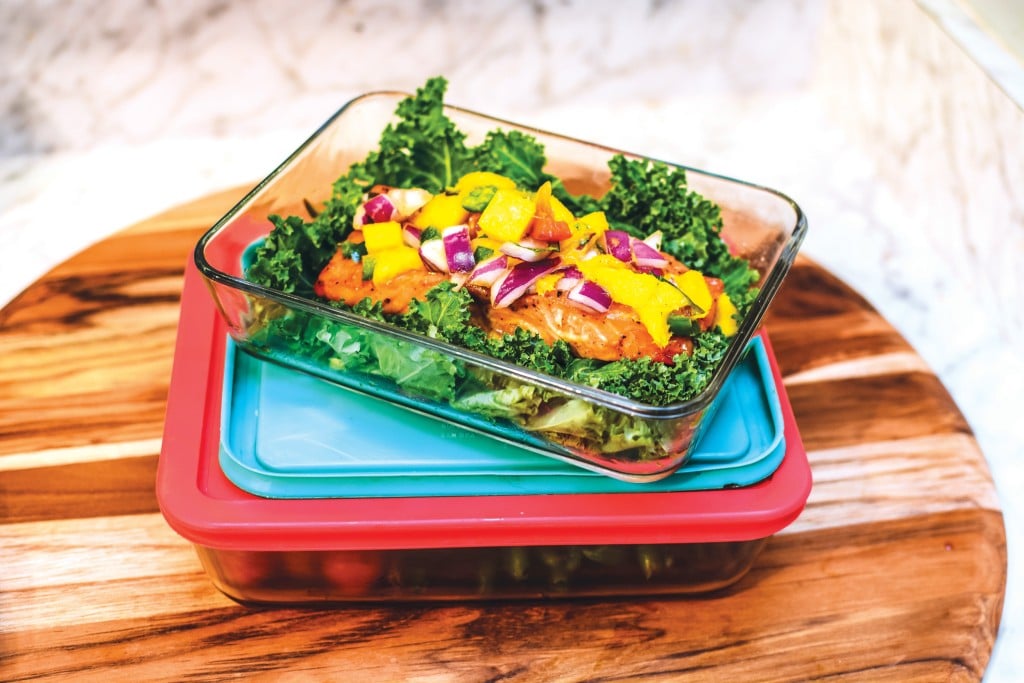 For college students, instant ramen, dollar menu items and vending machine snacks make for fast and frugal dinners, but David Solomon and Felipe Souza refused to fall victim to the "freshman 15."
Between their classes and shifts at a Tallahassee dive, the childhood best friends, who grew up together playing sports and going to the gym, maintained an active, healthy lifestyle that included delving into the art of meal preparation.
More than just an internet "life hack," meal prepping involves making and portioning dishes ahead of schedule to ensure a balanced diet. You've likely seen videos online of influencers sharing their favorite big-batch recipes, but this fad is nothing new for gym rats, senior citizens and those with dietary restrictions.
Ideal for shedding pounds, bulking up or maintaining weight, make-ahead meal plans are catching on and can be tailored to any lifestyle.
"I was actually doing MMA training at the time, and meal prepping helped me lose the weight," Souza said. "Sundays and Wednesdays, I would make these meals for David and me. Our co-workers grew curious and even offered to pay me to make some for them. I told David we should get licensed and insured and actually do this."
Solomon and Souza now co-own a meal delivery service, Prep Pros, in Tallahassee. Subscribers receive one to four meals daily and, based on their fitness goals, can customize their dish's protein, carb and caloric proportions.
"I'm our company's No. 1 customer," Solomon said. "I've been eating these meals for the past four years, and when I have to travel, I notice a difference in how I feel. I miss them. Even visiting my family this year for Thanksgiving, I noticed how time-consuming it was thinking about what to make, actually cooking and doing the cleaning that followed."
Ashley Cole and her husband and business partner Ross Cole provide a similar service along the Emerald Coast at Healthy Coast Meals.
Cole, a fitness nutrition coach and professional fitness competitor, began meal prepping to help her deal with Crohn's Disease.
"With that diagnosis, I had to learn to eat a certain way," Cole said. "For me, that meant gluten-free everything and anti-inflammatory types of food — nothing processed, and whole, natural-type meals."
Cole said she grew up in New Orleans, where she says that "food is life." The prospect of eating bland, boring meals every day was a downer, but she quickly learned flavor needn't be sacrificed for healthfulness.
"I taught myself how to make food that was good for me, and it turned into something I really liked to do," she said. "Eating healthy doesn't have to be boring. A fried chicken parmesan can become a baked chicken parm with zucchini noodles. We like to add little twists, so you still feel like you're eating something desirable without ruining your diet."
For Solomon, switching up sauces and adding sprinkles of cheese are the best ways to spice things up. A batch of the same chicken, rice and greens can be dressed in tangy teriyaki one day and spiced up with salsa and queso the next.
"Simple, but effective," Solomon explained, is a good rule of thumb for people prepping meals at home. Meat or protein alternatives, veggies and complex carbs are keys to clean eating, and you don't need extravagant recipes to keep things interesting.
Professional meal prep services typically rely on registered dieticians to break down meals, but free smartphone apps, such as MyFitnessPal, can count calories and divide dishes by serving size.
Cole suggests that people without specific fitness goals and dietary restrictions adhere to a standard, three-component meal: 5 ounces of a lean protein, 4 ounces of a complex carb and 4 ounces of vegetables.
"It's important to know your goal and understand the amount of food you should be eating," Souza added. "You don't want to waste food, and you don't want to deprive yourself of the nutrients you should be getting. Portion control serving utensils measure your food by the ounce and are sold everywhere. They really work and help you understand the weight of your food."
Some set aside Sundays for a week's worth of prep, but many prefer to break it up for variety and freshness. Opt for two different proteins for the week, or save money on groceries by identifying recipes with overlapping ingredients.
Solomon also recommends investing in high-quality, microwave-safe containers. "Glass containers heat well, but if you're on the go, make sure you have plastic that won't melt with the food and ruin the flavor," he said.
For Cole, meal prepping is a lifestyle. "You're making a commitment to be healthy, and what you put in your body is largely going to dictate your well-being."
---
Mango Salsa Salmon
(for four meals)
The Prep Pros' entree is perfect with a side of jasmine white rice and garlic-roasted asparagus.
Ingredients
(2) 1 pound whole skinless salmon fillets

Olive oil

2 tablespoons smoked paprika

2 teaspoons Kosher salt

½ teaspoon black pepper

½ teaspoon cayenne pepper

½ teaspoon garlic powder

½ cup honey

½ tablespoon apple cider vinegar
For the salsa
2 large ripe mangoes, chopped (or substitute 2 ½ cups frozen mango)

½ red onion, diced

½ sweet bell pepper, chopped

1 small, seedless jalapeno

Squeeze of lime

Lots of fresh. chopped cilantro

Salt and pepper garnish
Preheat the oven to 450 degrees. In a mixing bowl, mix honey, apple cider vinegar and seasonings and brush onto the salmon fillets. Once the salmon is seasoned, double wrap in heavy foil, sealing it on top. Bake for 12 minutes, then uncover and bake an additional 2–4 minutes or until center is cooked to 145 degrees. Rest for 5–10 minutes before serving. Mix ingredients of salsa and spoon over salmon.