Back to the Basics
Savannah Rae St. Jean embraces simplicity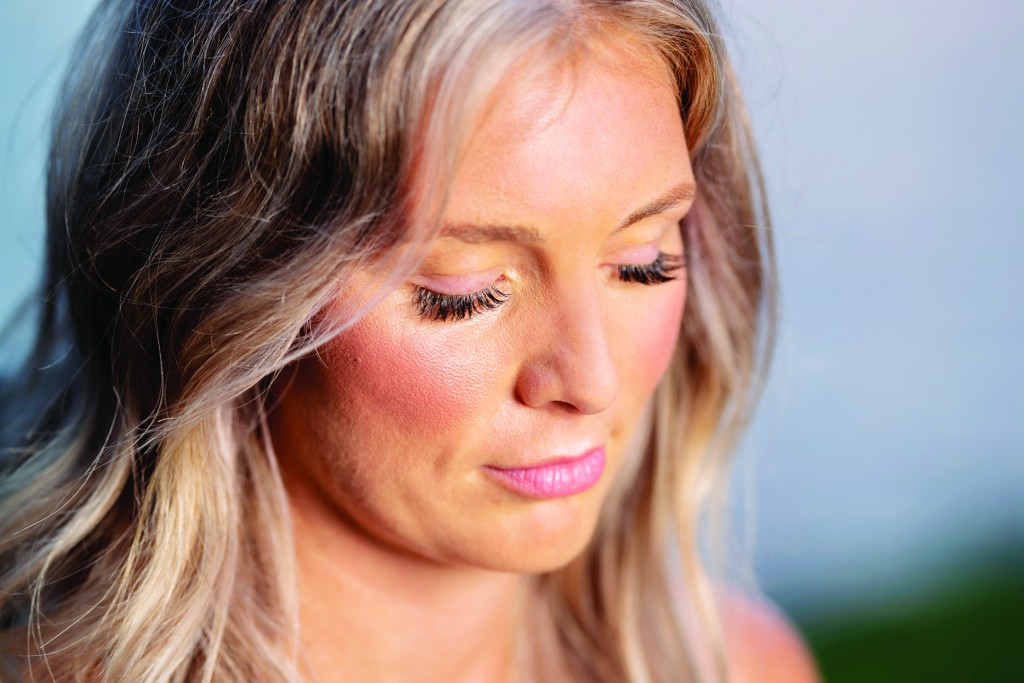 The pandemic may have shut her salon down for six weeks, but for Savannah Rae St. Jean, there was a silver lining.
Makeup trends over the past several years have emphasized perfection: a flawlessly contoured and chiseled face, heavy-handed highlights and overdrawn, matte lips popularized by influencers and the likes of Kylie Jenner.
Wearing a mask over the bottom half of your face for well over a year, said
St. Jean, may have reinforced the "less is more" mentality.
"I'm finding a lot more women are wanting to scale back how much makeup they're caking on their face," she said. "I think they realized how freeing it was not to have to cover and carve each feature, and I'm so grateful for that. I truly feel the 'look' was unnatural and dampening everyone's self-esteem because people were so focused on what they needed to change."
Now at St. Jean's Miramar Beach salon, Savannah Rae Beauty, clients request "fluffy lashes and neutral, glowing tones for the face and eyes," she said, noting the same applies to hair treatments. After going so long without trips to the salon, women are embracing their natural grays and opting for a more low-maintenance, "lived-in" look.
"I'm a huge fan of this because I've always said not to fight what you've got," she said. "It's a difficult place to be if you're constantly battling what you have naturally. Our focus at the salon is more on embracing and enhancing than changing and correcting."
It's an attitude St. Jean has carried with her since enrolling in beauty school in her hometown of Vancouver, British Columbia, a career path to which she was always drawn. Focusing on makeup artistry in Canada, St. Jean dabbled in special events, bridal makeup and editorial work appearing in Vogue Italia, Weddingbells and Wedluxe Magazine.
Her exodus to Destin was fueled by a simple desire for a change of scenery. Her father had become an Emerald Coast resident, and St. Jean and family figured, wherever they ended up, it would be nice to at least know someone.
"We love the sun and wanted to get away from all the cold, dreary weather, but moving here was definitely a huge adjustment," she said. "This is a small town, and I was nervous I wouldn't be able to attract clients here because I came from so far away."
But upon opening her salon in 2018, St. Jean said she was "pleasantly surprised" with the local reception. St. Jean rebranded her business to accommodate hairstyling services and soon gained a following.
It's that support, she said, that helped carry her business through last year's uncertainty.
"The pandemic was very, very scary," she said. "Day by day, it was a struggle to figure out what was to come. But everyone rallied to support small businesses throughout the area, making sure they take care of their own. We made it through and are here to stay."
Perhaps it was that support, too, that encouraged St. Jean to compete in the 2019 International Beauty Industry Awards, a program recognizing the talents of "global beauty artisans." Among applicants from over 20 countries across the world, St. Jean received first place for her bridal makeup in "Best Before and After Makeup" and was runner-up for her entry in "Best Culturally Inspired Makeup."
On her victory, St. Jean said, "It was really nice to feel acknowledged in my industry and know what I'm doing is valued."
Her award-winning look featured bride Bailey Michelle in a vintage updo and au naturel cosmetics using FACE atelier, Aveda, NARS and Hourglass Cosmetics products, many of which St. Jean incorporates into her own daily makeup routine.
"I'm quite minimal with my own makeup despite being into makeup artistry," she said. "Since I have lash extensions, I can focus on concealer, foundation and blush and be out the door in less than 10 minutes."
She's really loving FACEatelier, particularly its Ultra Pro foundation, which claims a "highly pigmented, long-lasting innovative foundation that provides buildable coverage with a natural-looking, dewy finish."
Hourglass Cosmetics' Ambient Lighting Blush is another of St. Jean's staples. Its hybrid palette of vibrant rouge and delicate lighting powder combine to create a subtle, yet multi-dimensional glow.
That same delicacy translates to St. Jean's fashion. "I'm very minimalist," St. Jean said of her wardrobe. "I don't gravitate to anything too flashy. I tend to invest more in classic pieces that I don't think will be off-trend anytime soon and lots of solid colors."
Outside of the salon, she'll get a bit more adventurous with two-piece bodysuits, but you're most likely to find St. Jean in a tried and true pair of American Eagle Jeans, a simple shirt and Vans or Puma running shoes.
"I've never been a high-heel kinda girl," St. Jean laughed. "I have three small kids I have to be able to run after at a moment's notice, and I'm usually on my feet all day at the salon."
Of course, there's no place else she'd rather be.
"Pretty much everyone who sits in my chair ends up becoming a friend of mine," she said. "You're sometimes with someone upwards of six hours, so you end up talking about deep things and connecting with someone.
"I'm so grateful I chose this area to redevelop my business and grow a life for my family and me. Being able to know this community more intimately and building lifelong friendships here means a lot."
St. Jean Staples
Hourglass Cosmetics' Ambient Lighting Blush

FACE atelier Ultra Pro foundation

Solid colors

Classic pieces

American Eagle jeans

A simple shirt

Vans or Puma running shoes