Back to Full Sail
Yacht Club has rebounded from big blow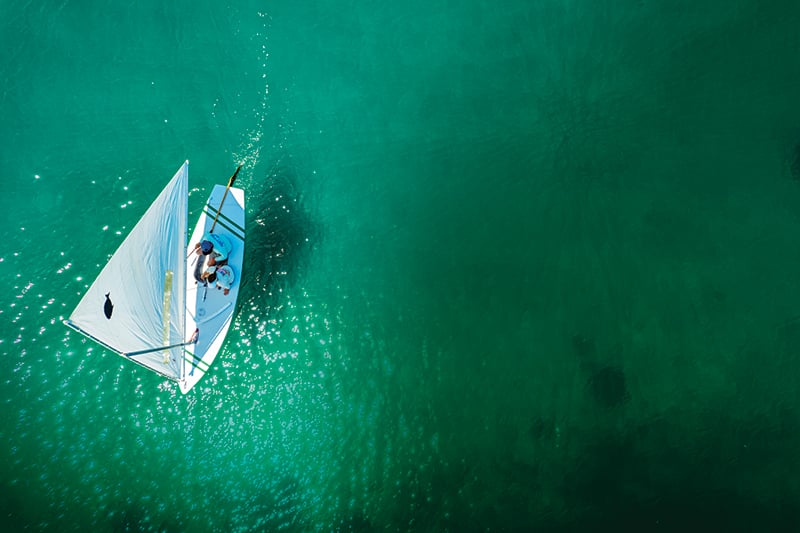 Editor's Note: Less than three weeks after I interviewed Neal Logue in connection with the story that follows, he died at age 30 on April 10, 2023, of complications arising from COVID-19. In my brief experience with him, I found him to be engaging, polite, a bit of a wild card and someone who didn't take himself too seriously.
Refreshing, really.
He impressed me as someone who truly loved the water and the community of friends who comprise the St. Andrews Bay Yacht Club.
In services conducted at the Wilson Funeral Home Chapel in Panama City, speakers remembered Neal as someone who, always big-hearted, was both incorrigible and irresistible in years before he matured to become caring, empathetic and solid. I extend my sympathies to all who miss him and find him irreplaceable.
---
In much the same way that fire can reinvigorate a wood, a hurricane breathed new life into a 90-year old Panama City institution.
Category 5 Michael ransacked the St. Andrews Bay Yacht Club's buildings, battered its fleet of sailboats and all but destroyed its harbor.
But in the years since 2018's bad blow, membership at the rehabilitated club has grown rapidly, and the median age of a member has dropped by about 15 years, according to general manager Neal Logue.
Logue, who comes from a family that has been part of the club for generations — his grandfather was the club's commodore in 1944–45 — said he welcomes the change away from a "blue-hair" dominant demographic. Just 30 years old, Logue favors long-sleeve Dri-FIT T-shirts; it's hard to picture him in an ascot.
"It's healthy," Logue said. "We have more of a family atmosphere. And it's not just us. Clubs across the state are experiencing the same trend."
The southerly migration prompted by the COVID-19 pandemic and the new prominence of jobs performed remotely have landed thousands of newcomers in Northwest Florida. Many of the new members of the club are new to the area.
The club, at this writing, has 415 active memberships, representing about 1,600 people in total, according to Logue, who said sailing activity is now more brisk than it was before Michael. As of March, youth sailing classes scheduled to begin in May had filled up.
The St. Andrews Bay Yacht Club, according to a history written by Warren Middlemas Jr., who served as commodore in 1994, was established in the middle of the Great Depression by a handful of prominent Panama City businessmen and civic leaders. Charter members included H.L. Sudduth, who developed the Cove neighborhood where the club is located and donated the land where the clubhouse stands.
In 1937, Asa G. Candler, son of the founder of the Coca-Cola Co., was named an honorary commodore. He owned a vacation home on Bunkers Cove Road and poured a lot of money into the club, including the donation of a Tiffany trophy, which is presented to the winner of the annual Candler Regatta, named in his honor.
Thirteen years prior to the formation of the St. Andrews Bay Yacht Club, representatives of clubs participating in the Lipton Challenge, a race between Pensacola and New Orleans, heard a proposal from Commodore Percy Benedict of the Southern Yacht Club in the latter city. According to recounts from Catherine Martin Cromartie in her history of the Gulf Yachting Association, Benedict suggested the formation of an organization of yacht clubs along the Gulf of Mexico to fill the void left by the demise of the Southern Gulf Coast Yachting Association, which struggled after a yellow fever epidemic tamped down sailing activity. The meeting in New Orleans resulted in the creation of the Gulf Yachting Association (GYA) of which the St. Andrews Bay Club has been a member for decades.
For a long time, the GYA maintained the Flying Scot as its standard competition vessel, and the St. Andrews Bay Yacht Club hosted Flying Scot Midwinters regattas. That era has now passed with the adoption by the GYA of the 21-foot, high-performance Viper640 sailboat as the Flying Scot's successor.
"We're not sailing bathtubs anymore," Logue said.
Gaby Cumbie started sailing competitively 12 years ago at age 20. Nick Cumbie, the director of sailing at the St. Andrews Bay Yacht Club and now her husband, got her started.
"Like 99% of women who get into the sport, I was introduced to sailing by a guy trying to show off and saying, 'Hey, you want to go for a sail?'" Cumbie said. "We went on a Wednesday night cruise, and I loved it and started competitively sailing that weekend."
For a time, she played a role aboard large 30- and 40-foot boats, then got into much smaller Melges24 and Wavelength24 vessels.
"If it's a monohull, I've probably sailed it," said Cumbie, who is a member of the St. Andrews Bay Yacht Club and the Lake Lanier Sailing Club in Georgia.
Logue rates Cumbie as an uber club volunteer. She helps run sailing activities, keeps minutes for the Ladies Auxiliary and is the captain of the women's sailing team.
"We rely heavily on our members, and they get the job done," Logue said.
Indeed, the club generates the kind of camaraderie that leads people to undertake extraordinary measures on its behalf.
Nick Cumbie rented a truck and drove by himself to Seattle to pick up the club's new Viper640, which, his wife said, is just 30 hulls old. On the return trip with the boat in tow, Cumbie twice revised his planned route in efforts to avoid a snowstorm.
For his part, Logue went swimming in an effort to retrieve three boats that had been set free by the storm surge created by Tropical Storm Nestor a year after Michael came through. The manager suspended his heroics when a past commodore, Jimmy Barr, arrived on scene in a boat of his own along with then Commodore Chris Cramer.
Various members made earmarked contributions to the club during the COVID-19 pandemic. With that money, the kitchen prepared meals for pickup by first responders and medical personnel.
At the same time, members were afforded an opportunity to buy meals for themselves and their households. Those meals were delivered via golf cart.
By Logue.
---
---