Award-Winning Women of Walton County
It takes a truly holistic approach to continually evolve South Walton without losing the innate charm that makes this such a unique travel destination.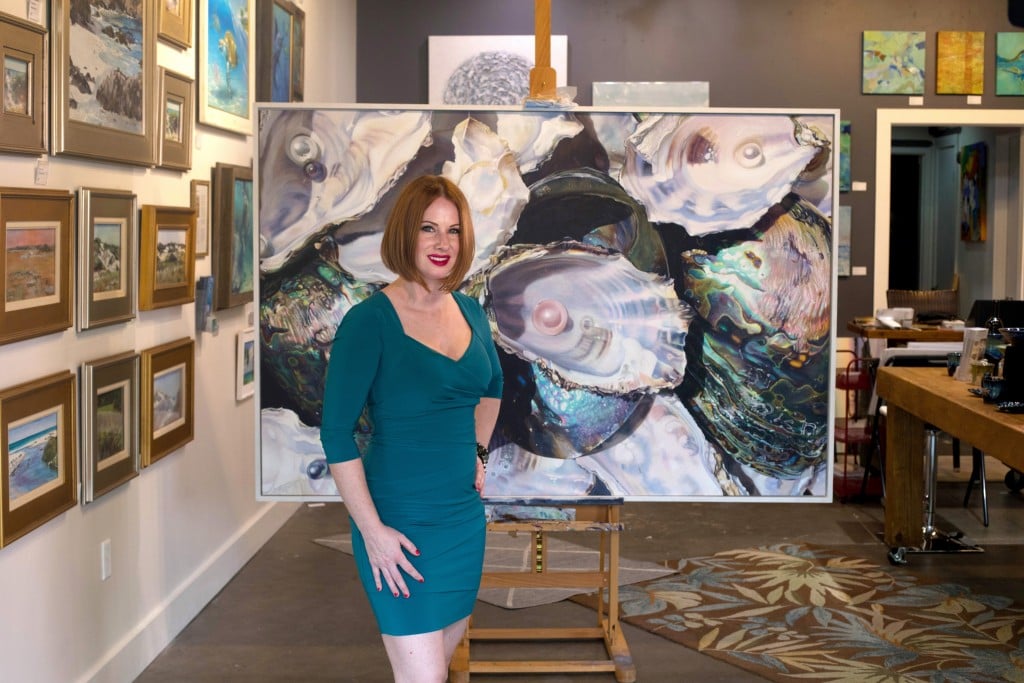 It takes a truly holistic approach to continually evolve South Walton without losing the innate charm that makes this such a unique travel destination. The effort involves everyone from tourism industry professionals to accomplished artists who can capture the essence of these 16 beach neighborhoods and share it with a wider audience.
As a show of respect and appreciation, dedicated awards have been established to honor those whose visionary work is helping to advance the cause in more ways than one. And when you peruse the lists of past winners, you can't help but notice strong representation by the talented and driven women of Walton County.
Through its annual Artist of the Year program, the Walton County Tourism Department spotlights an artist who not only showcases their vast talent but also uses it to draw attention to the destination. If not a direct representation, their work is often a reflection of the inspirational natural beauty here. Each winner is commissioned to create a special piece of artwork for Walton County. These artworks can be found in public places throughout the county, such as the South Walton Annex, the Visit South Walton Visitor Center and Conference Room.
Several incredibly talented women have won this award over the years. While their styles and mediums vary widely, they share a common connection to the everyday wonder of their local community.
The most recent example is Jenna Varney, who earned the award in 2019. Her signature style of hyper-realism captures so many little details of the area's pristine landscape. This captivates her audience, providing them a reminder of South Walton wherever they may be.
In 2018, Kathleen Broaderick of Santa Rosa Beach was honored for her work that focuses primarily on watercolors. Her past experience as an elementary school teacher was essential when she opened her gallery CHROMA and began offering painting classes that help others express their own personal inspiration.
Creativity also plays a major role in attracting visitors and ensuring that they have a singular experience while here. Each year, the tourism department presents the Van Ness Butler Jr. Hospitality Award in recognition of excellence in hospitality, service, travel/tourism, advertising, promotion and contributions to the local community. The honor typically goes to a pioneer whose leadership and vision has helped to continue the shaping of this premier destination. And as you might imagine, several local ladies have gotten their names etched on the award.
In 2019, Tracy Louthain won for her work as Director of Marketing and Communications for Newman-Dailey Resort Properties, Inc. Even in her free time, Louthain has continually given back by supporting organizations that help protect and enhance natural resources, empower area students and promote the thriving local art scene. She also works to help visitors learn how to "Vacation Forward" by taking simple actions that can improve the destination for not only their fellow visitors but the community as a whole.
All told, our community appears to be in good hands with these creative and innovative women. Their work has had a lasting impact on the local community, while also inspiring other like-minded ladies to step forward and carry the torch (or paintbrush) into whatever the future might hold for this one-of-a-kind destination right here in our community.
Below are lists of the female recipients of these two prestigious awards:
Artist of the Year
2019 Jenna Varney
2018 Kathleen Broaderick
2017 Marisol Gullo
2016 Melody Bogle
2014 Mary Hong
2012 Allison Craft
2011 Allison Wickey
2008 Donna Burgess
2004 Susan Lucas
2003 Dorothy Starbuck
Van Ness Butler Jr. Hospitality Award
2019 Tracy Louthain
2016 Jennifer Steele
2014 Jeanne Dailey
2007 Pat Potter
2004 Joann Saucier