At Sea For A Spell
Travelers were transfixed by trans-Atlantic experience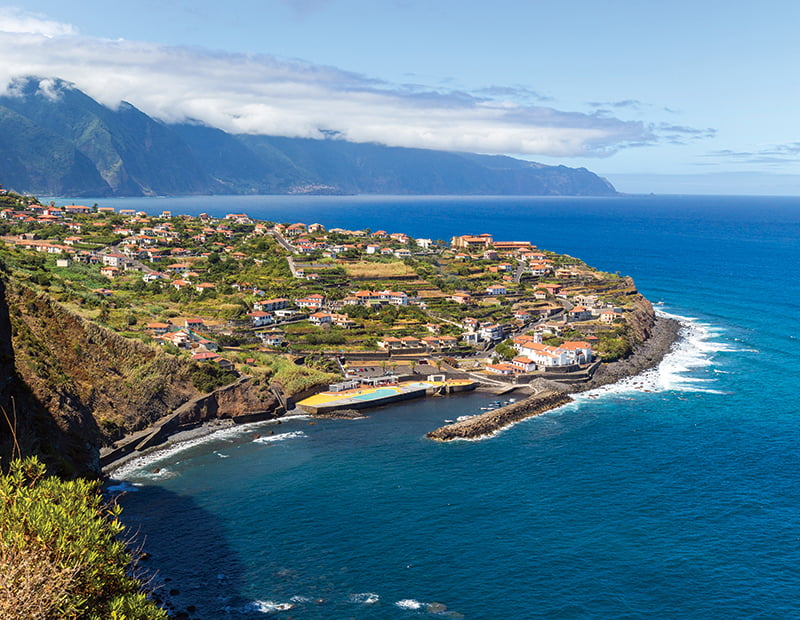 For my husband Kenny and I, cruising is our favorite way to travel. We love the freedom, adventure and serenity that we experience while at sea, so much so that we have taken 45 cruises, so far.
Kenny is my personal travel planner, and he put together two trans-Atlantic voyages. Departing Fort Lauderdale, we would spend 16 days aboard the Emerald Princess, making several stops in Spain and Portugal en route to Southampton, England. We would return as passengers for 12 days aboard the extraordinarily luxurious Queen Elizabeth.
The Emerald Princess was delightful, offering impeccable service, delicious food, outstanding entertainment and a wonderful itinerary. The ship made stops in the Azores Islands at Ponta Delgada; Lisbon; La Coruña and Bilbao, Spain; and Cherbourg, France, before arriving at Southampton.
I had researched Spain on Instagram in anticipation of our adventure and already had fallen in love with its beauty. I was far less acquainted with the Azores, which had never been on my radar. The islands were spectacularly beautiful and made me feel I was at the center of the earth and totally at peace. It is hard to explain what they did for me. We enjoyed all the ports, but the Azores was extra special to me.
In Lisbon, we happened upon a tuk-tuk (auto rickshaw) driver, Armando, who was born in Portugal and loved history. We negotiated a 60-minute tour of the city along its cobblestone narrow streets. Our driver was a font of information, and our planned hour became 2½ hours instead.
Kenny and I walked our socks off in La Coruña, taking in sights including the Hercules tower, which was built by the Romans as a lighthouse. Bilbao is famous as the site of a Guggenheim Museum, but what fascinated me was the quaint, bustling city center and its farmers market with the most exotic fruits, vegetables and cheeses sold by the pound.
Cherbourg, France, was our jumping-off point for visiting the beaches of Normandy and the American Memorial Cemetery. The city is also home to a famous umbrella factory, Le Parapluie de Cherbourg.
A long run of pleasant weather ended when we got to Southampton. Kenny had booked a room in a swanky hotel, The Harbor House, located on the harbor and overlooking the entrance to the city's port. On a table were decanters of gin and sherry and a pair of binoculars. From our window, we watched the Emerald Princess sail away and the Queen Elizabeth arrive.
Beneath our umbrellas, we walked to the Old Town district in Southampton while admiring many private yachts. From somewhere, the music of Tom Jones exited speakers. The Welsh performer remains popular in the United Kingdom — and I always found him to be fine, myself.
The locals gather in pubs, and we discovered a great one just around the block from the hotel. We liked it so much that we took all our Southampton meals there.
It was cold and rainy when we lined up to board the QE. Most of the passengers were Europeans in their 80s and 90s, and I began to think that we may have booked the wrong cruise. I am 66 and Kenny is 72, and everyone around looked old to us. Each passenger was allowed to board with one bottle of wine, but due to the cold, bottles were slipping from the numb hands of passengers and breaking on the pavement. Nothing like the smell of wine at 9 in the morning.
The Queen Elizabeth recalls the glory days of luxury cruise liners. We were greeted at the elevators by operators in their bright red uniforms and white gloves. A pungent floor-to-ceiling floral arrangement graced the grand lobby. A sexy saxophonist played seductive music. We were immersed in the culture and fabric of upper-class Brits.
Our Club Britannia-level accommodations entitled us to a special small dining room, where we had the same table and enjoyed the same waiter at every meal. The maître d' prepared flaming desserts that were followed by exotic cheeses, dried fruits, nuts and biscuits served from a cart.
High tea was served every afternoon at 3. Twenty-five waiters, dressed in starched white uniforms and white gloves, marched in carrying sterling silver trays of finger sandwiches, scones and sweets. Tea is poured, piping hot, from Wedgewood china teapots as an orchestra performs.
Our crossing back to Fort Lauderdale would include eight uninterrupted sea days, meaning that the crew needed to be prepared with lots of onboard activities. They were. Live music could be heard all over the ship. Fascinating speakers gave lectures daily. There were dance classes (soft shoe tap, line and ballroom dancing), exercise classes and croquet. I was stimulated in every way.
Every day at 3:15, the shipboard British Pub hosted a darts tournament. Kenny plays darts, and I figured he'd have an easy time of it with the octogenarians. Instead, they kicked his butt! Kenny would eventually manage to win some and was admitted to the onboard darts fraternity, whose members took to calling him Mr. Darts.
The QE stopped for a night at Port Canaveral, and Kenny and I made a side trip to see Epcot and the International Flower Show. We were truly fortunate to have been at Port Canaveral on the day Elon Musk launched a rocket for his Starlink Satellite System. What an experience! We then closed the loop at Fort Lauderdale.
Jacques Cousteau once said, "The sea, once it casts its spell, holds one in its net of wonders forever."
I agree, Mr. Cousteau. We don't intend for our shore leave to last long.
---
---