Ascension Sacred Heart Bay's Regional Clinical Education Center
The next level of nursing care and clinical education has come to life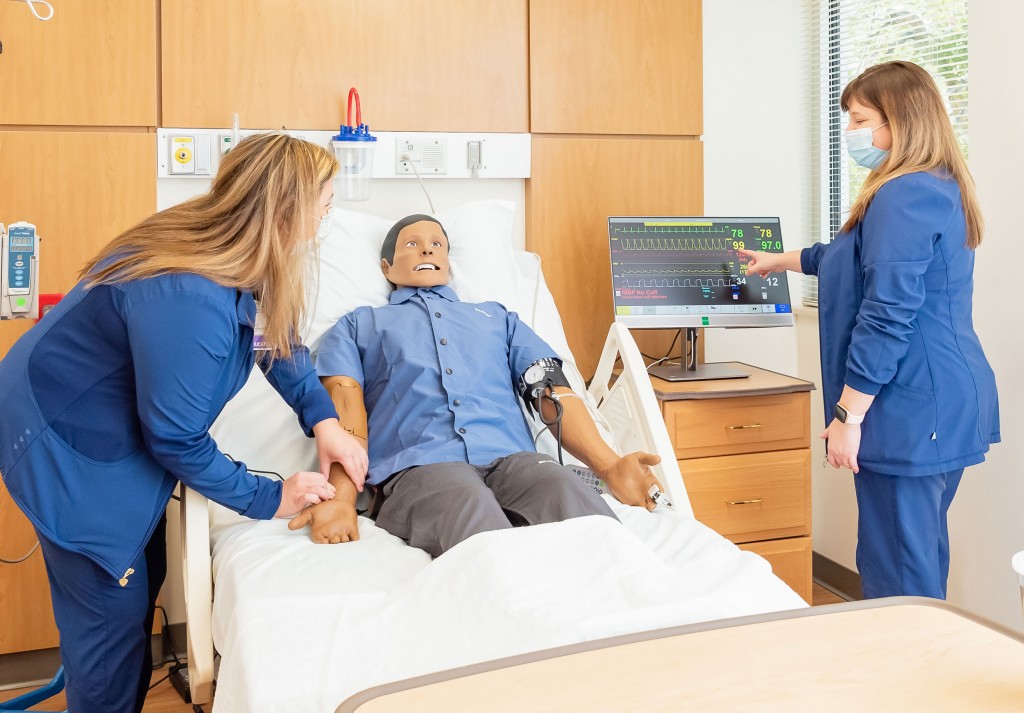 For over 70 years, Ascension Sacred Heart Bay (ASH Bay) has been a pillar of the Panama City community and its environs. It was nearly destroyed when Hurricane Michael ravaged the Florida Panhandle in October 2018, but despite personal challenges, its heroic staff evacuated patients and provided emergency care throughout the storm and its aftermath.
Hurricane Michael devastated this award-winning facility. The only Level II Trauma Center between Pensacola and Tallahassee, it is a designated Primary Stroke Center of Excellence, and its cardiac catheterization laboratory received the American Heart Association's Gold Award. It has been recognized as a "Best Hospital for Safety and Quality" among hospitals with fewer than 150 beds.
With ASH Bay's prestigious background and historic commitment to the community, the restoration process began quickly as dedicated clinicians and caregivers continued to provide critical emergency services. The structure literally was rebuilt around them.
Ascension Sacred Heart was committed to bringing Bay back better than ever by adding new clinical services and enhancing existing ones. The rebuilding incorporated the technological infrastructure required to support the upgrades and additions that leadership envisioned.
As a result of this future-thinking planning, ASH Bay has embarked on a project that will impact the quality of nursing care for generations: the creation of a Regional Clinical Education Center (RCEC) that provides a comprehensive training experience for every nurse joining the Ascension Sacred Heart team in that region. It combines lectures, skills modeling and real-life simulations using computer-driven manikins.
In short, the next level of nursing care and clinical education has come to life on Bay's campus this year.
At 5,515 square feet, the RCEC encompasses half of the newly refurbished and upgraded Medical Office Building's second floor. It is an all-inclusive educational setting unlike any between Pensacola and Jacksonville. Its capabilities allow all nurses to have identical experiences and preparation, whether they have been in the profession for 20 years or just received their degrees. It is designed to teach and train, providing real-time, hands-on clinical and teamwork experiences.
Traditionally, new staff at any business or organization receive a one- or two-day orientation, then go to work. The RCEC employs a holistic methodology of "onboarding," taking into account the importance of each nurse and clinical staff member as a person. It is at least a yearlong process, including classroom and hands-on involvement guided by nurse educators while also featuring the latest instructional technologies. Mentoring is a critical part of
the process.
The RCEC's program promotes shared, identical experiences and training through simulations, small group discussions, hands-on skills practice and Electronic Health Record (EHR) documentation training. Simulations have a wide range, including falls, depression, diabetic emergencies, heart failure, strokes and end of life situations. EHRs, essential to patient care
from beginning to end, ensure seamless transitions if patients need to be transferred to another Ascension facility.
A centerpiece of the RCEC are high-fidelity manikins — extraordinary pieces of equipment, programmable for dozens of real-life situations and emergencies. The manikins can simulate breathing and respond to physical interventions such as CPR or the application of a defibrillator. They can also react to the administration of drugs and medications.
Completing the RCEC are two skills rooms for hands-on training, a lecture hall, computer lab, offices and break rooms for students and staff. The computer lab is designed so that it can be divided into two rooms, both with full video observation capabilities.
The RCEC has nine faculty members drawn from the educational staffs at ASH Bay, Ascension Sacred Heart Emerald Coast and Ascension Sacred Heart Gulf. Classes also are taught virtually to take full advantage of the talents and experience of some of the best nurses on the Gulf Coast. Technicians dedicated to the Center oversee the computer lab and all technology. Once the RCEC is fully operational, recently graduated nurses  participate in a Residency Program, and those planning to specialize can apply for the Fellowship Program. Both curricula will be implemented this year. In addition to onboarding new nurses, the Center offers continuing education for all nurses and clinical staff.
The cost for this special training facility was substantial, approximately $750,000. We are blessed to be part of Ascension, which provided $250,000 toward the technological infrastructure and construction costs. The remaining $500,000 must be raised through philanthropy. As has been the case many times over the past 70 years, we will again ask the community to partner with us to create the RCEC. The result will impact patients and staff alike.
This impact is best described by Terrie Fontenot, MSN, RN, CENP, System Chief Nursing Officer, Ascension Florida: "Across the entire healthcare continuum, no groups have a greater impact than our nurses and clinical support staff. The care they provide every day is second to none. Our new RCEC will provide them with the skills and tools to bring an even higher level of care to our patients. New nurses will be better prepared, have less anxiety and have an established professional support network when they assume their duties. Quality and safety will be improved, turnover reduced, and the joy of our profession will rise to the fore. Therefore, every Ascension Sacred Heart patient, regardless of location, will receive the same level of superior care."
Ascension Sacred Heart Bay | 615 N Bonita Ave, Panama City, FL 32401 | (850) 769-1511 | healthcare.ascension.org