Artz for All with Zot
Mattie Kelly Arts Foundation Celebrates Creative Ability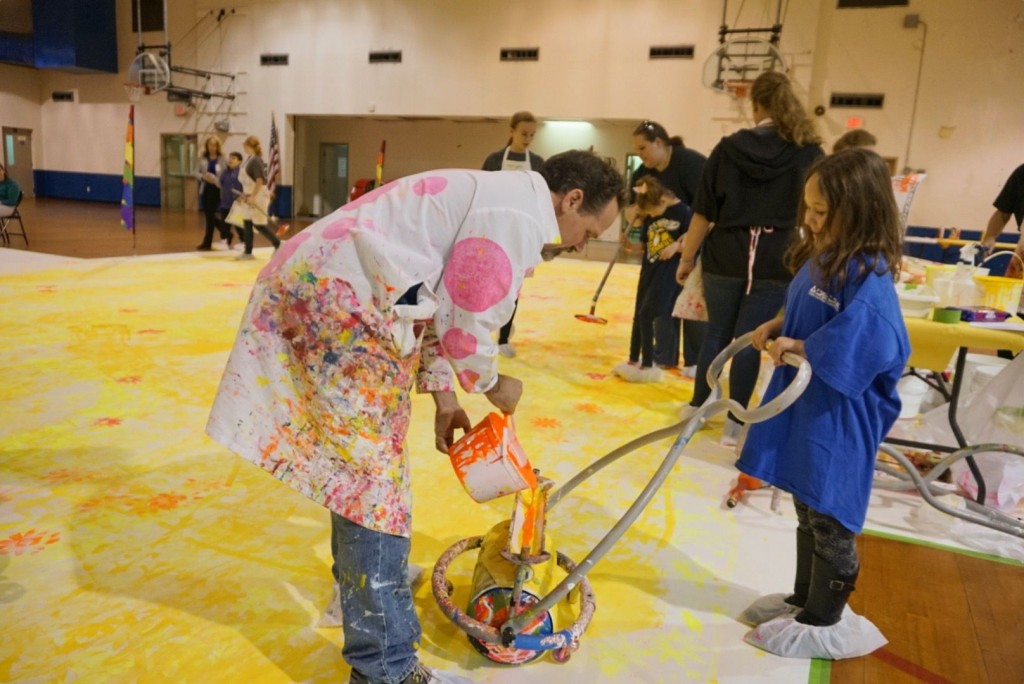 In April, artist/inventor Dwayne Szot — founder of Zot Artz — is returning as an art partner with Mattie Kelly Arts Foundation's ArtsReach residency program with Artz for All with Zot.
This time, Szot will lead two full-day residencies at both Silver Sands School in Fort Walton Beach serving students kindergarten through age 22 and Westonwood Ranch students in Freeport who are age 12 and older.
On Thursday, April 14 at 11:30 a.m. Szot will appear at Hotel Effie in Sandestin as the guest artist at a special spring lunch benefitting MKAF and its ArtsReach programs. It's a rare opportunity for guests to glimpse the ArtsReach program "in action.
Melanie Moore joined MKAF in 2015 to lead its education program. CEO Demetrius Fuller, who came aboard MKAF as CEO in January 2021, immediately made ArtsReach a top priority. Despite the obvious challenges of the pandemic, with Fuller's support, Moore has grown the program manifold. In fact, 2021 had upwards of 100 education programs — a record and more than double the previous year.
Moore spoke with Emerald Coast Magazine about Arts for All with Zot and here are highlights from their conversation.
EC: Dwayne Zot is returning to work with MKAF. Tell us about him and his program.
MM: We're thrilled to have him back. He's certainly one of the leading figures in the adaptive art world. He has a unique perspective on how to make the arts accessible to people for all abilities. He really is the Willy Wonka of the adaptive arts world. He has invented these fantastical creations that appeal to people of all abilities, but also help people create together. So, whether one of the students is in a wheelchair, or perhaps they lack fine motor skills, we're providing an opportunity for them to create art in a collaborative and meaningful way. In the case of our floor mural projects, we have specially embedded attachments that have print rollers, so as they roll through the space on wheelchairs either self-propelled or as somebody is guiding them through, every movement creates a mark. They create the art. It's a fascinating and memorable experience.
EC: You are providing a collaborative experience but tell us how you also make it special for each individual student as well.
MM: A collaborative art-making experience is so valuable, we want students to be able to take home something that they've created. So, they will receive a framed piece from the portion of the mural they helped to create as a memento. And then at Westinwood Ranch in addition to a mural project, we'll be doing a t-shirt painting activity. We thought that would be a really great thing for them to be able to wear as they're working and learning at the ranch. It's very personal
EC: These sessions are very special. What do they mean to you as an art educator?
MM: First, I think they tell a lot about Mattie Kelly and just who we are as a Foundation. As far as I know, our Arts for All Abilities initiative is unique in the area. We're the only arts Foundation or arts organization that has a specific program initiative to deliver arts to people of all abilities. So, I'm very proud of that and the fact that it has been part of the culture of our organization.
Second, I think what's important about this residency is that we're focusing on capability rather than disability. The premise of this project is that every person is capable of creating art — creating something beautiful and making their mark. I think that's important not only for the participants but for everyone who takes part in these events. We're celebrating all people's ability to create together. I think that's really what we're all about with the Mattie Kelly Arts Foundation and ArtsReach.
EC: What inspired Dwayne Zotz to get into this art niche?
MM: He grew up with foster siblings who had special needs. He tells a story about how they were always trying to get to the bus on time. So, he started using a little red wagon to help take his siblings to the bus and that's when he started inventing.
He invented ways that they could play together and create together. It was just always a part of who he was. When he became an artist, it became his personal mission to be creatively inclusive.
EC: How do you get from mural paper to masterpiece?
MM: He really does take an artistic approach. With the mural, for example, as the students are going through and making marks, it's almost like a conceptual piece because Dwayne's orchestrating what colors and processes in the moment to make it an aesthetically pleasing product that everyone can be proud of. He's the master behind the controlled, beautiful chaos.
EC: Tell us about some of his inventive creations.
MM: He invented contraptions and attachments that go on to wheelchairs. There's one invention called Give It A Whirl. There are these wheelchair attachments with all kinds of rainbows and whirly gigs that spin as the person wheels through space. The idea is to give them a sense of freedom so that they may transcend their lack of movement in their everyday experience. Another is Major Bubbles (there's a cute name for everything). It's a bubble machine that is activated by the movement of a wheelchair. There is Chalk and Roll, a wheelchair attachment that has large pieces of chalk attached to it. You draw on the pavement while you're moving around with your wheelchair. In all these cases, you sort of become an intrinsic part of that art medium.
EC: Students do not have to be in a wheelchair to take part, right?
MM: Yes, at Westonwood we will not have any students in a wheelchair. However, there are other tools that we'll use like pogo print poles. Which are like a pogo stick with a printing block at the end. The students chose an image that represents them and that's attached at the end of the pogo pole, and they can use it as a stamping or printmaking tool. And we'll be doing tabletop printing for the t-shirt process. So, all those art tools are created to help people who may not have fine motor skills so very accessible, no matter what their ability level is.
Under Moore's direction, ArtsReach, has served more than 100,000 in Walton and Okaloosa Counties. Since it was established in 1995, MKAF estimates its outreach has impacted more than 400,000.
And more is on the way.
Art gifts created during the ArtsReach residency will be shared with attendees of the April 14 lunch at Hotel Effie. To purchase tickets or reserve a table, go online to MKAF.org or call (850) 650-2226.