ArtsQuest – A Weekend of Art for All
The Cultural Arts Alliance of Walton County celebrates 35 years of art promotion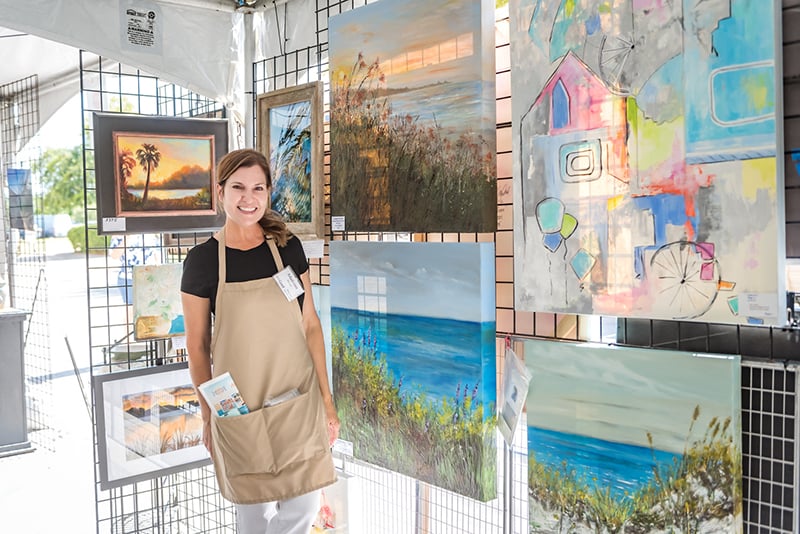 Looking for a statement piece for your home or perhaps a ceramic platter or standout vase for your summer soirees? Do you enjoy wearing one-of-a-kind jewelry? Whether you are on a mission or simply like seeing the creations of artists firsthand, the ArtsQuest Fine Arts Festival, produced by the Cultural Arts Alliance of Walton County, is a satisfying good time.
On May 13-14, the juried art show and sale will take place for the 35th time. More than 100 artists from throughout the country will set up displays at the Grand Boulevard Town Center showcasing works in a hosts of categories: ceramics, fiber, glass, jewelry, metal, mixed media, oils, acrylics, original digital art, photography, sculpture, wood and also works on paper — watercolors, printmaking, pastels, pencil and ink.
Winning artists will be awarded up to $10,000 in cash prizes in the categories of best in show, awards of excellence, judges' choice, awards of merit, best booth and CAA members tent best in show. Young artists will figure in the awards, too. Students in grades K-12 submit entries as part of CAA's Arts for All program.
"We are excited to highlight artists around the region and give an opportunity to student artists through our Arts for All program to feature their work," said Allie Anderson, events director for the CAA. "We have over a dozen prizes to give to talented participants. We can't wait to display their work."
The 2023 featured artist will be Dallas Primavera, who was the 2022 ArtsQuest "Judge's Choice" winner. His custom artwork titled "Awaiting Luka", "Hamlet" and "Morning Glory Humming" will be featured on all ArtsQuest marketing materials.
The event will also include live music, artist demonstrations, kid's activities and crafts, food and beverage vendors and more. Grand Boulevard eateries and shops will be open throughout festival hours.
This year, in addition to free art instruction, ticketed classes with local artists Justin Gaffrey and Justin Gaffrey Jr. will be held.
Because the growing festival is attracting more interest from artists than ever, the event will be held this year at Grand Park and the large grass area in North Park to allow space for more art booths.
Donations are encouraged at the gate. Money raised is used to support the mission of CAA to support the arts through leadership, advocacy, funding, programming and education. CAA provides support, connection and opportunities for artists of every genre and level.
Rain or shine, the event will occur from 10 a.m.-7 p.m. on Saturday and from 10 a.m.-5 p.m. on Sunday. To learn more, visit culturalartsalliance.com/arts-quest.