Sid Williams-Heath Can Gather A Crowd
The entertainer also knows how to dress the part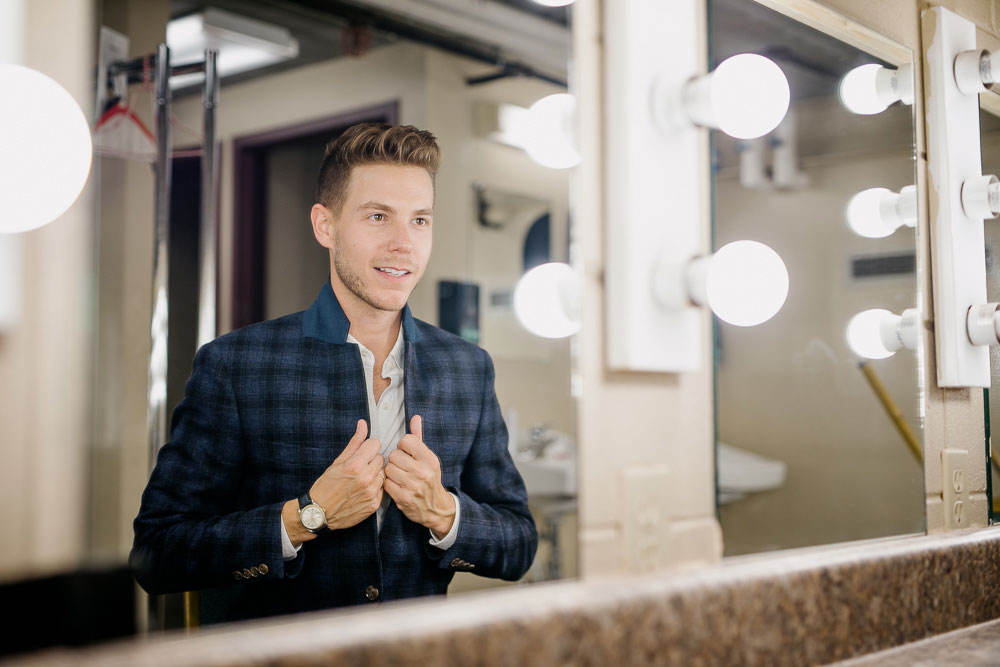 Throughout a 30-minute conversation I had with Sid Williams-Heath, pictures of the novelist Tom Wolfe, he of the trademark white linen suits, appeared in my mind.
Williams-Heath is the executive director of the Pensacola Little Theatre, which produces shows for young people as part of its work, yes, but is not a children's theater — far from it from time to time.
When we spoke — "Absolutely, let's talk drama," Williams-Heath welcomed me — the PLT had just come through the striking of the set for 25th Annual Putnam County Spelling Bee, a ribald musical in which adults play tweens and confront assorted embarrassments. In one number, a cast member sings about his unfortunately timed erection.
But, on quite another hand, the PLT stages shows such as Mary Poppins, The Velveteen Rabbit and Charlotte's Web. And falling in between the extremes is the theatre's Main Stage adult series that has included shows such as The Odd Couple, Rumors and Mamma Mia!
Mississippi born and raised, Williams-Heath went to work at the Savannah School of Art and Design after graduating with a journalism/public relations degree from Ole Miss in 2013. In Georgia, he discovered that he loved being part of an art scene.
"The singing! The theater!" Williams-Heath said. "While I'm not necessarily a performer, someone has to advocate for all of it. That's my form of artistic expression. There is such a creativity piece when it comes to raising funds. Who needs another stuffy sit-down dinner where the food is mediocre?"
PLT has instead conducted a series of "Cabaret" fundraising events, each with a different theme: Phantom of the Masquerade; 007, Shaken Not Stirred; and Midnight in Paris, to name several.
"They are celebrations of art," Williams-Heath said. "Aerialists, drag performers, pianists, singers, sketch artists, ballerinas, every form of art we can assemble — we put them right in front of your face. We stretch the kind of weird opportunity that we get as a theater."
As many as 800 people have turned out for a Cabaret event.
Williams-Heath met his husband Nicklaus in New York where Nicklaus went to dental school.
"He sweet-talked me into Pensacola," Williams-Heath said of Nicklaus, who grew up in Gulf Breeze. "We knew it would be a great place for him to establish a practice, and he was blown away by how much the city had changed in the seven years he had been away."
Blown away in a good way.
"A symphony, ballet, opera, children's chorus, museum of art. It's absurd that a town this size offers all of that," Williams-Heath said. "Patronage and private support are phenomenal. You can have great talent and venues and no one to see it. Here, you have both."
Williams-Heath revels in opportunities to introduce a show or rally support for the arts — "I've never met a microphone I didn't love," he said — but his experience as a thespian has been limited. He has never taken the stage as an actor at the PLT.
As a child, he played the role of Charlie Bradley in a production of The Greatest Christmas Pageant Ever. "And, I was the Tin Man at one point; somebody's got to be lanky and do it."
Williams-Heath is leggy enough. At a pool party, you are sure to find him in shorts. At work, he often wears shorts suits.
"I am not going to say I have been known to have a nice leg, but I'm also not saying that people haven't commented on them a time or two," said Williams-Heath, who keeps his pins in shape teaching a 6 a.m. spin class.
He favors a muted color palette: khaki, white, blues, gingham.
"Some may call my style boring, but I call it classic," Williams-Heath said. "I am not very adventurous with my wardrobe, and that has worked for me." Today, he is wearing gray chinos and a blue-and-white gingham shirt, no tie, nice loafers and his heirloom Rolex.
His lid, meanwhile, is a statement piece.
"I have this Johnny Bravo hair going on, so I am not much of a hat guy," he said. "I've got an arsenal of hair product."
How much does he spend in a month on product?
"You know, I try not to look at that," Williams-Heath said. "Maybe 60 or 80 bucks a month." That's in addition to twice-monthly maintenance sessions at the barber.
"But, hey, while I've got hair, I'm gonna celebrate it."
Williams-Heath is a party-goer, a party planner and a party thrower. He and Nicklaus annually hold a "Carving & Cocktails" Halloween gathering where all attendees wear plaid, receive a white pumpkin to work on and are served by the "best bartenders in town." The Williams-Heaths host a Kentucky Derby party that is likely to go on, no matter the future of horse racing.
"It's not a horse event," Williams-Heath said. "The race is the fastest two minutes in sports, and we're together for three hours or more. I went to football games at Ole Miss, but really it wasn't about the football."
Williams-Heath's party-planning prowess figures prominently in what he does for PLT. It is largely to his credit that the theatre stayed active throughout all but the initial blanket shutdown triggered by the pandemic.
"We did a series called Sips & Serenades. We opened the bar and held them outside, and it gave performers a creative outlet," Williams-Heath said.
In January and February, the PLT admitted groups of about 40 people to a "Singeasy" inside the theater. "Feinstein's/54 Below New York City vibes, baby grand piano, candlelight. We really explored what theater is for us," Williams-Heath said.
The PLT attracts something like 1,000 volunteers in a typical year: actors, painters, costumers, directors, assistant directors, music directors, lighting and sound technicians, and more. That's a lot of people to try to keep engaged.
Plus, Williams-Heath noted, the PLT owns and operates the historic Pensacola Cultural Center within which the theater is located. The center hosts church services, a ballet, a literary federation and assorted community events.
"We play Mother Hen to so many organizations," Williams-Heath said. "The center is a huge source of revenue for the theater."
Tom Wolfe surfaced in my mind again, and I had one more question for a man who occasionally refers to himself in the third person.
"Can you see Sid in a Tom Wolfe suit?" I asked.
"One hundred percent. Minus the chapeau."