Aqua Vida
Stirred by water, she sings her own kind of grooves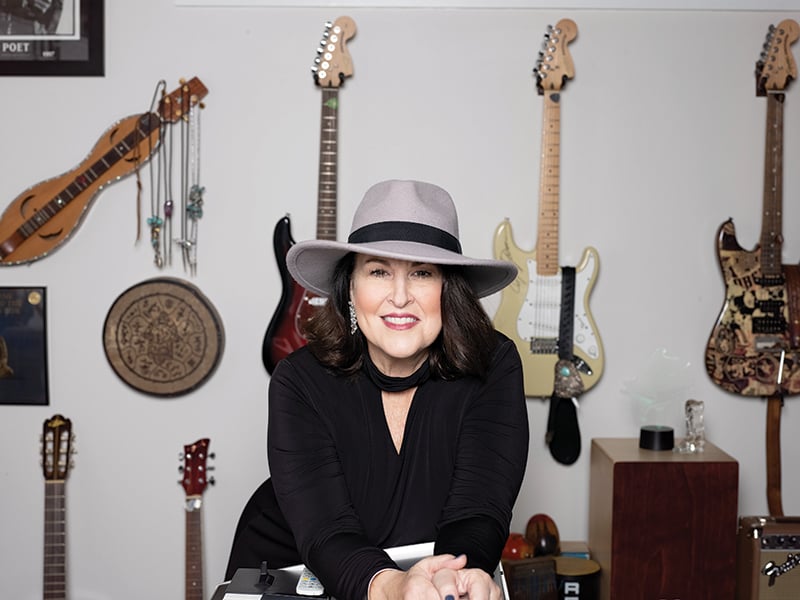 For long months, Laura Vida, moved by love and gratitude, lived in the basement of her mother's home in Park City, Utah. Thirty years earlier, Janis, satisfied that music was the key to her daughter's happiness, had delivered Laura to Nashville in a Toyota Corolla.
Now Janis, ravaged by Parkinson's disease, was deteriorating, and Laura returned to the Wasatch Range to serve as her caregiver until a move to an assisted living facility might become necessary. But with elevation came isolation and self-medication. Laura, removed from the community of musicians that had surrounded and supported her for decades, grew starved for her life's breath.
"I took a hiatus, but I did not give up," Vida said. Even before arrangements were made enabling her to leave Utah, a piano, she said, pulled from her a song, The Color of Music.
She wakes up in the morning,
Puts on her favorite song,
Takes her brush to the canvas,
And a vision's becoming so strong.
She finds inspiration from deep within
And there a beautiful melody begins.
The Color of Music is in the soul …
In again heading east from a mountain town where she once attracted ravenous eyeballs by wearing red heels instead of the predominant felt-lined pac boots favored by both men and women, Vida was further activated. Melodies stirred, words came together and Vida was on the move.
She sold her place in Nashville "at the right time" and landed in Blue Mountain Beach in Walton County where she shares a beautifully refreshed home with Karen Holder, a Realtor whom she relies upon as an advisor and manager.
"I am alive and back to writing like crazy," Vida said. "Music is greens and blues and emerald. They are the colors of the sea and the most beautiful places in the world. Moving here and seeing the color of the water, it's changed me."
She plays for a visiting writer an anthem of independence, I Play My Own Kind of Blues, assuring him that he is the first person ever to hear it performed, and then proclaims, "It's a hit."
Vida is feeling it.
Her music room is chockablock with a hectic assortment of personal artifacts — a 4-foot giraffe with a coat of gold leaf; a framed, typewritten letter given to her by Dolly Parton at the Wild Boar restaurant on Music Row in Nashville; a Buddha topped with a feathered turban; an outsized, Warholesque painting of Marilyn Monroe purchased at a Tallahassee art fair; oars from a crew boat; a raccoon stuffed by a taxidermist.
Along an interior wall is the piano given to her by her grandmother, who was perhaps the first person to recognize the irrepressibility of her musical talent.
"It's a Knabe," Vida points out, "one of the richest sounding pianos. Frank Sinatra favored them. Grandma had it in her restaurant, and the ivory keys became stained with smoke and one of them was chipped."
Vida was highly displeased when Grandma replaced the keys and failed to retain the ivory.
"We could have at least put them in a shadow box," she said. To be sure, they wouldn't be out of place in her music room; perhaps nothing would.
Henry, Vida's 14-year-old, very plump cat, clamors for attention. "OK, this has gotta stop," Vida says and tosses a couple of pencil eraser-sized treats along the tile floor. Henry, despite his impressive girth, bolts after them, and Vida talks about her early days.
"My mother made my very first recording session happen in Newport Beach, California, when I was 16," she says. "They couldn't believe that someone my age had the songs I had. One of my very first was I Can Make You Happy. To this day, it's a great song."
In California, she would play at the Balboa Bay Club and join in a trio with Lee Ferrell, who for 27 years played piano, sax and Hammond organ for the Righteous Brothers. Ferrell mixed physical comedy in with performances, displaying, for example, strappy "musician's underwear" that could be cinched up to the point where it made a man sing higher, or so the gag went.
"He was funny as hell," Vida said about Ferrell, who passed along his gift for humor to a son, Will.
Nashville, when Vida arrived there in 1990, was small and quaint, a place that proceeded on the basis of handshake deals.
"You'd see Neil Young walk by," Vida recalled. "I smoked a doob with Don Everly."
She met and co-wrote songs with great talents, all of them men. She acquired as friends music makers Larry Henley, the lead singer for the Newbeats; Harlan Howard (I Fall to Pieces); Jim Weatherly (Midnight Train to Georgia); Stewart Harris (No One Else on Earth); Jon Ims (She's in Love with the Boy).
"I wasn't cookie-cutter country, but I could sing, and I went down that road to try to fit in," Vida said. "I came to Nashville not knowing what the hell, and I was thrown into this mix, and it was amazing."
She performed a showcase at the Ryman Auditorium. That night, she had Patsy Cline's dressing room.
"Garth Brooks had a brand-new microphone in a case with a big gold G," Vida smiled. "They walked it over to me across Music Row, and that's what I used in my first session writing songs. My lips touched Garth's microphone."
When Vida recorded her first album, she did so in a large studio where Shania Twain, Sammy Kershaw and Clint Black also were at work. Backing her up were the Jordonaires, who backed up Elvis.
"You could talk to anybody and say, 'Hey, man, let's go write a song,'" Vida said. "A lot of things occurred spontaneously, and it's supposed to be that way. Your best stuff comes that way." Music is like sex.
"I saw a lot of people fold up in Nashville and go away, but I never did," Vida said. "A lot of wonderful things happened, but I don't base success on having a big record deal."
Longevity matters.
"I'm still doing music, and what is so fun is that the dream is still there," Vida said. "It's really about the journey, and that's something I've had to learn over the years. I have the privilege of being able to do what I always wanted to do."
Vida is a musical omnivore, an optimist with scar tissue, a vulnerable lover who is trusting to a fault. She can be pure or sultry or defiant. Her recordings reflect all of that. Her voice has the texture of what she's been through.
"I can make you laugh, and I can make you cry," she said.
---
"A person with a lot of love makes mistakes and I have, but I hate to see people throwing their lives away on drugs and I hate to see women who think they need to be the size of the neck on that guitar, drinking vodka and Ozempic. I was thin when I was drinking, and I'm not a big person to begin with – well, I am now, but what the hell, more to love."
---
Of late, she has been working on a lighthearted song, She's In a Dude Mood, which like She Plays Her Own Kind of Blues, is an expression of female fortitude. She can't help laughing as she reads her own lyrics …
Woke up this morning, smell the coffee on
Go downstairs, my baby's already gone.
His favorite hat's missing, boots nowhere in sight
Looks like it's gonna be a real long night.
Scratchin' my head, don't know what to do
Look out, y'all, she's in a dude mood.
Muddin' with my friends,
Hopin' this day'll never end.
They've grown comfortable now, Vida and the writer. She raises a glass of lemonade, invites a cheers.
At his suggestion that she can sound sometimes like a nightingale with a pack-a-day habit, she explodes.
"That's hysterical," she roars. "We're gonna have to make that into a funny song, me and you."