Andy Saczynski Creates 30-Foot Whale Artwork
800-pound installation at North Beach Social on 331 Takes 55 Hours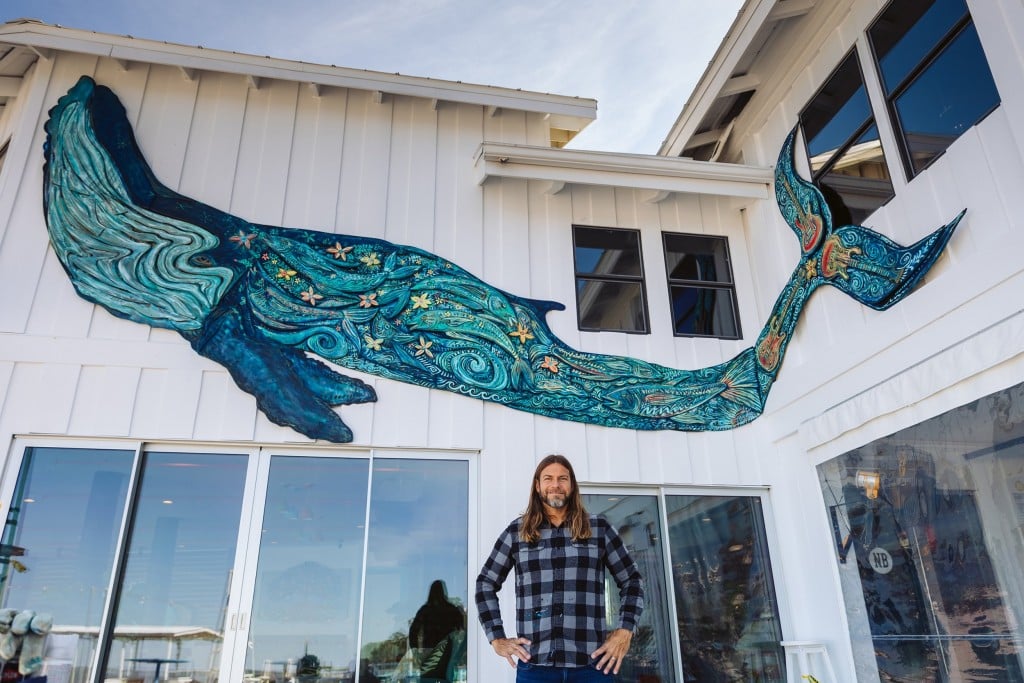 South Walton artist Andy Saczynski just landed a whale.
Meaning …
Not only did he land a huge opportunity to install a large-scale commissioned artwork on a "blank slate" wall, but the 45-year-old known for his vibrant, Cubism-like, mixed media created, built, and installed the largest piece of art to date during his decade-long career.
And … it happens to be, you guessed it, a whale.
Yet … not just any whale. This life-size 30-foot by 12-foot mixed media creature is an homage to Rice's Whale — also known as the Gulf of Mexico whale — the only whale believed to inhabit our local waters.
As a native of Northwest Florida and an avid surfer, Andy Saczynski is passionate about nature, especially the water. Sea birds and sea creatures such as pelicans, fish and sea turtles animate many of his pieces. In 2013 — the year he became a full-time professional artist — he began designing custom YOLO stand-up paddleboards with sea themes. That was the same year he was named South Walton Artist of the Year and just a year after he opened his gallery in The Shops of Grayton.
This project isn't the first time, Andy Saczynski created a large creature in a restaurant. In 2019, he crafted a sprawling 15-foot octopus for Nanbu Noodle Bar in Santa Rosa Beach.
The story of this yet unnamed marine mammal adventure started in early 2021. Saczynski shared his "bucket list" dream to create a life-size whale art installation with Dan Tinghitella, the chief operating officer of Jim Shirley Enterprises (Great Southern Cafe, The Bay, North Beach Social, etc). Tinghitella mentioned it to chef/restauranteur Jim Shirley, who — as a collector of Saczynski's artwork — was excited to make the idea a reality.
Not long after, Saczynski came across an article about Rice's Whale. Rice first published evidence that Bryde's whales are present in the Gulf of Mexico in 1965. Once Saczynski learned there was a Gulf of Mexico whale, and knowing it was rare and endangered, he was inspired to create a piece of art in its likeness.
"I spend as much time out in the Gulf surfing and paddleboarding and have seen just about every type of sea life out there, except a whale. So, I figured I might as well create one since they're so introverted like me," he joked.
Fifty-five hours later, 800 pounds of materials were mounted on the northern wall facing Highway 331 and North Beach Social began to look like it was under the sea.
Upon completion of the project, Saczysnki said, "It's been an amazing personal challenge. It was a lot of incredibly hard work mentally, physically and creatively, but it just came from my heart ….It's everything I love — Gulf sea life, music and nature. I hope it brings joy to people and gives them a happy feeling."
This commissioned project is the largest Saczynski has taken on to date. He enjoyed the challenge and hints that more massive marine life may dwell in his creative depths. A mural perhaps? Shirley, too, appears ready to provide a "blank canvas" to lure Saczynski's imagination to the surface once again.
Referring to his restaurant's location on 331, Shirley said, "We'll hopefully work on something on the front side. We're the gateway to South Walton, so we need to have a proper welcome that speaks to the social mores of our area, which includes a community that celebrates the arts."